UM-Flint Students and Faculty Volunteer at GCHD Vaccination Clinics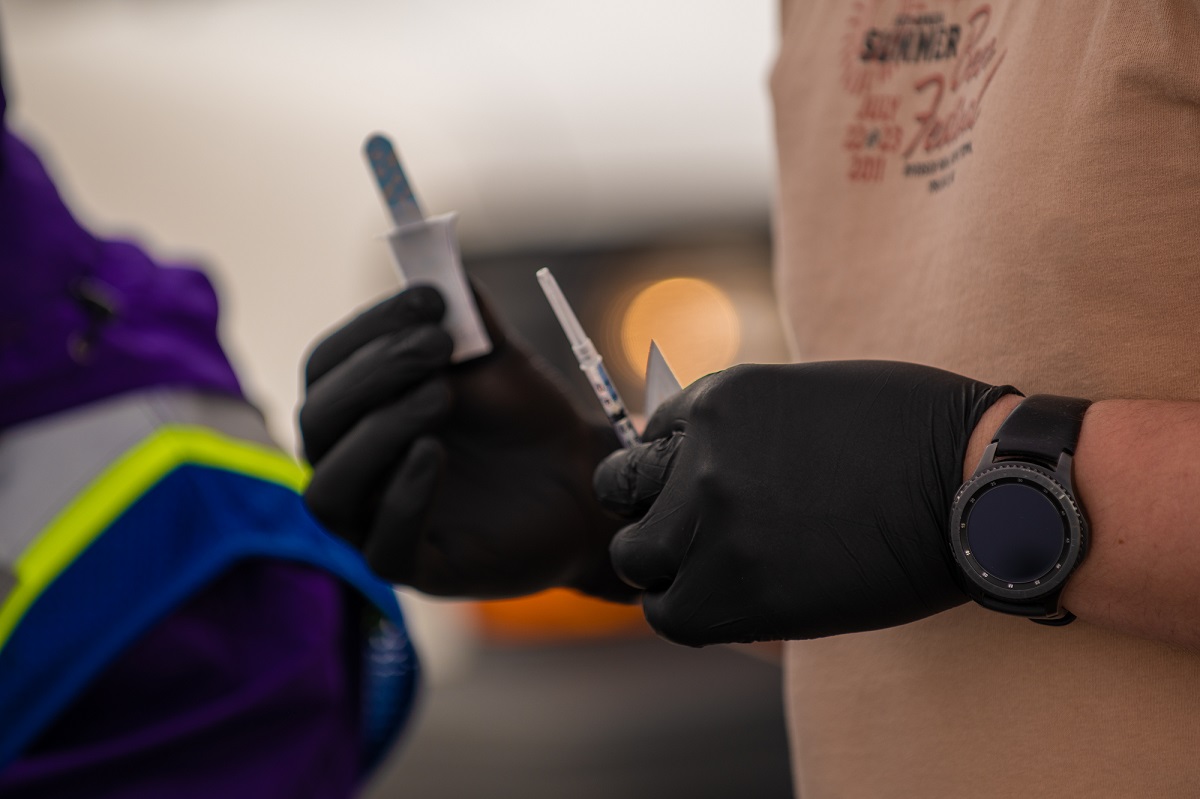 As the United States is nearing one year since COVID-19 disrupted our everyday lives, more vaccines have been approved for rollout. In this next phase, University of Michigan-Flint health profession students and faculty have played a role of their own: volunteering at COVID-19 vaccination clinics.
Hundreds of vaccinations have been administered since March 1 at the Northbank Center at UM-Flint. The event is held by the Genesee County Health Department. The efforts depend on the volunteers from UM-Flint's health profession students and faculty, including Nursing, Physical Therapy, Occupational Therapy, and Public Health and Health Sciences fields.
Megan Keiser, Director of Undergraduate Nursing Affairs and an Associate Professor of Nursing at UM-Flint, has worked to recruit volunteers for the clinics. In the clinics, nursing students can administer the vaccine under the direct supervision of a registered nurse. According to Keiser, this experience directly contributes to what is learned in the Nursing program.
"Not only are nursing students getting to improve their skills on giving intramuscular injections and educating patients in the community, but they are also interacting with all these other students and faculty from other health professions," Keiser said. "Learning in an interprofessional way of how they can all work together is a huge undertaking to pull off."
Students and faculty in other departments also play a vital role in the vaccine clinics. These volunteers focus on educating the patients on potential side effects from the vaccine in the observation area and verifying patient information.
"We always staff more people than we need," Keiser said. "We want community members to come in feeling like there is a huge number of people who are going to make sure that they get the vaccine and make sure that they are safe."
According to Keiser, the University of Michigan-Flint is an ideal location for the clinics as the Northbank Center is a centrally located building for a lot of the Flint residents. Additionally, the University of Michigan-Flint's reputation can help build the community trust necessary for mass vaccinations and herd immunity, a goal at this stage.
"I think the reputation of University of Michigan-Flint in the community makes people a little more comfortable coming to us for the vaccines," Keiser said. "We are coming out in droves to make sure that the community is properly vaccinated. Reputation is everything when you're trying to establish trust in the community."
Outside of the clinics at Northbank Center, nursing students in the Community Health course are preparing education projects that will dispel all the myths related to the vaccine. Volunteers like Anna Rosario, a nursing student at UM-Flint, have spent time at vaccine clinics at Northwestern High School, Grand Blanc High School, and Shiloh Church, and gained a new appreciation for the field.
"This experience has been very eye-opening to the field of public health and how incredibly important it is for the overall well-being of our community," Rosario said. "On first thought, it seems as though nursing only takes place in hospitals, but in reality, nursing is everywhere."
Keiser is thankful for how quickly volunteers sign up for these clinics, even at a short notice.
"Those in health professions have been viewed as the 'healthcare heroes' in this pandemic," Keiser said. "For our students to feel like they've made a difference is a big positive for them as they grow into their role and are being educated to enter the field."
Those interested in receiving their vaccine at one of the Genesee County Health Department clinics can visit www.gchd.us/coronavirus/ for more information.
Contact University Communications & Marketing with comments, questions, or story ideas.