Making a Difference on Giving Blueday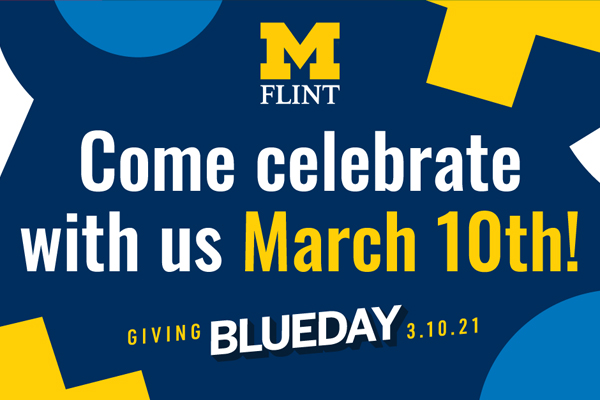 As an annual donor to UM-Flint, Mike Torrey has been pleased to support the campus over the years in every way possible. When he began hearing about this year's ambitious $1M goal for Giving Blueday, he realized this was the moment in which he needed to consider doing more to help the campus leave its mark in 2021. Thus, he and his wife Marcia have made a commitment to provide a leadership gift to support the School of Management during the UM-Flint Giving Blueday campaign on March 10.
Recognizing the impact the University of Michigan-Flint has had on his life, Mike Torrey has given tirelessly of his time and resources to support the campus over the years. Torrey began his educational journey at the University of Michigan in Ann Arbor but accepted a full-time job in Flint and transferred to UM-Flint as a part-time student. After being laid off, he committed himself to finish his degree by enrolling full-time at UM-Flint. A decision he credits with helping to shape his life in many ways.
Torrey loved working with numbers, so a degree in accounting was a perfect match for his interests. The faculty at UM-Flint helped him realize that accounting would also position him to be involved in decision-making within an organization. That provided an extra appeal to him. Still today, he notes that having a seat at the table when important decisions are being made has aligned with his professional aspirations and his ability to contribute in positive ways throughout his 37+ year career at Consumers Energy.
It seemed very natural to Mike that he should pay it forward and create a scholarship at UM-Flint to help students whose paths may resemble his own. Thus, the Michael Torrey Family Scholarship was established to support students pursuing undergraduate accounting degrees within the School of Management. To be eligible, students must have declared a major in accounting, live in Genesee County, work part-time or a minimum of 15 hours per week, and have a minimum GPA of 3.0.
Torrey has been providing resources to fund this scholarship over the years but couldn't help but consider seizing the special opportunity to make a commitment for this year's Giving Blueday. In fact, Torrey knew this occasion was a perfect way for him to elevate his philanthropic support while helping the School of Management build awareness and generate much-needed funds during this 24-hour fundraising blitz. Capitalizing on a matching gift program available through Consumers Energy will allow Torrey's gift to be expanded beyond his own personal commitment.
Torrey is grateful for the experience and support that was shown to him while studying at UM-Flint. He feels strongly that this scholarship is a way to extend his family's reach in the Flint community and to support other students who are working hard to secure their degrees. Being able to consider a larger financial commitment on Giving Blueday allows Torrey to double-down with his gift – helping students and the campus that has given so much to him and his family.
Contact University Communications & Marketing with comments, questions, or story ideas.