Journey From the Edge of Darkness with a UM-Flint Astrophysicist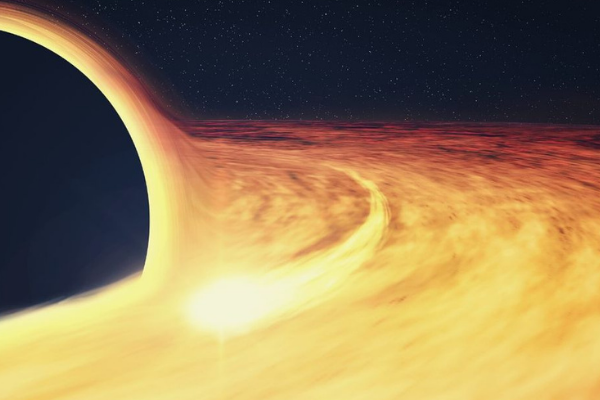 A UM-Flint astrophysicist will tell a story that spans 11.7 billion years, interweaving the formation and life of two stars, their transformation into a black hole, and our own human history and scientific advances. All that in an hour-long talk – not a bad way to spend a Saturday afternoon.
Associate Professor of Physics Rajib Ganguly will present "Journey From the Edge of Darkness" as part of Cal Tech's celebrated Palomar Observatory Greenway Talk series on Saturday, February 27, at 2 p.m. E.T. The presentation, intended for a lay audience, centers on three stories: one of two stars that formed 11.7 billion years ago, one of a large black hole in Virgo, and our own human history. The stars of the first story eventually merged together into a massive black hole, which would become an object of intense scientific interest billions of years later. Thanks to generations of advances in astrophysics, the second black hole would become the first to be photographed, an event that made headlines just two years ago.
Making science accessible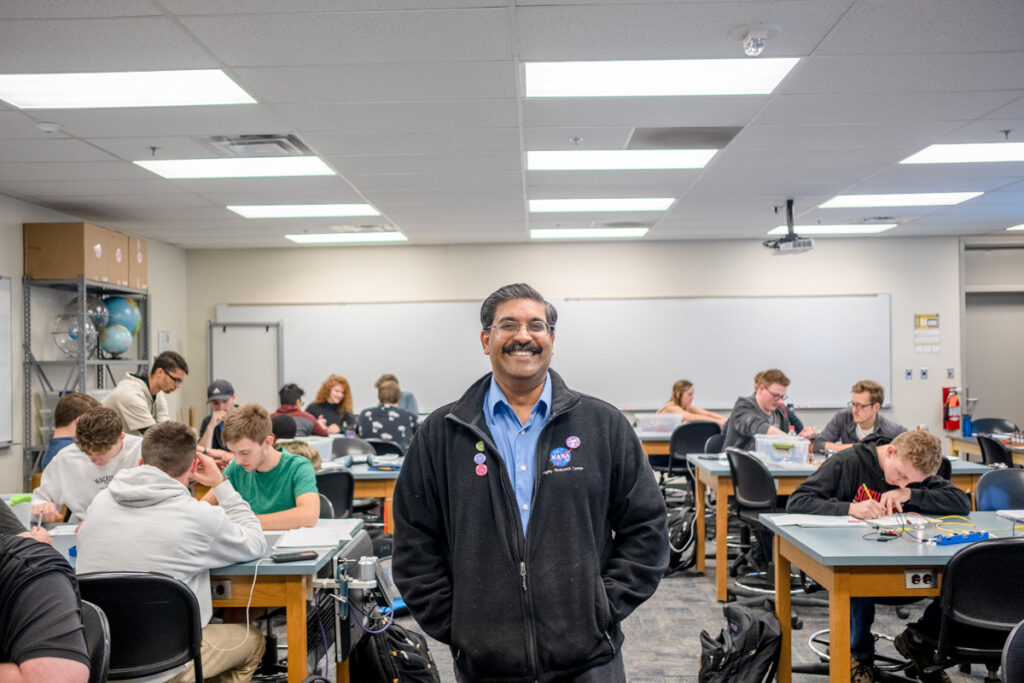 Talking with the public about astronomy is a particular passion for Ganguly. He sees the field as an easy way for people to start engaging with scientific concepts.
"Astronomy doesn't come with the political baggage that some other scientific fields contend with," Ganguly says. " In a time where there can be mistrust of science, I can show people a photo of a black hole or an interstellar cloud and they are awed by it – as am I. That creates a space to discuss the scientific method, how scientists rigorously learn about the universe. We're in a good position to popularize science."
Physics at UM-Flint
If talks like this spark your curiosity, studying Physics at UM-Flint is a great way to explore your interests as part of a supportive community. Physics is a very diverse field, and our professors can help you find your niche. Here are a few examples:
Dr. Rajib Ganguly is an astrophysicist who studies black holes. Some of his research has even utilized the Hubble Space Telescope.
Dr. Biplob Barman studies nanostructures, which are extensively used in advanced electronics and healthcare settings.
Dr. James Alsup is a theoretical physicist whose research ranges from subatomic particles to superconductors.
In addition, nearly every physics student at UM-Flint partners with a professor to conduct original research, a rarity for undergrads and a unique opportunity for resume-building.
"Thanks to endowments from David Zick and Loretta Dauwe, we are actually able to pay our students to do research as part of our program. The value of not only having these research experiences but also being compensated for them cannot be understated," Ganguly says.
Compete for scholarships
Prospective students can begin earning scholarships and completing hands-on projects before they even enroll with UM-Flint. The High School Physics Competition asks teams of juniors and seniors to construct a demonstration of a physics concept and record a video explaining that concept.
If you aren't able to join Ganguly's talk in real-time on Feb. 27, you can watch the recording on Palomar Observatory's YouTube channel afterward. In the meantime, applications to the UM-Flint Physics program are now being accepted.
Logan McGrady
Logan McGrady is the marketing & digital communication manager for the Office of Marketing and Communication.