Celebrating the Elements of Success on Giving Blueday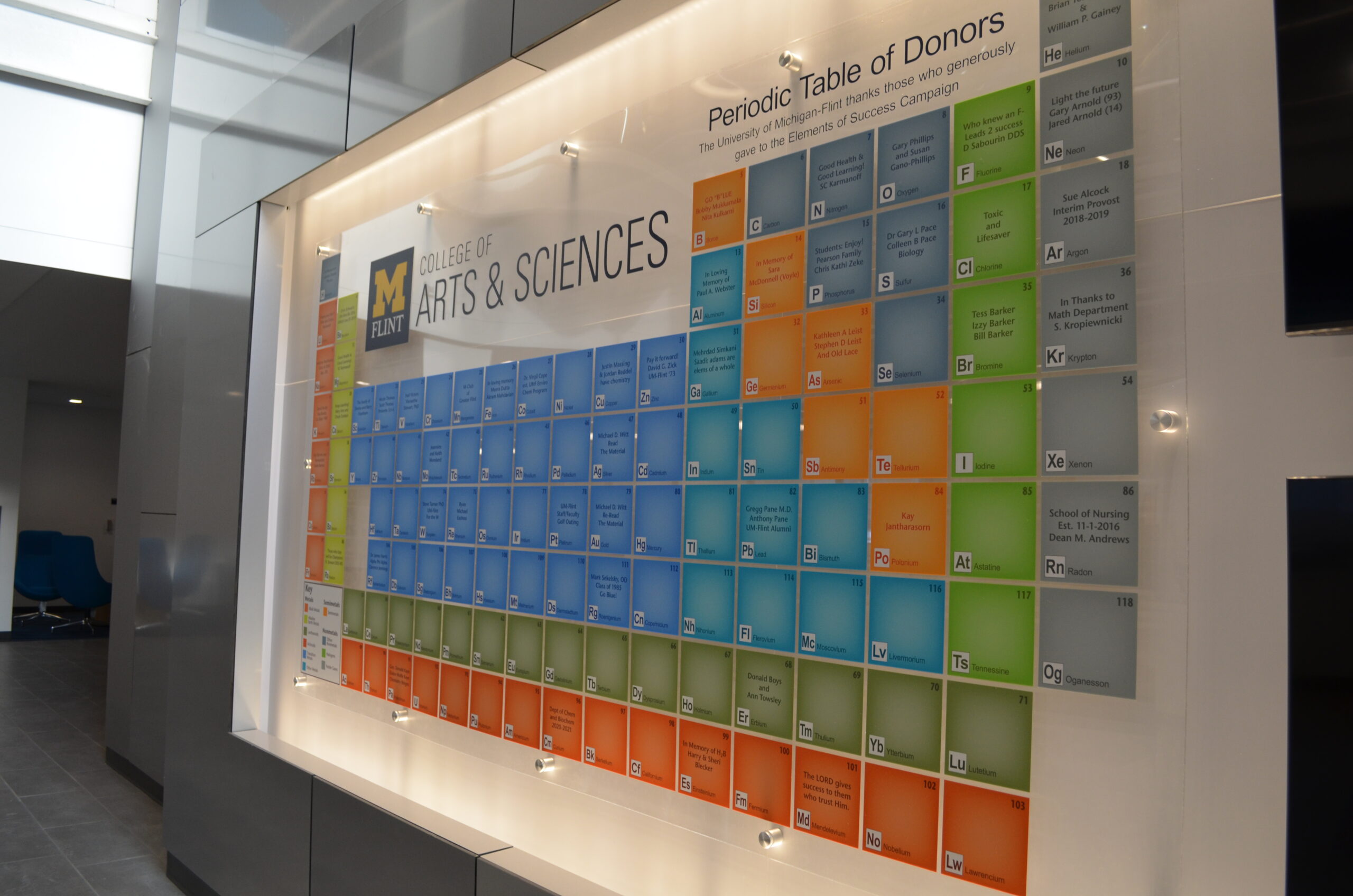 With this year's Giving Blueday activities, there are nearly 60 unique funds available for donors to select when making gifts. Each of these areas reflects the work happening in the respective area but also the breadth of opportunity that exists at UM-Flint.
One particular fund and project seeking support from the UM-Flint family on Giving Blueday 2021 is the recently unveiled Elements of Success donor wall in the newly constructed expansion of the Murchie Science Building.
This striking display offers a visual reminder for most everyone when they first learned about the periodic table of elements as a youngster. It is at the heart of scientific learning and reminds most individuals of the various elements, their proprieties and their relationships to other elements as it relates to chemical reactions that are widely used in chemistry, nuclear physics, and other sciences.
When the Elements of Success project was first announced, UM-Flint alumni and friends responded to an opportunity to be part of this project in an overwhelmingly positive way. The motivation for their support and element selection has been especially incredible.
For Clarence Jennings Jr., who selected Rutherfordium (Rf) element 104, the selection of this specific element was very personal. Jennings noted, "I selected Rutherfordium as a tribute to Dr. James Harris who was part of the team who discovered element 104 – Rutherfordium and a member of Alpha Phi Alpha Fraternity, Inc., which I am also a member. Specifically, I was supported with scholarships as a student so I wanted to give back to the University of Michigan-Flint."
Mary Ann Cardani selected Calcium (Ca) element 20 because her last name begins with the same letters. But more specifically, she shared that as a retired lecturer of Biology, she recognized the impact higher education makes on one's life. She added, "Higher education affects every aspect of our lives from our work to our families, to our interactions with other people, and to the satisfaction we obtain from our experiences." Being able to support the Elements of Success wall allowed Mary Ann to fulfill her "duty to help others achieve their educational goals because I believe in the value of higher education and recognize the support it requires."
Other gifts supporting the Elements of Success wall allowed UM-Flint donors to honor a classmate, student and friend – Sara McDonnell (Voyle). The Silicon (Si) element 14 tile was selected as a way to memorialize Sara. The gift was made because "she was loved by so many people, we felt this was a wonderful way to memorialize her on a campus that has meant so much to her and all of us." Specifically, it was noted that the academic department that connects Sara to the donors was located on the 5th floor of the Murchie Science Building, bringing this gift full-circle in her honor.
Each donor has a story about why they gave a gift to be part of this effort. We hope others will enjoy this spectacular display and consider making a gift to support the Elements of Success wall on Giving Blueday.
Contact University Communications & Marketing with comments, questions, or story ideas.