UM-Flint Announces Big Plans for Giving Blueday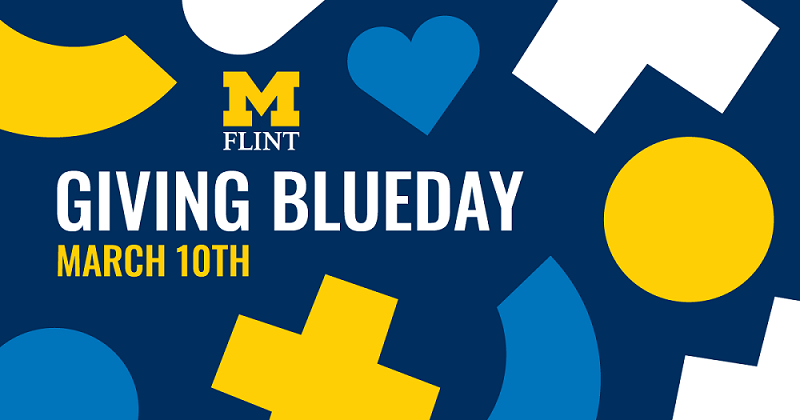 On Wednesday, March 10, the University of Michigan-Flint will be celebrating Giving Blueday, a 24-hour online and social media event designed to encourage donations for campus priorities that overwhelmingly benefit students.

The campus is excited to be raising awareness and community participation, and has set a very ambitious fundraising goal for this year's event — $1 Million!

Last year, UM-Flint raised less than $100K so this promises to be a heavy lift but one the campus community is ready to tackle.

Giving Blueday activities in the past have allowed the campus to raise money, but more importantly, the event adds to UM-Flint's donor base. And, while the campus has set out to raise significant dollars for Giving Blueday 2021, there are grand plans for increasing engagement across campus and building a sense of pride in the work happening at UM-Flint.

This year's goal has been set around such initiatives as student scholarships, research funding, faculty support, and more. Already, nearly 60 UM-Flint departments/organizations are committing to supporting Giving Blueday.

During the last year, nearly 2,000 students benefited from donor support. Gifts from the Flint family help students gain access to an outstanding education and help them capitalize on their time as students.

Through scholarships, research funds, study abroad and travel, and other important initiatives, donor support creates enriching educational opportunities both inside and outside the classroom.

UM-Flint students are engaged in a range of exciting academic pursuits. Giving Blueday is a powerful way to invest in the future of these students and their dreams and ambitions.

Over the last several months, the campus and community came together to help one another through the pandemic's challenges. We have seen the best of this campus. Giving Blueday is the moment where each of us can give what we can to support worthy initiatives.

Gifts to support this year's Giving Blueday event can be directed to the college, school, department, program or initiative of your choice.

Giving Blueday is harnessing social media and online channels as an annual tradition to increase donor participation and create a culture of giving back to move UM-Flint forward.

This year, the campus will come together for engagement, fundraising, and school pride. Among the features of this year's Giving Blueday event:
Hourly challenges will keep UM-Flint's participating programs (academic and non-academic) in the running for cash prizes. Among the challenges: photos of your pet or baby in Michigan gear; most number of donors; favorite UM-themed Zoom background; and most gifts received from students.
A competition specifically for the student organizations will engage them in friendly rivalries and chances for cash prizes.
A Giving Blueday Video Challenge will celebrate creativity and offer challenge dollars to one winner and the fund of their choice.
To all who gave last year, thank you. Please spread the word and join with us today to help UM-Flint come together. Gifts of any size, to any fund, will make a valuable difference in students' lives.
Contact University Communications & Marketing with comments, questions, or story ideas.