UM-Flint taps alum to perform spoken word poetry in 'Defining a Wolverine'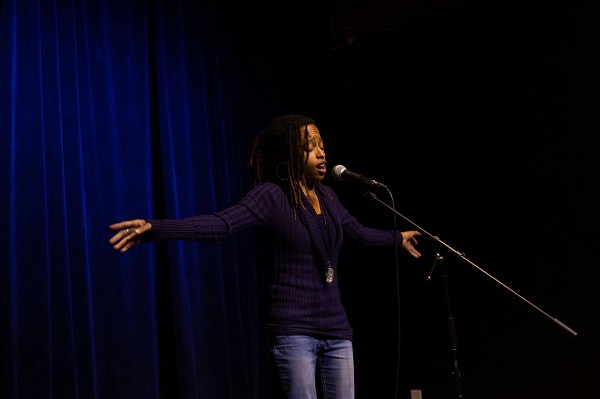 Crystal "Kirei" Turner has been writing since she was 13 years old.
The 2015 UM-Flint graduate says she found that through writing, she could better express her thoughts and feelings.
"I was processing my experiences in the world in a way that I couldn't explain to anyone else," said Turner. "Once I discovered spoken word, it helped me to explain my thoughts through my poetry. It was a breakthrough."
It was at the University of Michigan-Flint that Turner was able to pursue the field of psychology while she continued to develop her writing and spoken word performance skills.
"I love UM-Flint because it is where I learned about myself and found my network," said Turner. "Studying psychology made me aware of the human condition, of the reasons why we react to situations in the different ways that we do. Having my degree in psychology has helped me to deepen my understanding of others, and that translates to my writing."
While at UM-Flint, Turner discovered a community of spoken word artists that inspired her to pursue performing. "I remember walking into my first poetry slam open mic event in the Kiva, and there were over 100 people there who wanted to listen to people perform their art. I was blown away, and I felt like I had found my place at UM-Flint."
Today, Turner performs spoken word whenever she gets a chance. Her talent as a writer and performer landed her the chance to write a piece for a short film about the student experience at UM-Flint.
Turner is also pursuing her master's degree in counseling while she works as a crisis counselor at a local youth shelter. She says that she encourages the young people she works with to embrace writing as a coping mechanism.
"I believe writing is part of a healing process, and I teach this to the kids I work with," said Turner. "I want them to feel comfortable writing down their feelings, whatever they are they can express themselves freely. I'm teaching them that writing and poetry is therapy."
Contact University Communications & Marketing with comments, questions, or story ideas.