Big opportunities, small campus: Ayana's journey from UM-Flint to a national laboratory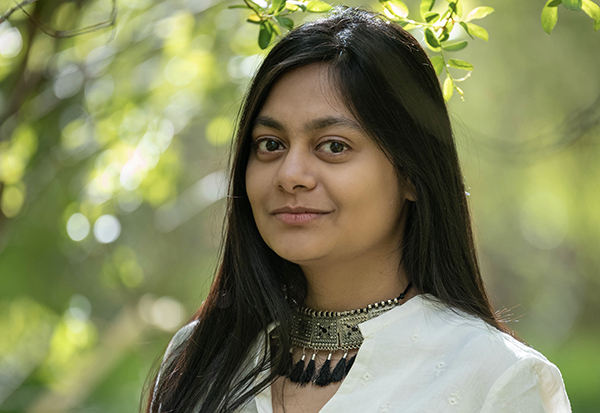 All it took was a conversation with her professor for Ayana Ghosh, PhD (Physics/Abstract Mathematics '15) to begin studying simulated black holes and higher dimensions.
That's quite a step for a college freshman, whose only experience (at the time) was the introductory physics course in which she was enrolled. Despite Ghosh's inexperience, Associate Professor of Physics James Alsup welcomed her into his research group, where the pair would collaborate on theoretical research for the next three years. Ghosh would go on to detail their work in her undergraduate honors thesis, and was even able to get paid while building her resume through the Undergraduate Research Opportunity Program.
That research experience with Alsup (and other collaborations with Physics and Mathematics professors) laid the groundwork for her future success. Just five years after graduating from UM-Flint, Ghosh has earned her PhD from the University of Connecticut's Materials Science and Engineering program. She has held graduate research positions at institutions such as Los Alamos National Laboratory and is currently a post-doctoral researcher at Oakridge National Laboratory—the largest lab in the US Department of Energy system, with annual budget of $2 billion. In her current role, Ayana focuses on computational materials science with focus on atomistic simulations and machine learning.
She has come a long way since that first semester as an undergraduate.
"The UM-Flint campus has really given me a lot. I found so many opportunities that I'm not sure I would have gotten at a larger school," Ghosh says. "I really enjoyed my time and the personal connections I was able to make."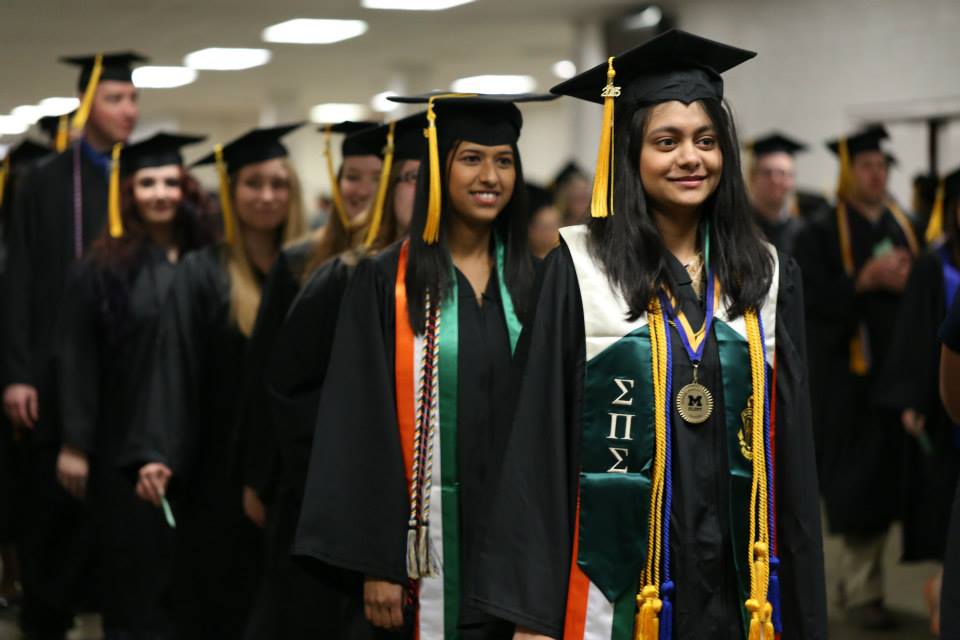 Ghosh didn't stop with research when taking advantage of what the campus has to offer. She was a writer for the Michigan Times, a math and physics tutor, and president of the Indian Student Association, among other activities. She states that, as an introvert, the thought of making friends in college was intimidating; getting involved provided her with a built-in social outlet. It also gave her a chance to develop leadership, collaboration, and public speaking skills—all of which have proven invaluable in her professional life. "Even when I would make mistakes, I would just keep getting encouragement. That really built my confidence," Ayana says.
While Ghosh is among the first of Alsup's students to complete graduate school (he began teaching at UM-Flint in 2012), the UM-Flint Physics program has a long track record of preparing students for success. In the last 20 years, two-thirds of graduates have gone on to PhD programs—at institutions such as UC-Berkeley, Yale, and Texas A&M—with the other third gaining professional positions. Alsup sees these positive outcomes as "reaffirming" for the Physics program.
"It shows that what we're doing is working. In terms of the number of students we get involved with research, UM-Flint Physics is among the top programs in the country," Alsup says.
Alsup goes on to describe Ayana as "tenacious" in her pursuit of opportunities offered through the Department of Computer Science, Engineering, & Physics. Each discipline offers numerous opportunities for real-world experience – applications are now being accepted!
Logan McGrady
Logan McGrady is the marketing & digital communication manager for the Office of Marketing and Communication.