UM-Flint Rec Center reopens with safety measures in place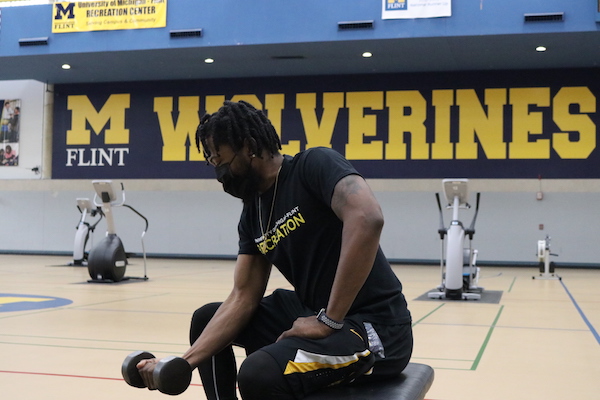 The University of Michigan-Flint Recreation Center will reopen Monday, September 28.
Rec Center staff have taken strict measures to ensure the safety and well-being of all students, members, and staff members. There are signs and directions for everyone to maintain physical distance and use equipment safely. All members need to remain at least 6 feet apart while exercising.
"We know how much physical activity can help contribute to overall well-being, so it will be great to open our doors again to students and members. We're looking forward to welcoming patrons back and seeing our student employees in person!" said Julia Stulock, Club Sports Associate Director.
Activities such as weight training and cardio are available in new ways. The center has placed partitions between weight and cardio machines and has moved some weight equipment to the gym floor. Fitness classes are available outdoors, in larger rooms, and virtually online.
The locker room is available for changing, with day-use lockers available for students and members. While in the locker room, members must stay six feet apart.
Patrons are required to wear masks at all times in the UM-Flint Rec Center. All patrons will also be required to complete a University of Michigan ResponsiBLUE Health Screening Check prior to entry to the Rec Center. During the initial reopening, only members and students are allowed to use the facility, and they must check in and out with their Mcard.
The Rec Center will be open from 2 p.m. to 7 p.m. Monday through Friday, and 9 a.m. to 2 p.m. on Saturdays. The office will close at 6 p.m. on weekdays.
"These hours are planned for our initial reopening, and we hope to be able to expand upon them as public health conditions permit. We encourage everyone to continue checking our website for the most up-to-date hours and available activities," Stulock said.
During Phase 1 of the Rec Center's reopening, the pool, sauna, spa, showers, court sports, indoor track, towel/sports equipment checkout, and rental lockers will remain closed. Children under the age of 13 are unable to access the facility because spaces where they are allowed, including the pool, gym, racquetball court, and activities area, are closed.
The Rec Center is open to all enrolled UM-Flint students. Students need their Mcard and a face covering to enter.
Established protocols and guidelines have been developed based on guidance from the State, Centers for Disease Control and Prevention, University of Michigan, and American College Health Association.
For up-to-date information on the Rec Center hours of operation, services, and more, visit the website.
Lindsay Knake
Lindsay Knake is the Communications Coordinator for the UM-Flint Division of Student Affairs. Contact her with any questions, comments, or ideas about the DSA newsletter, social media, events, and communications.