UM-Flint student pursues Occupational Therapy and MBA degrees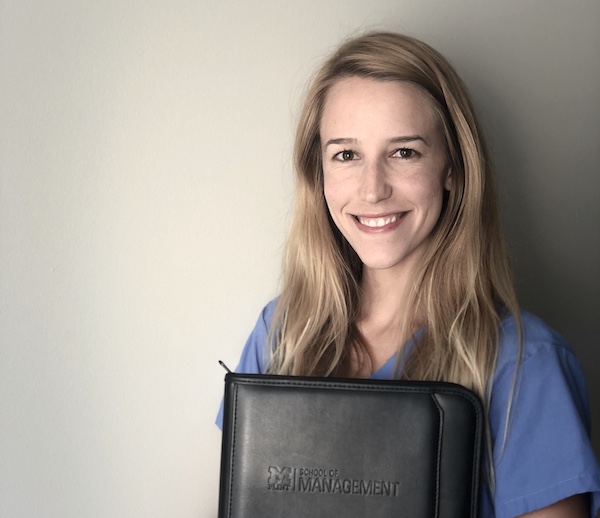 Quinn Hanses dreams of being the voice for her patients. At the University of Michigan-Flint, she can pursue this dream in the Doctor of Occupational Therapy (OTD) and Master of Business Administration (MBA) program with a concentration in Healthcare Management.
Hanses is native to Lansing, Michigan, where she grew up and attended college, but currently lives in Flint. She likes to be close to campus and loves supporting Flint.
"I enjoy living downtown and supporting local businesses. I love the '#FlintFwd' and 'be good culture' movements that support bringing light and business back to Flint," Hanses said.
Hanses is the first student in Michigan to pursue the dual OTD/MBA program at UM-Flint and has achieved a 4.0 GPA in her first year of courses in the two programs.
"The more you learn and realize this is your future, the more you are passionate about what you're learning," she said.
Hanses chose UM-Flint for two reasons.
First, UM-Flint has the only entry-level Doctor of Occupational Therapy in the state of Michigan. In addition to being a one-of-a-kind program in the state, it can also be paired with an MBA, which makes a strong match in reaching her goals in the field.
"The dual OTD-MBA program provides various benefits that are difficult to overlook, such as overall reduced cost rather than taking the degrees separately, flexibility with the MBA Net+ program, overlapping classes, and the MBA offers accommodation for those who wish to progress through the program at their own pace," Hanses said.
Second, UM-Flint encourages students to participate and engage in research. Hanses has a Graduate Student Research Assistantship position and has been a part of Cognitive Neuroscience and Parkinson's Disease research since her first semester with Dr. Nathaniel S. Miller, Assistant Professor of Psychology, at the UM-Flint College of Arts and Sciences.
Overall, UM-Flint has the most significant qualities and benefits she was looking for at the right price.
"The University of Michigan always provides quality education, and this knowledge is essential to best serve my patients," Hanses said.
Hanses' long-term goal is to run a proprietorship or partnership and pair her OT background with a business mindset that will help her and her future patients. Within the healthcare industry, Hanses hopes to improve communication and advocate for patient needs.
"As a therapist, I want to do more than send the patient off to the next person. I would love to help in the operations of this sort of process, as there is always room for improvement to serve better, provide, and take care of the patient adequately," she said. "I am interested in an MBA, so I can go from being a single link in the pathway to becoming a navigator of the entire healthcare chain."
The MBA program supports and encourages classmate interaction and is a team-based driven program. The student population in the MBA program has diverse professional backgrounds and the courses inspire collaboration between classmates.
"In the MBA program, there is significant diversity in the educational and professional backgrounds of students. For example, we typically have a number of students from the healthcare industry that provide valuable insights to the classroom discussions and team projects. This diversity encourages different ways of thinking and problem solving, leading to greater learning and a richer educational experience," said Dr. Brian Blume, Professor of Organizational Behavior and HR Management, and Associate Director of Hagerman Center for Entrepreneurship and Innovation.
Hanses took Dr. Blume's MGT 541 – Organizational Behavior course in the fall of 2019 and enjoyed being part of the diverse classroom environment.
"It feels more collaborative rather than being on my own and at my own pace. I love hearing perspectives of my other classmates," Hanses said. "As an OT with an MBA, I will have assorted and unique perspectives on circumstances. I can effectively weigh the outcome of a complication given what I know from patients, colleagues, and/or investors. Along with being a voice for these people, I can also do something about it. I hope to work to improve communication, within the healthcare industry, in this distinctive way."
When it comes to making an impact, using the technical skills that come with the MBA has helped Hanses realize the importance of practical finance skills and being innovative.
"Medical facilities manage on limited financial resources, and it is imperative to find solutions that can aid in a more efficient way. I want to make a positive impact on patient care by having more responsibility. I would love to devote my career to bigger picture thinking when I am not seeing patients," she said.
Outside of the OT world, Hanses appreciates the skills and knowledge that come with the usefulness of the MBA. The MBA degree opened her eyes to not only the practical skills of financial planning, how the money supply works, calculating the relative costs of her opportunities, but also the basic principles of economics, finance, accounting, marketing, and management skills.
"An MBA is smart and feasible for professional administrative skills and is even more critical for lifelong skills with understanding bills, mortgages, taxes, regulations, and helping you know how our government system works," said Hanses. "I am going into this field, knowing it will be a lifelong career. I am devoted to becoming a leader, and to do this, I need these credentials to move up the ladder. Ultimately, this MBA will open up more doors to advance my career. I could not be more excited to pursue this additional degree."
Alexis Menard
Alexis Menard joined the UM-Flint School of Management in April 2018 as the SOM Web & Social Media Assistant. She is a BBA student at UM-Flint pursuing a double major in OBHRM and Marketing.