Maureen Tippen awarded UM President's Award for Distinguished Service in International Education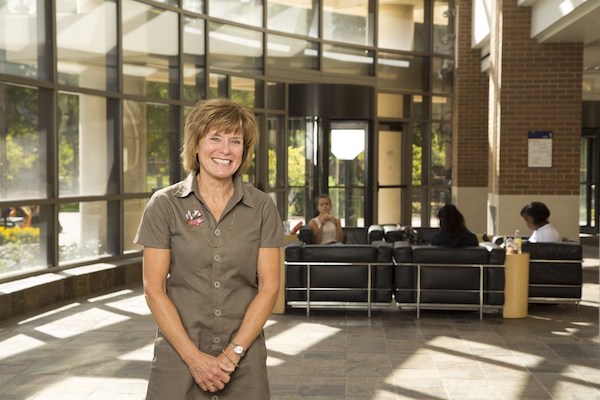 Maureen Tippen, a recently-retired University of Michigan-Flint professor, earned the 2020 University of Michigan President's Award for Distinguished Service in International Education.
Tippen, a School of Nursing Clinical Associate Professor of Nursing, retired in May after teaching at the University for 26 tears.
The President's Award for Distinguished Service in International Education honors a faculty member who had a sustained commitment to international education, was a leader in the field of international education, or had specific accomplishments in the field of international education, such as successfully developing a program. Tippen will receive $1,000 in recognition of her accomplishments.
"I was rather surprised and shocked and certainly very honored. I was honored to be nominated," Tippen said. "You never think you're going to win. I'm so happy that someone thought enough about my work over the years."
During her career at UM-Flint, she took more than 250 students on trips across the world. In 1995, Tippen created academic serving learning trips in the School of Nursing. She took a group of students on a medical mission trip to the Dominican Republic each year. After volunteering herself in Cambodia, she started taking students on Service Learning trips every other year. Other trips include visiting India, Kenya, and Peru.
"Her service-learning courses are wildly popular, the limited spots are filled by nursing students who want to see her in action and want to experience the world through her international lens," wrote Shelby Newport, Associate Provost and Dean of Undergraduate Studies, in her nomination. "Many students report her course as the most impactful experience while being a student and many even come back and travel on her alumni trips."
In Cambodia, Tippen provided clinical training at orphanages. She also worked with local safe houses for children and adults to escape the sex trade in the Dominican Republic, and she led training for hospital staff in Cambodia to create their own programming for women escaping sex trafficking. In Kenya, the team set up a Child Life center in the hospital and provided the hospital staff in education in the need for play while children were hospitalized.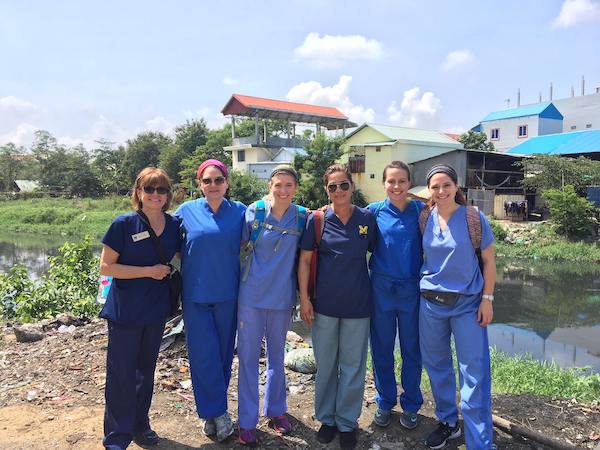 "As far as teaching, it's given me the greatest satisfaction," Tippen said. "I have lifelong relationships with the students I travel with. You have this common bond when you do trips like this; it's so intense."
Tippen also has maintained lifelong friendships with people she met in the countries she's traveled to. One is a man who drives a cab in Cambodia. She got to know his family and has stayed in contact with him.
"Who would have thought I'd have so many friends in other countries who invite you to their home and meet their families?" she said.
Another one of Tippen's contributions to the University was an International Nursing course, which she developed. The International Nursing course prepares students to have global and cultural experiences and to see different realities within the profession.
"Maureen's teaching transcends the norm; the scope and breadth of her initiatives are unparalleled," wrote Dr. Margaret Andrews, School of Nursing Dean, in her nomination letter. "Her nursing delivery is not in a pristine hospital environment; rather she seeks out the patient populations who have little or no care. In Cambodia, she delivered care to individuals in the jungles, the streets of Phnom Penh, and an island where the government placed 'undesirable' citizens with AIDS or mental illness."
Reflecting on her career, Tippen said the lifestyle has been with her family for years. They help her sort vitamins, pack for trips, and more. February is Dominican Republic time and May is Cambodia or Kenya time, she said.
She also created an elective course about bereavement among children who have lost a loved one for undergraduate nursing students. Students visited Camp Hope and worked with grieving children under Tippen's guidance.
Tippen said the work she did was possible because of the support she's had from UM-Flint, the School of Nursing, and Education Abroad, as well as scholarships and financial support for students.
"Students learn from putting themselves in situations different than their own," she said.
Tippen is the recipient of eight awards for her international work, including the 2016 Kingdom of Cambodia Cambodian Parliament Service Award and the 2010 Clinical Service Award by Antonio Musa Hospital, San Pedro, Dominican Republic.
In her retirement, Tippen plans to stay involved with the School of Nursing and lead international trips once it's safe to travel. She plans to work with the University and program alumni to ensure the continuation of these medical mission trips.
"I'm not finished yet!" she said.
Lindsay Knake
Lindsay Knake is the Communications Coordinator for the UM-Flint Division of Student Affairs. Contact her with any questions, comments, or ideas about the DSA newsletter, social media, events, and communications.