UM-Flint Nursing Students Follow Maureen Tippen to Dominican Republic for 20th Year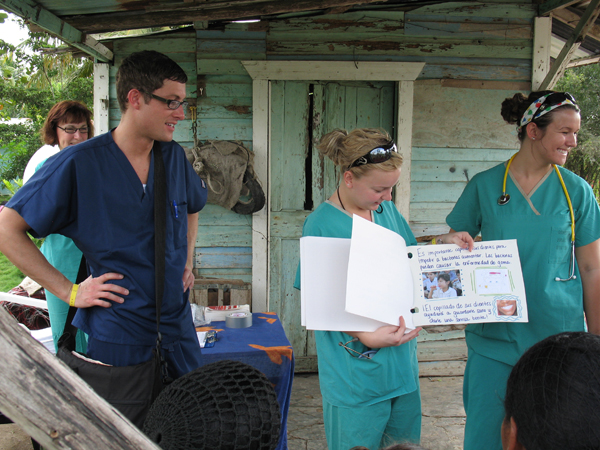 It is a learning experience that has become a tradition for the University of Michigan-Flint nursing department. Clinical assistant professor Maureen Tippen will guide students to the less-traveled areas of the Dominican Republic to deliver healthcare to a sugarcane village in a remote area of the country.
"It is primarily Haitians in these villages. Although after the hurricane of 2010, the Dominican government was welcoming, it is not the case now," said Tippen. "Most Haitians do not seek health care as they are afraid of being deported. They know they are safe with our medical mission group."
The UM-Flint group will join with the Midwest Medical Mission health care volunteers, a non-profit group of people from mostly the Toledo, Ohio area. Tippen has been working with them  since starting the Dominican trips.
This year's group will be composed of four students, two alumni, and translator Rebecca "Becky" Pettengill.  Tippen refers to Pettengill as "Super Volunteer." For 17 years, Pettengill, UM-Flint corporate and foundation relations officer, has accompanied the group.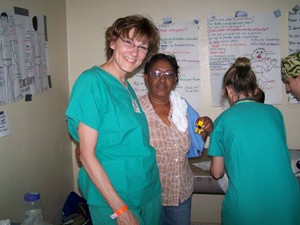 "I benefit from this volunteer experience because I am able to use and improve my Spanish skills. I have also had the opportunity to meet Dominican people in the clinics, in the village where women form a cooperative, and in meetings with hospital leaders and public health officials," Pettengill said. "It has truly been transformative."
Pettengill recalls in the early years that the crowds of people seeking help would grow so large that the doctors and nurses in the clinic could not hear each other.
The two alumni are former students of Tippen who made the trip as students and keep coming back.
"James MacDonald (foreign language and criminal justice) went with me as an undergrad student in 1999. He is an attorney and works in Chicago for the Office for People with Disabilities. He has volunteered 6 times since graduation as a translator," noted Tippen. "Nancy Javor is now a nurse practitioner, she also went with me as a student in her undergraduate program. She graduated from our MSN program and BSN program. This is her third trip with me."
One of the nursing students is Nicole Malewska.  She said the trip was a blessing for her.
"When I got accepted into the BSN program, I thought I was just going to hurry up, complete my classes, and get out. However, I have had the wonderful opportunities to participate in extra healthcare related activities such as teaching elementary classes, being a camp counselor at Camp Hope, and now going to the Dominican Republic to provide care to those in need," said Malewska. "I am beyond excited and also very nervous at the same time."
The group will leave February 20 and return on February 27. They will carry a large quantity of medical supplies to the Dominican Republic. Tippen listed canes and vitamins as some of the items that they still need, and that a cash donation is always welcome.
At the end of April, Tippen with be leading another group of students to small villages in Peru.
Contact University Communications & Marketing with comments, questions, or story ideas.