Mott Foundation grant helps fund UM-Flint program to help students complete degrees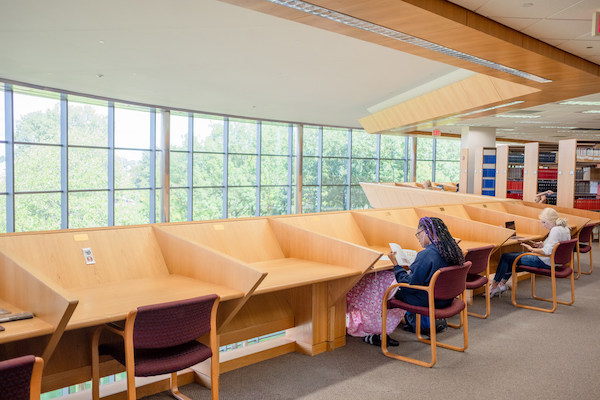 A new pilot program aimed at helping former students complete their college education is launching at the University of Michigan-Flint.
The Pathway to Completion (PTC) program, funded in part by a $750,000 grant from the Charles Stewart Mott Foundation, will offer incentives to individuals with some UM-Flint college credits to return to the university to complete their degrees. UM-Flint will match the grant, bringing the total investment in the program to $1.5 million.
"Supporting people who are close to degree completion benefits the entire community," said Chancellor Deba Dutta. "Increasing the number of college graduates in Genesee County and the state makes a critical difference when it comes to helping individuals succeed and preparing people for the demands of the 21 st century workforce. We are happy the Mott Foundation is joining us to make this important investment in the future."
The pilot program is geared toward helping former students return to UM-Flint to finish their undergraduate degrees. To alleviate financial pressures that often force students to drop out, the PTC program will offer nine credits for free to students who return to UM-Flint to complete their degrees.
The pilot study will include approximately 340 students. To be eligible, a student must meet the following criteria:
Has been an active student at UM-Flint at least once since 2016
Has completed at least 30 credits at UM-Flint
Has at least 90 credits total, earned at or transferred to UM-Flint
Has a minimum GPA of 2.4
Has not graduated from another four-year college or university since leaving UM-Flint
"We're excited about UM-Flint's innovative program, which will help remove barriers to completing a college degree," said Ridgway White, president and CEO of the Mott Foundation. "We hope this grant will open doors to a more successful future for students who just need a little financial help to cross the finish line."
More than a million people in Michigan have taken some college courses without completing a college degree. At 36 percent, the state lags far behind the national six-year graduation average of 60 percent according to CollegeApp. This innovative pilot program is key to reversing this trend in Southeastern Michigan.
For more information on the program, contact the Office of Admissions at the University of Michigan-Flint at (810) 762-3300 or admissions.flint@umich.edu.
Contact University Communications & Marketing with comments, questions, or story ideas.