Sonja Feist-Price appointed UM-Flint Provost and Vice Chancellor for Academic Affairs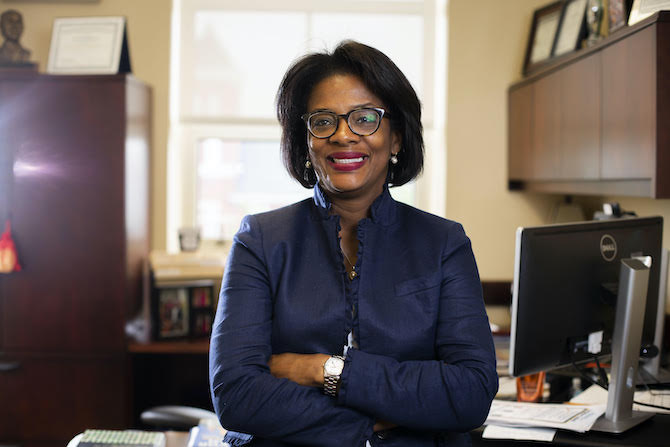 Following a nationwide search, the University of Michigan Board of Regents approved Sonja Feist-Price, a professor at the University of Kentucky, as the next provost and vice chancellor for academic affairs at the University of Michigan-Flint. She will begin her appointment on August 1, 2020.
Chancellor Deba Dutta called Feist-Price a recognized leader on matters of diversity, an accomplished scholar and an experienced higher education administrator.
"Dr. Feist-Price is a skillful administrator and scholar with the credentials and experience to lead academic affairs at UM-Flint," said Dutta. "Her experience as a leader in the areas of higher education and diversity will make a critical difference on our campus as we focus on growing program offerings and enrollment."
A first-generation college graduate, Feist-Price says she shares that experience with many UM-Flint students.
"Nelson Mandela said that 'education is the most powerful weapon which you can use to change the world,'" said Feist-Price. "Serving as the University of Michigan-Flint's next provost affords me the opportunity to have a direct and profound impact on the lives of students and to help them realize how they might change the world."
Feist-Price currently serves as the vice president for institutional diversity and professor in the Department of Early Childhood, Special Education and Counselor Education in the College of Education at the University of Kentucky. Prior to her current position, she has held a number of different appointments at Kentucky, including as the senior assistant provost and assistant provost for faculty affairs and academic ombudsperson.
She directed both the African American Studies and Research Institute and Graduate Studies in Rehabilitation Counseling in the Department of Early Childhood, Special Education & Rehabilitation Counseling. A licensed psychologist, Feist-Price also is a certified rehabilitation counselor, licensed professional clinical counselor, and trained mediator.
A faculty member at Kentucky since 1992, Feist-Price came up through the ranks to the level of full professor before moving to administrative roles. An accomplished scholar, her research has centered on such areas as ex-offenders with disabilities in correctional settings, service provisions among veterans with disabilities, and HIV prevention among persons at greatest risk, particularly women and adolescents. She has secured many state and federal grants including several from the National Institutes of Health. Her work is published in top journals and she has presented at prestigious conferences.
Feist-Price received a Ph.D. in counseling psychology from the University of Kentucky in 2006, a doctor of rehabilitation degree from Southern Illinois University in 1992, a master of science degree from Southern University in 1990, and her B.S. in psychology from McNeese State University in 1985.
"I am excited to work with academic leaders to establish timely pathways to degree completion and assist with creating academic programs that enhance lives and transform communities," said Feist-Price. "My focus is helping students, faculty, and staff reach their goals and find success."
Contact University Communications & Marketing with comments, questions, or story ideas.