UM-Flint professor uses artificial intelligence to study diseases, food contamination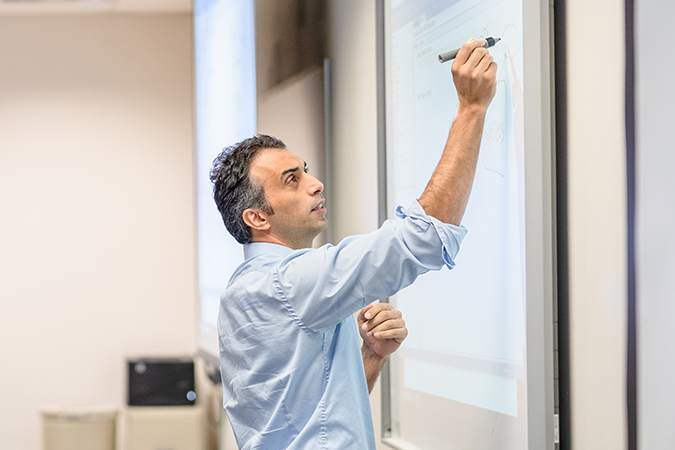 A look at Halil Bisgin's published research shows an eclectic selection of topics: an analysis of the structure of ISIS propaganda, detecting automated activity on Twitter, predicting fetal development diseases, drug repositioning, assessing the performance of cancer panels, and identifying food contaminating beetles to name a few. His work spans such a wide number of fields, from bioinformatics to social computing, that you may be left wondering what his particular area of expertise actually is.
In fact, Bisgin is an assistant professor of computer science in the College of Arts & Sciences at UM-Flint with expertise in data mining and machine learning. And while, for many of us, the term "computer science" conjures up images of building computer programs and smartphone apps, Bisgin's interdisciplinary approach has allowed him to make advances in numerous fields outside the typical realm of computer science.
Two of his most recent collaborations have been with the Food & Drug Administration and Beaumont Health System.
And now, the beetles
Insect pests can contaminate as much as ten percent of the total food produced in the United States. Identifying the species involved usually requires a food inspection analyst with years of training to determine the microscopic differences.
Bisgin worked with the Food & Drug Administration to create an AI system that automatically detects insect contaminants from images. The research project focused on 15 of the most common beetle species detected in food inspections.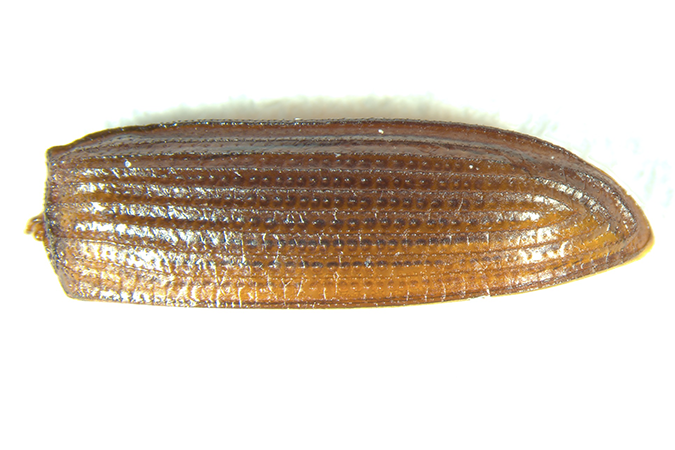 "We cropped the images into smaller pieces because, with processed food, the whole beetle will probably not remain intact," Bisgin explains. "I also used the Great Lakes supercomputer at U-M Ann Arbor to train my model because this is a very computationally demanding process."
With an overall accuracy rating of 80 percent, Bisgin's program can quickly identify the species contaminating stored foods, which in turn informs possible causes and solutions to the infestation.
Predictive biomarkers
In a collaboration with the Beaumont Health System, Bisgin used machine learning to identify specific biomarkers associated with a condition known as Intrauterine Growth Restriction (IUGR).
With IUGR, developing babies don't grow to normal weight during pregnancy. A common defining feature of the condition is a birth rate lower than the 10th percentile, controlling for factors such as gender and ethnicity. Still, it is important to distinguish IUGR from other causes of small stature to avoid unnecessary medical testing and interventions during pregnancy.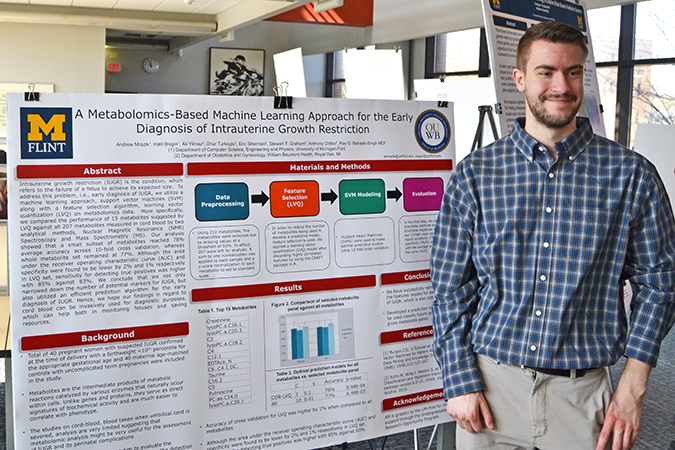 Beaumont research scientist Ali Yilmaz would share files with hundreds of metabolic data points from blood samples—both from pregnant women with IUGR and without the condition.
From those hundreds of data points, Bisgin's approach can narrow it down to a handful of potential biomarkers associated with the condition. Medical researchers can then spend their time and resources more effectively.
"It would take quite some time to figure out what is happening without an efficient method. [Bisgin] was a huge help," Yilmaz says. "These are proof of concept studies, and hopefully it will lead us to working with thousands of samples and identifying countless potential biomarkers for disease."
Creative problem solving
The innovative manner in which Bisgin has applied his computer science expertise in solving real-world issues exemplifies the creative mindset embraced by both students and faculty in UM-Flint's College of Arts & Sciences.
"Dr. Bisgin has shown incredible flexibility in utilizing his skillset to solve complex issues across disciplines," explains Susan Gano-Phillips, dean of CAS. "This work highlights the value of creativity in solving new problems, something we emphasize every day in the college and across the UM-Flint campus."
Logan McGrady
Logan McGrady is the marketing & digital communication manager for the Office of Marketing and Communication.