Conference goes virtual to highlight student research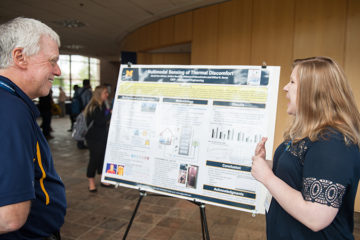 The Flint Student Research Conference (SRC) has gone virtual.
The annual conference is designed to provide undergraduate and graduate students from UM-Flint, Kettering University, and Mott Community College an opportunity to showcase their work and connect with peers and other professionals.
UM-Flint's Office of Research and Sponsored Programs created an online venue for the academic work to be displayed since the event was not held in person this year due to the COVID-19 pandemic.
The online option helps carry on the tradition of the conference, said Andre Louis, a UM-Flint research program manager and one of the conference organizers.
"We consider the Flint Student Research Conference one of the signature events during the course of the academic year. As advocates for student research, we believe that this event provides a unique opportunity for students to present their work in a forum which may not have been available otherwise," said Louis.
"Presenting at conferences allows students to advocate for their science, connect with peers and other researchers in their fields, and – in an ideal sense – allows researchers in other disciplines, university leadership, community members, policy-makers, and the general public to become aware of the research being conducted on campus. We feel it is important to use platforms like SRC to increase the visibility of student work, even in the midst of this ongoing pandemic."
Detailed information about each project and how it was developed can be found on the conference site. The research comes from a wide spectrum of fields such as nursing, mechanical engineering, and dance.
Student opportunities this spring and summer do not end with the online conference, Louis said.
For example, despite limitations due to the pandemic and state regulations, there are current opportunities within the Undergraduate Research Opportunity Program (UROP). These options operate within the university's pandemic-related safety regulations. Also, details about 2020-21 graduate student research assistantships are posted online through the Office of Graduate Programs.
"Students are still students; whether they are in a classroom, a laboratory, or in their living rooms. And considering the well-documented academic and professional benefits that come from students participating in research, we are committed to actively and safely promoting a research agenda even in the midst of this pandemic," he said.
"Many of the projects currently available through UROP are limited to computational work, data synthesis, and analysis. Nevertheless, this work still takes place during an important stage of the research and can lead to student learning and engagement consistent with the university's mission."
Robert is a staff writer in University Communications & Marketing. Contact him with comments, questions, and story ideas.