UM-Flint faculty awarded Golden Apples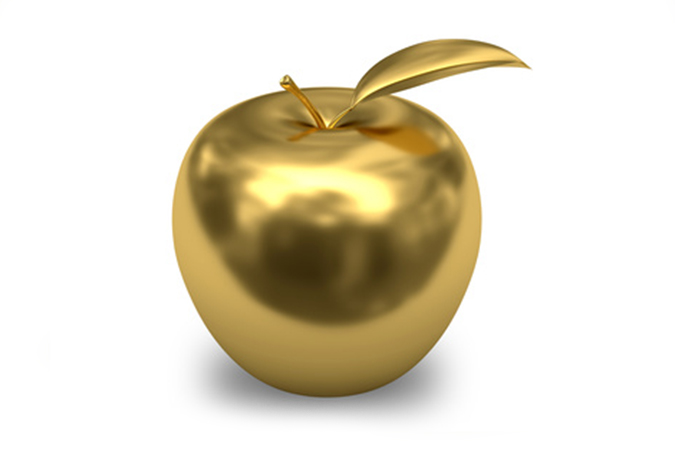 The university is celebrating the many talents of its faculty, including those recently retired.
"We are proud to recognize the faculty and staff who retired from the University of Michigan-Flint this past fiscal year," said UM-Flint HR director Beth Manning. "The list below represents the faculty members who were willing to let us share the news of their retirement. We thank all retirees for their years of dedication and service to our students and the entire campus community."
Ernest Emenyonu | Africana Studies
Peggy Kahn | Political Science
Charles Thomas Jr. | Sociology, Anthropology & Criminal Justice
Margaret Smith | Library
Margaret Murray-Wright | Nursing
Maureen Tippen | Nursing
Marianne McGrath | Psychology
Vahid Lotfi | School of Management
Christine Waters | Art & Art History
Kui-Bin (Clara) Im | Library
Imane Hakam | Foreign Language
Darryl Baird | Art & Art History
The university also has honored this year's recipients of the Golden Apple. This recognition is "designed to acknowledge faculty for their good teaching, advising, and supervising." Awardees are nominated by students.
Golden Apple recipients
College of Arts and Sciences
Daniel Birchok, Anthropology
Bev Smith, Anthropology
Amy Davis, Arts and Art History
Benjamin Gaydos, Arts and Art History
Mike Sevick, Arts and Art History
Donal Young, Arts and Art History
Theodosia Robertson, Bachelor of Applied Science Program
Heather Dawson, Biology
Danielle Harbin, Biology
Karmen Hollis-Etter, Biology
Cindy Holzer, Biology
Elizabeth Malinowski, Biology
Jennifer Miller, Biology
Jon Morey, Biology
Jerry Sanders, Biology
Jill Slater, Biology
Joe Sucic, Biology
Kevin Tang, Biology
Rebecca Tonietto, Biology
Jill Witt, Biology
Nicole Yambrick, Biology
Matthew Fhaner, Chemistry and Biochemistry
Douglas Herzog, Chemistry and Biochemistry
Darya Howell, Chemistry and Biochemistry
Jessica Kelts, Chemistry and Biochemistry
Nicholas Kingsley, Chemistry and Biochemistry
Justin Massing, Chemistry and Biochemistry
Jessica Tischler, Chemistry and Biochemistry
Steven Toth, Chemistry and Biochemistry
Tayseer Wasif, Chemistry and Biochemistry
Monique Wilhelm, Chemistry and Biochemistry
Besa Xhabija, Chemistry and Biochemistry
Joseph Ghattas, Communication Studies
Dan Lake, Communication Studies
Anthony McGill, Communication Studies
Sarah Rosaen, Communication Studies
Heather Seipke, Communication Studies
Kimberly Laux, Communication Studies
Marcus Paroske, Communication Studies
Amal Alhosban, Computer Science
Halil Bisgin, Computer Science
Cherie Brown, Computer Science
Michael Farmer, Computer Science
Houssein Hachem, Computer Science
John Hart, Computer Science
Pam Kalmar, Computer Science
Matthew Spradling, Computer Science
Kenneth Litwin, Criminal Justice
Joan Mars, Criminal Justice
William DeFrance, Economics
Adam Lutzker, Economics
Olanrewju Aluko, Engineering
Mohammad Aslam, Engineering
Mihai Burzo, Engineering
Khalil Khanafer, Engineering
Seung-jin Lee, Engineering
Ming Li, Engineering
Scott Atkinson, English
Kathrine Colpaert, English
Monika Ehrlich, English
Stephanie Gelderloos, English
Mary Jo Kietzman, English
Suzanne Knight, English
Vickie Larson, English
Dave Linden, English
Maureen Thum, English
Stephanie Irwin, English
Mohamed Daassa, Foreign Language
Jing Fu, Foreign Language
Theresa Knoll, Foreign Language
DJ Trela, Foreign Language
Greg Rybarczyk, Geography, Planning, and Environment
Roy Hanashiro, History
Gregory Havrilcsak, History
Thomas Henthorn, History
Emily Feuerherm, History
Daniel Coffield, Mathematics
Laura McLeman, Mathematics
Cameron McLeman, Mathematics
Shaun Thayer, Mathematics
James Wade, Mathematics
Lois Alexander, Music
Jessica Cech, Music
Aderemi Artis, Philosophy
Benedicte Veillet, Philosophy
Biplob Barman, Physics
Michele Stark, Physics
Katherine Eaton, Physics
Stephanie Hart, Physics
Jason Kosnoski, Political Science
Kevin Lorentz, Political Science
Derwin Munroe, Political Science
Karen Bedell, Psychology
Julie Broadbent, Psychology
Hillary Heinze, Psychology
Terrence Horgan, Psychology
Tracy Juliao, Psychology
Marianne McGrath, Psychology
Peter Molinaro, Psychology
Yael Sela, Psychology
Jeannette Stein, Psychology
Amanda Taylor, Psychology
Thomas Wrobel, Psychology
Jason Jarvis, Psychology
Patrick O'Donnell, Public Administration
Kim Saks-McManaway, Public Administration
Peggy Kahn, Sociology
Jacob Lederman, Sociology
Emma Davis, Theatre and Dance
College of Health Sciences
Jillian Woodworth, Occupational Therapy
Donna Case, Occupational Therapy
Ryan Bean, Physical Therapy
Jennifer Blackwood, Physical Therapy
Cathy Larson, Physical Therapy
Becky Rodda, Physical Therapy
Leslie Smith, Physical Therapy
Amy Yorke, Physical Therapy
Reza Amini, Public Health and Health Sciences
Jacob Collins, Public Health and Health Sciences
Laurel Hilliker, Public Health and Health Sciences
Julie Hollenbeck, Public Health and Health Sciences
Traci Kim, Public Health and Health Sciences
Lisa Lapeyrouse, Public Health and Health Sciences
Janine Marshall, Public Health and Health Sciences
Artina Sadler, Public Health and Health Sciences
Michelle Sahli, Public Health and Health Sciences
Suzanne Selig, Public Health and Health Sciences
Rie Suzuki, Public Health and Health Sciences
Bruce Trevithick, Public Health and Health Sciences
Kendra Vanover, Public Health and Health Sciences
Gena Welch, Public Health and Health Sciences
School of Education and Human Services
Eric Common, Education
Aviva Dorfman, Education
Kathy Dunham, Education
Benjamin Emihovich, Education
Christine Kenney, Education
Suzanne Knezek, Education
Joyce Piert, Education
Melissa Sreckovic, Education
Elizabeth Cunningham, Education
Jennifer Lee, Education
Matthew Wyneken, Education
Nancy Grigg, Social Work
Julie Ma, Social Work
Melvin McDowell, Social Work
Henry Tidwell, Social Work
Todd Womack, Social Work
Laverne McCombs, Social Work
School of Management
Brian Blume
Clement Chen
Francine Cullari
Min Jung Kang
Gregory Laurence
Zhenfeng Liu
Phillip Longstreet
Michael McCarthy
Cathleen Miller
Keith Moreland
David Nelson
Rachel Petrak
Muhammah Usman Ahmed
George White
Michael Witt
Gerald Knesek
School of Nursing
Patricia Abbott
Lyn Behnke
Libby Bell
Lorraine Booth
Roxanne Buterakos
Denise Campbell
Denise Cooper
Marilyn Eipperle
Lisa Fetters
Deb Filos
Marilyn Filter
Kathleen Fisher
Richard Freedberg
Edna Hirzel
Suzanne Lugger
Brian McArthur
Jennifer McDermitt
Marilyn McFarland
Margaret Murray-Wright
Ryan Petty
Ericka Rohde
Lydia Sanchez-Merritt
Kara Schacke
ReeAnn Slagor
Cindy Smith
Carmen Stokes
Lisa Theriault
Maureen Tippen
Carman Turkleson
John Vanderlaan
Helene Vossos
Hiba Wehbe-Alamah
Kristi Wilson
Mirsida Zholi
Diane Towers
Contact University Communications & Marketing with comments, questions, or story ideas.