UM-Flint Chemistry delivers COVID-19 care packages to Flint residents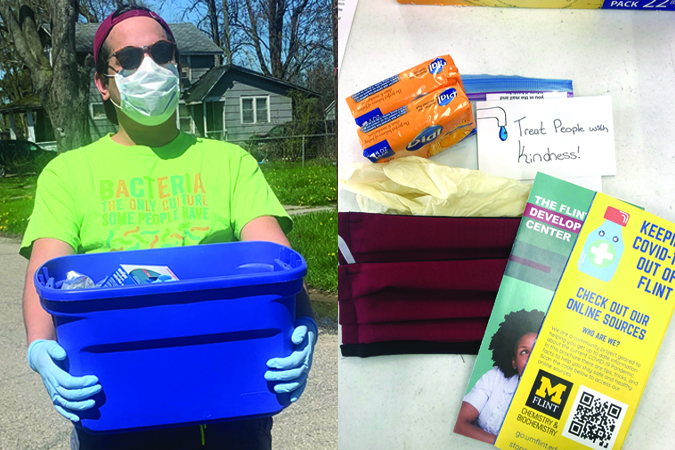 There were 300 COVID-19 care packages delivered to Flint residents on Friday, May 1, thanks to a collaboration between the UM-Flint Department of Chemistry & Biochemistry, the Flint Development Center, and the Flint Truth and Action Partnership Project (FTAAPP).
Created by Assistant Professor of Biochemistry Besa Xhabija, the "Keeping COVID-19 Out of Flint" initiative provides both the protective equipment and knowledge necessary to help slow the spread of COVID-19.
Each care package contains two masks, two pairs of disposable gloves, and two bars of soap. A brochure was also included to educate residents on safely and effectively utilizing their protective equipment. According to Xhabija, a driving goal of this initiative was accessibility—to both vital equipment and knowledge.
"With so much information out there right now, there is some uncertainty for individuals who are trying to keep themselves and their families safe. We want UM-Flint to be a trusted source to which people could turn in order to get the information they need," Xhabija says.
Working with the community
It took just three weeks for supplies and information to be delivered once Xhabija set this plan in motion. For funding, she turned to the Flint Truth and Action Partnership Project (FTAAPP), a program managed by the Office of University Outreach that encourages collaboration between campus and community partners. FTAAPP, which is supported by a grant from the W.K. Kellogg Foundation, made it possible for Xhabija and her teammates to continue work quickly in helping slow the spread of COVID-19.
"Our team recognized the need to assist Dr. Xhabija in expediting the funding process," explains Paula Nas, director of University Outreach. "The Office of University Outreach is thrilled to be able to help provide support for the impactful work of Dr. Xhabija in her collaboration with community partners."
Working on community-centered issues has become a hallmark of Xhabija's work as a biochemist. In March 2020 her research on the effects of lead during the Flint Water Crisis on developing cells was published in the journal "Toxicology in Vitro." This work led to Xhabija connecting with Shelly Sparks, executive director of The Flint Development Center.
Their partnership would prove invaluable, as the non-profit mobilized its staff around the plan to distribute equipment and information. As Sparks puts it, "This project is special because we are directly impacting the community around a serious issue. It's great that [UM-Flint] cares about the community and is willing to be out there on the frontline."
Working in more than the lab
Xhabija was able to secure funding and partners for this project while adhering to the stay-at-home order at her home in Canada. But she would need to rely on someone closer to Flint to help make this project a reality—and she wouldn't have to look far.
Recent UM-Flint graduate Miguel Strawn (Clinical Laboratory Science/Medical Technology '20) has worked with Xhabija for over a year, becoming her senior student research assistant. Before the "Keeping COVID-19 Out of Flint" project, Strawn was assisting Xhabija in exploring how toxins other than lead during the Flint water crisis impacted human development. The exceptional circumstances of COVID-19 brought Strawn out of the lab, into the community, and in front of the camera.
In addition to helping in the creation and distribution of care packages, Strawn created a series of eight videos to help residents navigate life during the pandemic. With topics ranging from The Science Behind the Virus to Personal Protective Equipment: The Dos and Don'ts, the videos seek to provide both a larger understanding of what is happening and practical tips for staying healthy.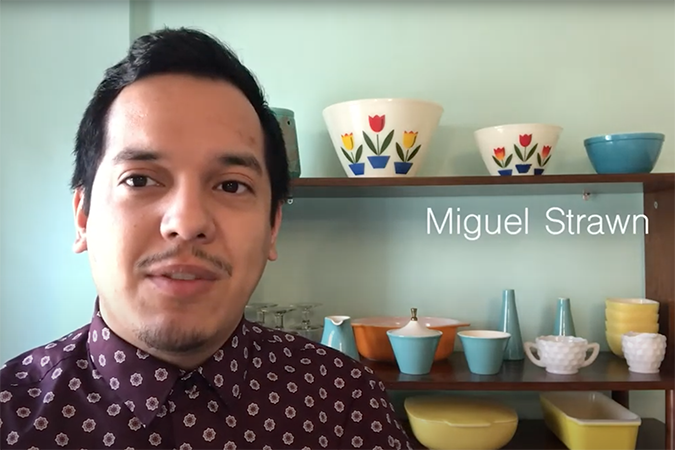 The project was a natural fit for Strawn, who earned a degree in Communication before continuing his studies with UM-Flint to become a medical technologist.
"I remember walking into Dr. Xhabija's office and saying 'Hey, I want to work with you' and we've been collaborating ever since. She has taught me so much," Strawn says. "She taught me to be confident in myself regarding research. She showed me passion for the work we do and how to inspire others. Words cannot describe how much this project changed my life."
A dedication to service
Strawn will begin a clinical residency program at the Beaumont School of Medical Technology later this summer. In the meantime, he will continue working with Xhabija on their important research. The lab is now working on a review paper of the biochemical implications of COVID-19 in the human body.
Xhabija, for her part, will continue bringing her students along in making science relevant for the community.
"We are here to teach more than just theory, and I think it is very helpful for academics to cultivate a sense of public service among our students. We all live in communities and I think it is important for people to consider how they can help their fellow citizens so that we can all move forward together," Xhabija says.
Logan McGrady
Logan McGrady is the marketing & digital communication manager for the Office of Marketing and Communication.