SOM marketing alumna talks legal career and offers advice to current students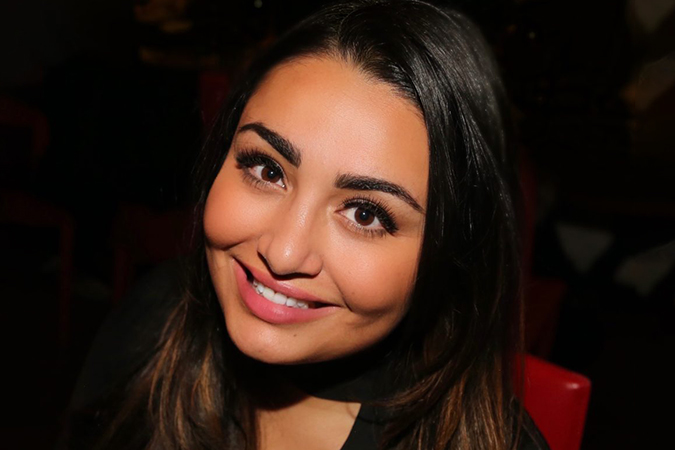 Rashal Baz Zureikat ('14) received her first degree, a Bachelor of Business Administration in marketing with high honors, from UM-Flint's School of Management (SOM) in 2014. She has since moved to Chicago and earned her J.D. from Loyola University Chicago School of Law and received admission to the Illinois Supreme Court Bar in 2017.
She went to law school as a way to bridge the gap after she lost her father to cancer. She explains, the "inherent disparity in knowledge between the person sitting behind the desk delivering the news and the receiving party" sparked her interest to enhance her education background.
Over the years, many of her achievements were academia focused, but her latest accomplishment is actively raising over $1,000,000 for the kids of St. Jude Children's Research Hospital. Her success couldn't have been achieved without the foundational support from pivotal family members, friends, and mentors.
As the SOM Featured Alumni of the Month, Rashal participated in a Q&A and gives insight into why she chose to go to law school after her BBA and what she hopes Flint can become in the future. She also offered words of advice to students and alumni on what has helped carry her in the field to where she is today.
What degrees did you earn, and when did you graduate?
BBA in Marketing, University of Michigan-Flint, 2014 (high honors)
Juris Doctor, Loyola University Chicago School of Law, 2017
Illinois Supreme Court Bar Acceptance, 2017
Where are you currently working and what is your title? How long have you been in this position or at this organization?
I recently began working as a Labor and Employment Attorney at O'Hagan Meyer LLC in Chicago, Illinois. In addition, I have the pleasure of serving as an Adjunct Professor within the Business Law Clinic at Loyola University Chicago School of Law.
Why did you choose UM-Flint for your BBA?
The ability to attain a BBA at a globally recognized university, with a small-town feel, is something unorthodox and a true rarity. Flint harbors an exceptional community and has a cultural center that is the envy of many major cities; more importantly, it is my home.
What is one of your favorite experiences at UM-Flint?
My favorite experience at UM-Flint was the access to the start up community. Trendsetters and passionate Flint natives are a dime a dozen. UM-Flint plays a big role in the redevelopment of Flint – a passion that is contagious and fuels innovation.
Why did you choose to go into the career path you are currently in?
A turning point in my choice to go to law school mounted following the loss of my father to cancer. He was a savvy business owner in the restaurant industry, but his health decline came suddenly and swiftly. I was immediately faced with hospital administrators and complicated property issues.
At that point in time, I considered myself an educated individual but I couldn't help but feel unequipped to handle the information coming my way. There is an inherent disparity in knowledge between the person sitting behind the desk delivering the news and the receiving party. Law school was my way of bridging the gap.
What is one of your proudest accomplishments so far?
Life is about perspective. Six years ago, my proudest accomplishment was my BBA from UM-Flint. Three years ago, it was about becoming an attorney. To date, one of my greatest accomplishments is actively raising over $1,000,000 for the kids of St. Jude Children's Research Hospital. None of these achievements were realized without pivotal family members, friends, and mentors.
What advice would you give students that are thinking of pursuing a career in your field?
I would direct anyone interested in corporate or labor and employment law to my favorite quote by Seneca; "Luck is what happens when preparation meets opportunity." The environment in which I work is incredibly competitive, and you need to be composed and prepared. Build a relationship with your professors. We take them for granted, but they have accumulated a wealth of knowledge and social capital. The UM-Flint management professors helped me focus my goals and provided me with options I couldn't recognize on my own. There are no self-made individuals. We are a byproduct of all those with whom we come in contact, so seek guidance and find one or two good mentors that can help steer you in the right direction.
More importantly, take your steps with an open mind without borders – do not confine yourself to one major because your passion may lie elsewhere. As the saying goes "if you love what you do, you never a work a day in your life."
What would you like to see happen to UM-Flint and the city of Flint within the next five years?
Flint was built on the automotive industry, but the universities that inhabit it will carry Flint's future stability and success. I would like to see the continued growth of higher education within Flint. When you pair a wealth of culture with education, it fosters creativity that can be felt worldwide. I want to see a surge of investment capital and professional mentorship directly in the hands of budding entrepreneurs in Genesee County. A heavily addressed topic is the retention issue of educated youth in Michigan. The state is home to some of the best universities in the country, but it does not hold onto the talent it creates. This topic is not a novel one and is slowly getting better in the Metro Detroit area. A financial push directed at investing in young talent will widen the start-up culture in Flint and better the economy as a whole.
Fun Facts!
Although my fun fact is very common, I love traveling and new adventures. I urge you to travel when possible or find those little cultural escapes brought to life by a good book. My husband and I have visited 39 countries and counting. We were extremely fortunate to plan our travels prior to the global pandemic.
Any helpful advice you would give to a student or other alumni?
Stay grounded, and do not be afraid to roll up your sleeves.
Find one or two good mentors that can help steer you in the right direction.
Buying someone a coffee every now and again can go a long way.
Incorporate community service and volunteer outreach into your daily routine. The best mentorships and friendships are those developed for the greater good.
Never forget the people who helped you achieve success and continue to pay it forward. You could be the missing piece to someone's future accomplishments.
Alexis Menard
Alexis Menard joined the UM-Flint School of Management in April 2018 as the SOM Web & Social Media Assistant. She is a BBA student at UM-Flint pursuing a double major in OBHRM and Marketing.