UM-Flint welcomes new associate director of global engagement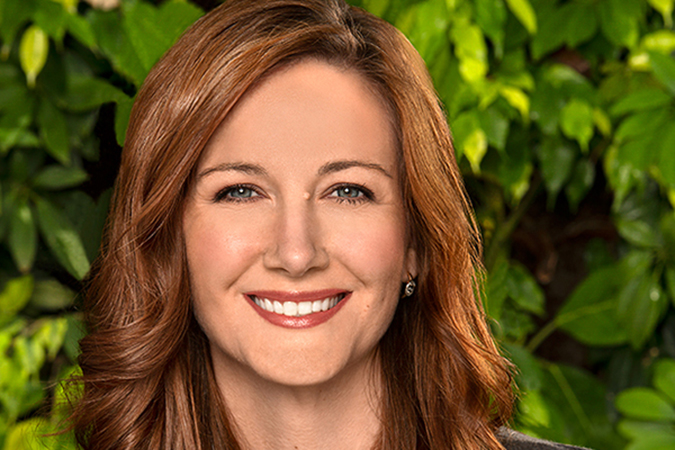 Sarah Pattison joined UM-Flint in April as associate director of global engagement. Pattison will lead the new Center for Global Engagement (CGE), a combination of what was formerly the International Center and the Office of Education Abroad. The new center's goal is to develop "closer lines of communication between overlapping areas of international activities and create a centralized location for those activities to take place."
Pattison details her role within the center and shares her messages for international students and those looking to study abroad in this Q&A with University Communications & Marketing.
What intrigued you about this position and the Center for Global Engagement? Please discuss your role within the ongoing evolution of the center.
This position suits my passion for global learning. We live in a global world daily. We are enriched and challenged by diversity daily. College is the time and the place to make sense of all of these interactions and develop our ideas about how we will make an impact and how we will allow others to impact us.
As the International Center evolves into the Center for Global Engagement, my role is to imbue our community with this passion, strengthen and support what we already do well in this arena, and bring new ideas and innovations to develop a broader view of global learning and engagement at UM-Flint. I hope the CGE will serve as the facilitator to connect and expand all things "global" at UM-Flint.
But I have more than just passionate ideas. I'm pretty good at thinking about how to deliver global learning to our community. Global learning is more than just studying abroad or bringing international students to our campus. Those are just the more visible aspects. Global learning is also about understanding the global dimensions of your major, minor, or graduate degree; it's about learning the languages and appreciating the experiences and worldviews of people from different backgrounds, ethnicities, and regions.
To this end, I really enjoy working with faculty to build this learning into the curriculum. Another way to do that is by connecting our classrooms with classrooms across the globe. I think we learn best from actually connecting with the people of the regions we're studying and there are some really cool ways to do this through project-based and community service learning. I've also greatly enjoyed building faculty-led and short-term study abroad experiences so that students can participate in an affordable program outside the U.S borders.
I also think that it's really important that the CGE continues to support our international students, and ensure that they have many opportunities to engage and become an important and valued member of the UM-Flint community.
What would you like to share with the university community about your professional background?
Most recently, I was at the UM-Ann Arbor campus working for the International Institute. I helped to develop and launch their new Master's in International and Regional Studies program, and I helped to restructure and improve the institute's services for academic advising and funding for international travel.
Before that, I was at the University of Central Missouri where I started as a study abroad and exchange program coordinator and then directed their Center for Global Education. At UCM, I oversaw international student programming, study abroad and exchange, and international faculty services. We drastically increased study abroad participation there, mostly with short-term and faculty-led programs abroad. I'm quite proud of that and am still connected with many of the students that studied abroad through UCM, many of whom thought it would never be possible for them.
In all of my roles, I've focused on how to make things easier and more accessible for the students and faculty so that there are as few barriers as possible for getting involved in international and global learning.
What are your early impressions of the UM-Flint community?
I am struck by how welcoming and supportive everyone is! Also, it is clear that the UM-Flint community has deep connections to the people of Flint and our international partners. There is already so much happening here that is "global" or "international". I can't wait to be on campus in Flint and get to know you all better!
Within this time of uncertainty, what is your message to international students considering UM-Flint? How will they be supported after admission to the university?
No doubt, these are uncertain times for us all. I have a child that is hoping to start his undergraduate degree at UM-Flint this fall and is hoping that international travel will be part of his college experience in the near future. I'd offer the same advice to international students considering UM-Flint that I offer my kids: now is the time to be thinking about the importance of learning and engaging globally.
International travel may slow down for now, and even look different for a while, but we need this generation to continue to develop international and intercultural skills and perspectives so that they can help find solutions to our global challenges. Global health collaborations, political responses to COVID-19, socio-economic implications, etc.: there are so many issues now at the forefront. Now is the time to find a way to connect meaningfully across borders and think about how we will shape the post COVID-19 era, there are problems to solve and there are opportunities for great change right now and right here at our doorstep–don't let those ambitions go away! To this end, studying at UM-Flint should still be at the forefront of your academic planning.
Practically speaking: Keep your Plan A: fill out the UM-Flint application, attempt to get your visa and travel plans in order. Then, work on Plan B: get involved with online international learning, learn a new language, and connect via social media with new and diverse people. Most importantly, stay connected with our staff, the International Center/CGE staff are still here and still supporting our international students. We'll help you through the admissions process and keep you updated on UM-Flint's plans for the fall term. As things change, we'll help you understand what that means for getting your visa, making travel plans, moving into housing, and enrolling in classes.
What would you like to share with current students intrigued about pursuing educational experiences abroad? How will you and the center support them in these endeavors?
I've been transformed by studying abroad. My eyes were opened to so many new and different things, and I am life-long friends with many of my classmates and faculty that I met when I was in Italy and Greece. So, I firmly believe that every person should complete a part of their college requirements abroad. I can help by expanding opportunities at UM-Flint.
Often students are concerned about the time and financial commitment of studying abroad. I understand that because I've faced those challenges as well and I've found that short-term and summer options tend to be a good fit for many students. I would like to help by expanding these types of programs and the scholarships that make it possible for students to go abroad.
At the graduate level, I'd like to bring in more international internships and collaborative programming and curriculum with our international partners so that graduate students have opportunities to study abroad as well. Both of my study abroad experiences were a part of my graduate degrees, and it has been those parts of my graduate work that have propelled me most in my career. In short, I've never met anyone who regretted studying abroad, but I've met plenty who regret not doing it. I hate regrets–so, let's not let that happen at UM-Flint!
Contact University Communications & Marketing with comments, questions, or story ideas.