UM-Flint Doctor of Nursing Practice students share their stories of life on the COVID-19 front lines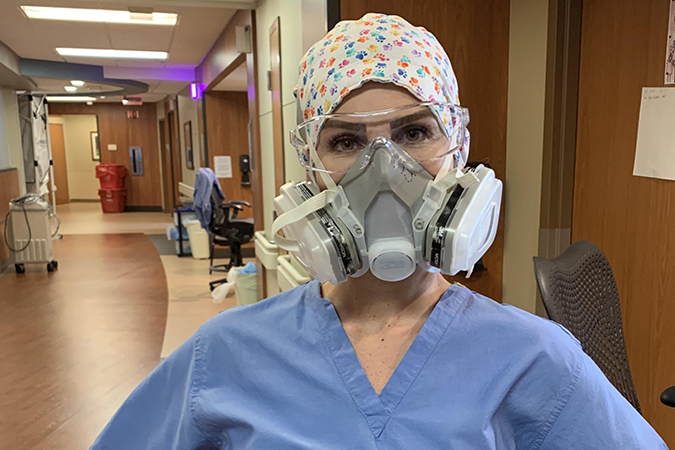 A wide array of healthcare providers from UM-Flint's School of Nursing (SON) are on the front lines of the fight against COVID-19.
"I am inspired by the UM-Flint School of Nursing students, faculty, and alumni who are working harder and smarter than ever to prevent and treat the highly communicable COVID-19," said SON Dean Margaret Andrews.
"Although combating the coronavirus requires a multidisciplinary team, professional nurses and nurse practitioners comprise the largest sector of the healthcare delivery system and provide for those infected with 24/7 frontline care until they are strong enough to be discharged to their homes and grateful families."
Director of Graduate Nursing Affairs Connie Creech said the School of Nursing has adapted to best serve students and society during this time.
"The SON nursing faculty have been working closely with our graduate students, most of whom work daily on the front lines of the pandemic, supporting them with flexibility in assignments and carryover of required clinical hours that have been cut short from the pandemic. The faculty understands how desperately our graduates are needed in the overwhelmed and exhausted nursing workforce," said Creech.
"They are creatively designing new curricular plans that allow students to graduate on time and join their fellow nursing workforce heroes on the front lines of the pandemic."
For this story, three students within the Doctor of Nursing Practice (DNP) program who are serving in Michigan on the front lines of the COVID-19 pandemic spoke with University Communications and Marketing about their efforts combating the disease, how they cope, and how their experiences within UM-Flint's program are helping them professionally and personally.
Martyna Jezak
Jezak works as an intensive care unit nurse in the Detroit area.
"I have been a nurse for six years and have never seen anything like this," she said.
With families not able to visit patients, she and her fellow nurses are often the last people COVID-19 dying patients see. Those dying sometimes have to say goodbye to their loved ones via a tablet computer.
"It hurts me because I wouldn't be able to emotionally handle not seeing my loved ones," she said. "It is so hard to see them say goodbye."
But Jezak finds comfort from the baked goods and masks community members donate. Her husband is a firefighter and paramedic, so they both understand each other's jobs. She takes walks, and they enjoy time with their pet cocker spaniel poodle.
And she leans on the training she receives within UM-Flint's DNP program, which has increased her patient assessment and critical thinking skills.
"During my usual shift assessments, I have found myself to be more thorough, with a better understanding of why I might find deviations from normal exam findings. Then with my improved critical thinking skills, I feel better equipped to anticipate the possible things that can go wrong during my shift and prepare accordingly," said Jezak.
"I feel that this is especially important for COVID-19 patients because it seems like one minute they are doing okay and the next minute you're asking someone to rush you supplies or medications urgently. I feel that with both of those skills I am a more confident nurse, I can anticipate my patients' needs better, and I have been able to have a more enhanced experience during patient rounds with providers since I am able to offer helpful feedback and suggestions for patient care."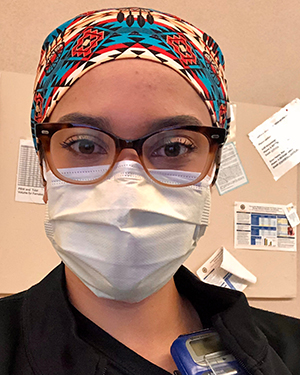 Brittney Rice
Rice has deep ties to UM-Flint. She earned her RN to BSN degree from the university and was a student commencement speaker in 2015. She is now a student within the DNP program.
Rice is a bedside nurse within a surgical intensive care unit at a southeastern Michigan hospital.
These connections to the university have brought a much-appreciated level of support during the pandemic.
"The university has been sending out all of these encouraging emails, and everyone has been rooting for us," Rice said. "The faculty have been supportive and adjusted deadlines. They have worked in the field, and they get it."
Rice said the scope of the pandemic is hard to even describe. She hangs out with her goldendoodle puppy, video chats with family and friends, and spends time outside to help process everything and unwind.
"None of us have experienced this before. We are taking care of other health care providers from other hospitals who have the virus. It's hard to convey what is going on and how bad it is. It's hard to comprehend it."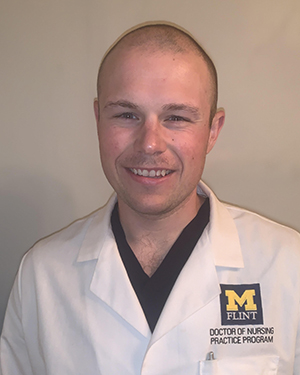 Joey Droppers
Droppers, studying to become an acute care nurse practitioner, never anticipated he would experience something like this pandemic. But the UM-Flint training and online community are helping him cope.
Droppers is a bedside nurse within a cardiothoracic intensive care unit in western Michigan.
"All of us within the acute care program work and have worked in the ICU. It builds a great community of people that get it," said Droppers. "It's always good to relate to and talk to people that know what you are going through."
Droppers said he prays and goes on regular runs to stay healthy in body and spirit during the pandemic. And he keeps in regular contact with his peers and professors at UM-Flint. Those bonds help both with concrete advice and overall emotional support.
"Healthcare providers in general just get it," he said. "We see so many sad, depressing, and messed up situations," Droppers said. "Through school, knowing someone is on the other end of a submission or a post is significant because we have all gone through the same thing for many semesters."
Contact University Communications & Marketing with comments, questions, or story ideas.