Seeing eye to eye: UM-Flint professor researches how optometrists communicate lifestyle advice with their patients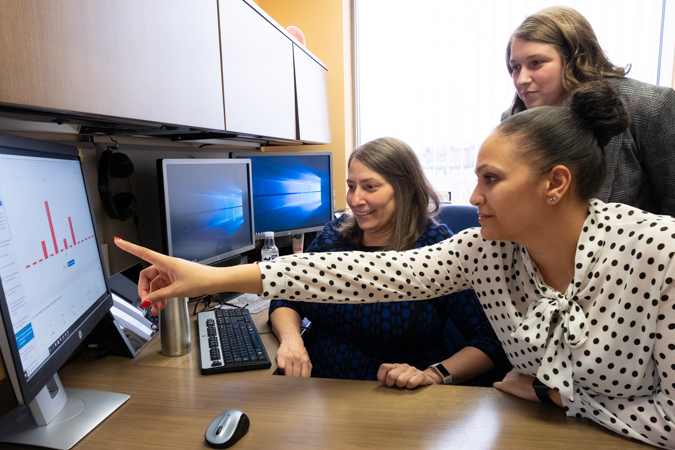 Dr. Michelle Sahli, an assistant professor within the Department of Public Health and Health Sciences, is surveying optometrists statewide about whether they communicate lifestyle advice with their patients, and when they do not, what prevents them from doing so. The results could pave the way for future training on how to positively influence people's lifestyle decisions in a wide variety of medical fields. Dr. Sahli shared more about her ongoing research and its potential implications with University Communications and Marketing.
Can you provide a summary of the research project?
This study, the Michigan Optometrists' Practices In Advising About Lifestyle (MOPAL), aims to identify whether Michigan optometrists provide any lifestyle advice to their patients, what kind of advice they offer, which patients receive the information, and if that advice varies by patient demographics. The types of lifestyle the survey inquires about include smoking, alcohol use, diet and dietary supplement use, and physical activity. For those optometrists that state that they do not give advice about any or all of the lifestyle factors, we inquire about the reasons they do not do so and the barriers they face in doing so.
Who is being surveyed, and where?
We mailed surveys to a random sample of 800 optometrists registered in Michigan. Optometrists had the option of taking the survey online or by sending a paper survey back to us in a prepaid envelope.
What motivated you to explore this topic?
I spent a while looking at different nutrients and their relationship with eye disease, and especially diabetic eye disease. I started to wonder how the healthcare providers who interact with people with diabetes advise their patients on diet and other lifestyle factors thought to be associated with diabetic retinopathy. This grew into an interest in who gets this advice. Is it just those with certain conditions, people at risk for certain eye diseases, or all patients?
Various lifestyle practices, such as diet and physical activity, are thought to influence eye health and other chronic conditions. Some studies have shown that physicians can influence these behaviors in their patients. However, other healthcare providers are often excluded from these studies. Few studies have focused on lifestyle advice offered by optometrists; those that did focused primarily on smoking related advice. Previous studies also did not examine the relationship between patient socioeconomic status, race, or age, and lifestyle advice given to them.
Depending on the results, what are the potential community initiatives that could come from this?
The results of this study could influence the training optometrists receive both while they are in optometry school and as part of their continuing education. If modifiable barriers to providing such advice are found, we could work to removing these barriers.
What is the public health value knowing how non-physician healthcare providers communicate or do not communicate with patients?
Although optometrists are primarily involved in examining peoples' vision and eyes, many lifestyle factors that affect the eyes can also affect other parts of the body. For example, smoking has been shown to be an important risk factor for glaucoma. Smoking is also a risk factor for lung cancer, heart disease, and many other health issues. If the optometrist is successful in convincing a patient to quit smoking because it could affect their vision, this could also bring about beneficial changes to other areas of the patient's health.

Research has provided evidence that people are more afraid of losing their vision than losing a limb or their hearing. Having an eye care specialist tell a patient that they are risking their vision may provide a teachable moment in which the patient can be convinced to change their lifestyle. As previously stated, these lifestyle-related risk factors affect more than just vision. Changing them could result in better overall health.

Do you have thoughts of extending this work within other fields?
Yes, we plan to extend this work to other non-physician healthcare providers such as dentists, podiatrists, and physical therapists. We have already begun thinking about how this survey can be adjusted to examine the lifestyle advice given by dentists to their patients. One reason we chose dentists is that, often, someone who puts off seeking medical care may be forced to see a dentist due to pain. It may also be a teachable moment in the life of that patient.
How can this benefit patients in the long run?
Perhaps hearing the same advice from multiple healthcare providers would encourage some patients to work on changing their lifestyle behaviors.
If any healthcare provider's advice results in a patient changing their lifestyle for the better, this could result in better overall health, not just the area in which that provider practices.
How can it benefit healthcare providers?
This work can benefit healthcare providers by giving them the opportunity to learn about the advice that others in their field are providing. It can help convince professional schools to provide opportunities to their students to learn about advising on lifestyle.

Healthcare delivered by inter-professional teams is beginning to become more common. Lifestyle factors have been found to be risk factors for multiple diseases. Working on modifying these behaviors is of interest to all health disciplines, and all disciplines should be invested in providing such advice. Studies examining the barriers to providing such information could lead to removing these barriers.
How are students involved in this work with you?
Students have been involved with the MOPAL study since its inception. A former MPH student, Brenna Dressler, worked with me on revising a previous survey I used to collect data from optometrists in Western New York during a summer internship (MICHR Summer Immersion Program). Caitlin Toth and Anya Harris, both current MPH students, have worked on sending out the survey and inputting the data we have received thus far and will be starting the data analysis this month. Harris is also a practicing dentist. They both will assist with writing and submitting a manuscript with the findings of the MOPAL study.
Contact University Communications & Marketing with comments, questions, or story ideas.