Mukkamala unites students and Flint "makers" to craft surgical masks for local healthcare workers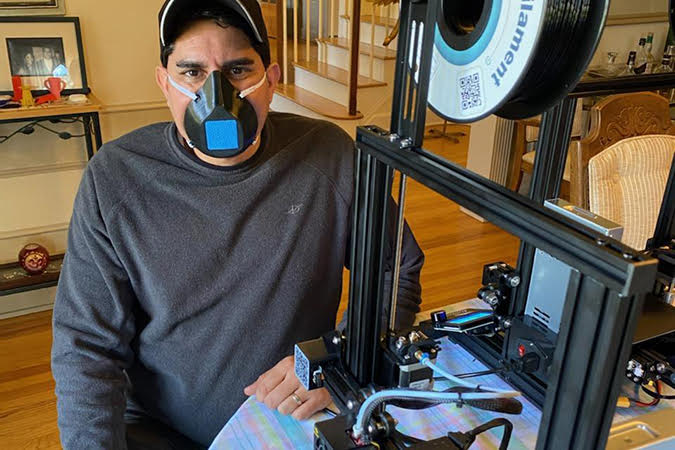 As local hospitals and healthcare organizations struggle with the unprecedented challenges stemming from the COVID-19 pandemic, a local father-son duo with strong ties to UM-Flint are doing their best to help.
Dr. Bobby Mukkamala, Flint doctor and philanthropist, and his son, Nikhil, recognized early that healthcare workers were facing a shortage in needed surgical masks. And, as the two are self-described "early embracers of technology," they quickly came up with a plan to use 3D printing as a way to help provide some assistance.
"My son, [sophomore University of Michigan engineering student and former UM-Flint DEEP student] Nikhil, found plans online for a surgical mask that could be printed using 3D printing technology," said Mukkamala. "I had about 20 such printers sitting at home in boxes that I planned to donate to the Flint Community Schools through the CRIM's community education program and, since the district is now closed, I decided to put them to work."
After experimenting with multiple designs, the Mukkamalas landed on a mask known as the "Montana model." According to the Associated Press, the free, open-source design file has been downloaded and shared in 148 countries across six continents.
"The first mask we tried printed flat, making it easier to ship, but it required a lot of user modification," Mukkamala said. "And, since we were deploying the masks locally, shipping wasn't an issue. Then, Nikhil found the Montana model, which performs as well as those currently being used in hospitals, fit better, and was easier for the staff to use."
To date, the duo has produced more than 300 masks and continue to make more daily. To aid in the production and increase the number of masks available to local hospitals such as Hurley Medical Center, Mukkamala has linked up with other makers through Flint's Factory Two, including high school and college students from Genesee County.
"The Flint community has always made things. It's in our DNA," said Mukkamala. "And here we are doing it again."
"Not only do we make, but we teach others to make. Our universities do it best, but we can all do it. And now we've taught young people to make something that will likely save a life when it's all said and done."
Mukkamala, who established the Bobby Mukkamala and Nita Kulkarni Health Professions Scholarship in 2009 to provide financial assistance to graduates of the Genesee Early College Program for their pursuit of undergraduate studies at UM-Flint, still plans to donate the printers to the Flint Community Schools. But, in the meantime, his team of makers will continue to produce the needed personal protective equipment for those local healthcare workers on the front line in the battle against COVID-19.
"It's said that necessity is the mother of invention," concluded Mukkamala, pondering lessons learned from the most recent public health crisis. "Our community is in need now, and thus, we invent. From 3D-printed masks to face shields, to rethinking how we meet (virtually) and how we take care of patients (telehealth), we're coming together to fight this threat."
"We've discovered new skills and ways to work together. When we emerge from the worst of the COVID-19 pandemic, we'll use these skills to improve from where we were as a community."
Contact University Communications & Marketing with comments, questions, or story ideas.