UM-Flint announces 2020 Maize & Blue Award recipients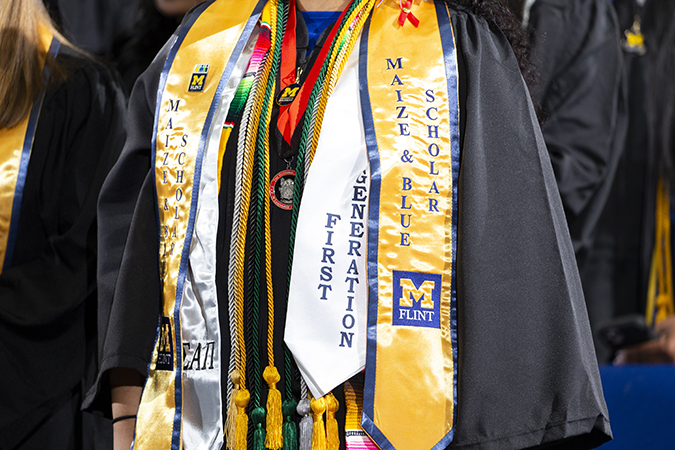 The Scholarships, Awards, and Special Events Committee and Interim Provost Keith Moreland have announced that the following Winter 2020 graduates are the recipients of the Maize and Blue Distinguished Scholar Award, the highest academic award bestowed upon the graduates of the University of Michigan-Flint.
From the Maize and Blue recipient list, Olivia R. Miller and Elisabeth M. Hamilton have been selected as student commencement speakers.
Holly Attebury
Bachelor of Science in Molecular Biology & Biotechnology
Georgina S. Brown
Bachelor of Science in Molecular Biology & Biotechnology
Jaycie N. Clinton
Bachelor of Science in Nursing
Evelyn A. Gagnon
Bachelor of Science in Clinical Laboratory Science
Bachelor of Science in Biochemistry
Elisabeth M. Hamilton
Bachelor of Business Administration in Marketing
Bachelor of Business Administration in Entrepreneurship & Innovation
Cordell J. Harris
Bachelor of Arts in Physics
Dahlia A. Kassel
Bachelor of Arts in Theatre
Bachelor of Arts in Psychology
Patricia Kennedy
Bachelor of Science in Health Sciences
Olivia R. Miller
Bachelor of Arts in English
Makenzie S. Schroeder
Bachelor of Arts in Communication
Bachelor of Arts in Political Science
Ella K. Sinclair
Bachelor of Fine Arts in Ceramics
Betty J. Still
Bachelor of Science in Elementary Education
Nicholas R. Wills
Bachelor of Science in Green Chemistry
Carly A. Wykes
Bachelor of Science in Biology
Contact University Communications & Marketing with comments, questions, or story ideas.