UM-Flint occupational therapy students share success stories of program's first year
Brady Covert's motivations for pursuing a career in occupational therapy stemmed from a straightforward and powerful place.
"You can work with a lot of different populations of people, and it's a great way to help people live their lives to the fullest," said Covert. Occupational therapists help people physically and mentally with a range of activities, such as getting out of bed, cooking dinner, or working on handwriting.
When Covert heard that UM-Flint was starting the first entry level Doctor of Occupational Therapy program in the state of Michigan, she took a gap year to be part of the first class.
"I knew it was going to be good," said Covert, pointing to the university's strong physical therapy program and her experiences studying athletic training at UM-Ann Arbor as an undergraduate.
Covert and thirty others make up the inaugural class of the OTD program at UM-Flint. They come from seventeen different universities and colleges from three different states. April marks the end of the first academic year.
"They are making history," said founding director Dr. Nancy Vandewiele-Milligan.
The three-year full-time program integrates clinical work, community outreach, research, and group collaboration to prepare them for professional success. Labs include a kitchen, shower, and pediatric space to learn how to help people of all ages. Students will complete a capstone project in their final year with community and clinical partners. The work on campus and in the public is currently on hold during COVID-19 but the program continues to operate remotely.
Quinn Hanses, a joint OTD and Master of Business Administration student, said the program's wide variety of offerings, such as the opportunity to publish papers with professors and job shadow current occupational therapists in the field is deeply significant.
"Immersion in this kind of experience as a first year student is absolutely incredible," said Hanses.
Covert said year one has been all that she expected and more. She has learned about empathetic care, working with other healthcare professionals, and what it takes to build a knowledge base. Prior to COVID-19, the group made frequent visits to area schools where children have certain physical or mental obstacles.
"At the site visits, I have been able to see what an occupational therapist does in each setting as well as other professions such as physical therapy, applied behavior analysis therapy, speech therapy, and music therapy," Covert said. "We have been able to go into classrooms and therapy sessions and see what the pediatric population is like. This helped me understand the team of health professionals that work together to treat patients."
The group has worked at PT Heart, the student-led community clinic housed at the Sylvester Broome Empowerment Village in Flint. UM-Flint physical therapy and health education students also work at the clinic to provide care for uninsured and underinsured people.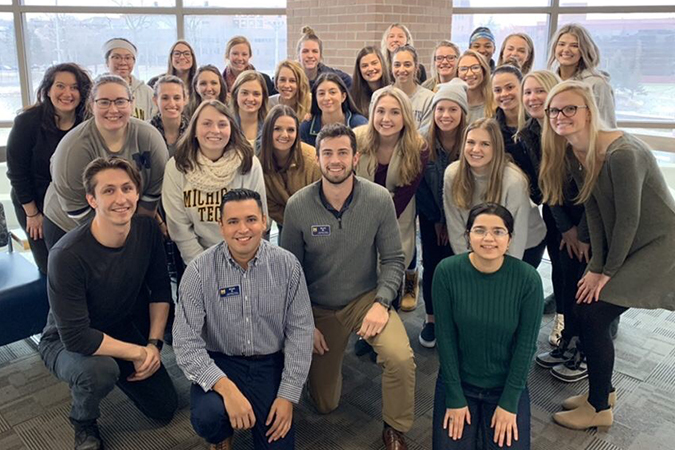 It's just one example of a program designed to promote responsibility and professional growth, said Paige Boone, president of the UM-Flint Student Occupational Therapy Association.
"You have the opportunity to mature and grow up. You are immersing yourself in the field," said Boone. "All of these opportunities are preparing us for the work world."
Boone earned her undergraduate degree in human biology from UM-Flint and was attracted to the idea of helping people navigate their day-to-day lives. She aspires to work with military veterans upon graduation.
Throughout the first year, the quality of the faculty has been evident, Boone said.
"They are constantly reaching out and checking on us, but they are discreet about it. You can tell how passionate the professors are," said Boone.
"Dr. Vandewiele-Milligan looked for the best to teach us. Everyone who is here is top of the line, and it shows in the classroom."
With COVID-19, everyone within the program needed to adapt and adapt fast. Classes were up and running virtually by day one of the new remote setup. Also, the student group has co-developed with the Michigan Occupational Therapy Association weekly virtual discussions on issues such as telehealth and practicing during the pandemic. Occupational therapists from across the state have participated.
Covert said the flexibility practiced by both faculty and students during the pandemic provides benefits in the long run.
"It's setting us up for success in the future because not everything is going to be cookie-cutter in the field," she said.
Vandewiele-Milligan said the students have been proactive and inquisitive.
"They are a very engaged group of students who always are looking to do more," she said.
Hanses said the cooperative approach by students helps them collectively and as individuals.
"Communication is a huge asset since you need to listen and understand what your client wants to accomplish," said Hanses. She earned her bachelor's degree in psychology from Michigan State University and plans on being both a patient advocate and clinician upon completion of UM-Flint's program.
Hanses applauded the faculty, program design, and the chance to meet students from so many other universities
"It's been great. I feel good here," she said.
Contact University Communications & Marketing with comments, questions, or story ideas.