President Schlissel approves support for UM-Flint academic advising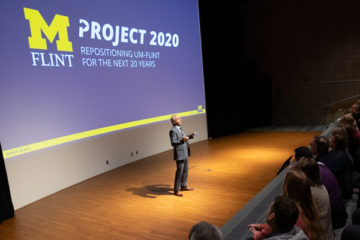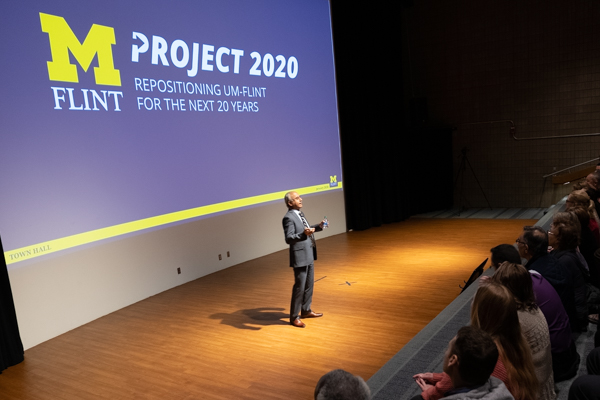 Project 2020 received a big boost with the announcement of a 3-year, $3.6 million grant from the U-M Ann Arbor that will dramatically increase the number of academic advisors at UM-Flint.
The grant, approved by President Mark Schlissel, will reduce the academic advisor to student ratio from 1:390 to less than 1:200. This strategic initiative will help address the university's goals for second- and third-year retention, as well as increasing six-year graduation rates from 40 percent to 60 percent.
Chancellor Deba Dutta expressed appreciation for the support of President Schlissel and the University of Michigan Board of Regents, stating that this move will make a critical difference for UM-Flint students.
"This funding represents a paradigm shift for academic advising at UM-Flint," said Dutta. "Increasing the number of highly qualified advising professionals will provide our students with an important resource ensuring they achieve their educational goals in a timely fashion."
The hiring of the first cohort of new advisors is underway. The recruitment under this initiative will continue and, by the end of 2021, a total of 20 new advisors will be on staff and working with students on their paths toward graduation.
Dutta announced the initial components of Project 2020 at the Chancellor's Town Hall on January 22. The ambitious, multi-year action plan addresses recruitment and retention initiatives, including the establishment of a new School of Technology. Project 2020 is designed to help the university flourish "at the speed of students" and will incorporate the ideas and efforts of the campus community.
Faculty, students, and staff are invited to provide feedback and learn about the details of Project 2020.
Robert is a staff writer in University Communications & Marketing. Contact him with comments, questions, and story ideas.