Flint rap movie kicks off UM-Flint's push to grow local music collection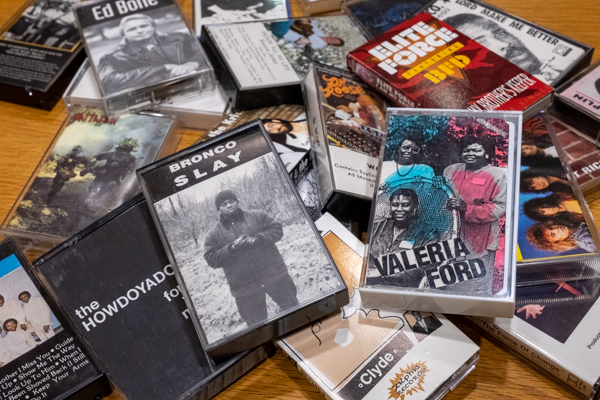 UM-Flint will screen a documentary showcasing rap music in Flint as part of an ongoing university initiative to document the vibrant heritage of music in the city.
Breed and Bootleg: The History & Future of Flint Rap Music will be shown on February 26 from 5:30 to 7 p.m. within the Kiva at an event sponsored by the Frances Willson Thompson Library and the Intercultural Center.
The film reports on the history of rap in Flint, beginning in the early 1980s through the present day. It prominently features Flint rappers MC Breed and Ira "Bootleg" Dorsey. Breed reached a national audience in the early 1990s with his song "Ain't No Future in Yo' Frontin'."
David Luke, interim campus diversity officer and director of the Intercultural Center, said the film is one way to connect students to Flint's impact beyond the city's borders.
"It is valuable that we engage with the history here, and that our students see the role of their community in some of these broader social trends, arts, and movements," Luke said.
Colleen Marquis, the archivist within the library's Genesee Historical Collections Center, spearheaded the screening. Within its collections, the center has a wide range of Flint music throughout the decades, including country-western, rap, classical, religious, rock, metal, punk, jazz, hip hop, and pop.
There is currently a display of some of this music on the second floor of the library.
The current collection includes CDs, cassettes, and records. The university community and the public can listen to the music at the archives.
"Some of these tapes are made by the artists themselves, not released by a record company. Some were clearly made in someone's basement or recorded at a live show. This is our art and it should be preserved," Marquis said.
Marquis and others within the university are working on a listening party focused on Flint hip hop and rap.
Also, Marquis is requesting donations of Flint music and related artifacts dating before 2000, such as posters, ticket stubs, and t-shirts.
"Flint should be celebrated for everything it is, in areas such as music, art, history, and for the incredible people who live here," Marquis said. "We are really excited to be able to share that with the community."
---
Subscribe to the UM-Flint NOW newsletter. See what's new at UM-Flint NOW with the latest news, happenings, and special announcements delivered to your inbox every two weeks.
Contact University Communications & Marketing with comments, questions, or story ideas.