UM-Flint program fuels Flint's entrepreneurship and innovation renaissance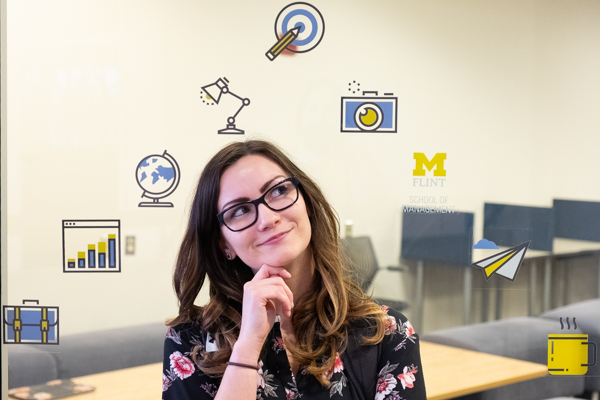 As the CEO of the Flint & Genesee Chamber of Commerce, Tim Herman sees up close the value of entrepreneurship and innovation to a region. He sees it in the services and products entrepreneurs develop, and he sees it in the jobs that originate from their ideas in action.
"Entrepreneurs are often at the leading edge of developing new products, services, and ways of doing things," he said. "They're risk-takers and visionaries and hard workers. They also understand the importance of collaboration."
That creativity and collaboration, whether it's within an existing operation or part of a new venture, is key to a thriving economy, local experts say.
"Entrepreneurship and innovation are part of our DNA makeup in Flint and Genesee," Herman said. "The genesis of the global automotive industry is here in Flint. Today, more than 100 years later, we are experiencing a renewed emphasis on the vital role of entrepreneurs in the reshaping and remaking of the local economy."
UM-Flint senior John Hohman learned the various dimensions that make up this mindset while majoring in entrepreneurship and innovation management.
"I thought it would be a way to challenge myself and my way of thinking," said Hohman. "It has helped me even more than I thought it would."
Hohman said the program helped him evaluate issues and problems from various viewpoints. He currently works at his family's business, and what he's learned has allowed him to provide new ideas to the operations.
"It gets you thinking in new ways. It helps you develop the skills you need to build creativity," he said.
The major was launched in 2015 to educate students interested in either starting their own venture or working within innovative and entrepreneurial organizations.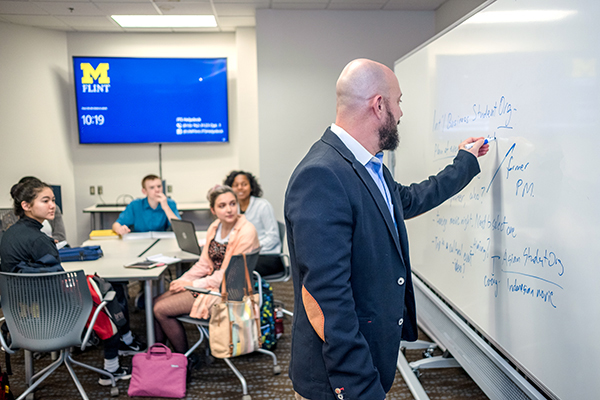 "The major blends the expertise of the school's marketing and management faculty and covers an array of issues, such as product development, business start-ups, technological innovation, marketing research, project management, and negotiation skills," said Dr. Brian Blume, professor of organizational behavior and HR management, and associate director of the Hagerman Center for Entrepreneurship and Innovation Management.
The major emphasizes hands-on experience, such as job shadowing and internships. For example, numerous students have worked at the Flint organization 100K Ideas, helping people develop their entrepreneurial ideas.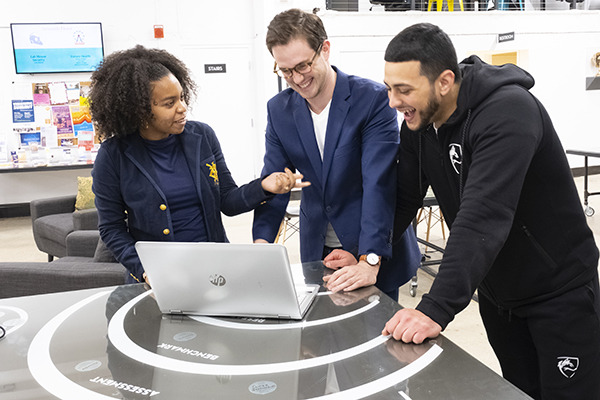 Dr. Blume and Dr. Thomas Hemphill co-developed the major.
"Our students are attracted to this major because there is a high level of analysis, drive, and motivation required," said Hemphill, a David M. French distinguished professor of strategy, innovation, and public policy.
Dr. Mark Simon, director of the Hagerman Center, said one reason the major works is students get to meet and learn from those actively working within the field.
"There are a lot of face-to-face interactions with practicing entrepreneurs," he said.
The undergraduate major is part of a large network of services at UM-Flint that supports entrepreneurship and workplace innovation, including but not limited to: University Outreach's Innovation Incubator, the Hagerman Center for Entrepreneurship and Innovation, the EDA University Center for Community and Economic Development, the Young Sharks program, the student-led Entrepreneurs Society, the Career Center, and various business pitch competitions such as Zillion Solutions.
Herman said undergraduate programs within entrepreneurship and innovation management serve an important role within the community.
"The students benefit through practical, hands-on experiences under the guidance of a skilled professional educator," he said. "Society stands to benefit from the products and services that entrepreneurs bring to market, as well as from the employment opportunities these new ventures may create."
Elisabeth Hamilton, a senior who is majoring in the program along with marketing, said she would eventually like to start her own business, and her experiences at the university have provided her the foundation. Hamilton, the current vice president of the Entrepreneurs Society, lauded the design of her undergraduate studies for opening her eyes to possibilities.
"Entrepreneurship is a mindset, and the classes really emphasize that," Hamilton said. "You are making business plans and talking with other entrepreneurs. I learned there isn't one specific way to be an entrepreneur. There isn't one blueprint. There are so many different ways to succeed."
Contact University Communications & Marketing with comments, questions, or story ideas.