UM-Flint scholarship program expanded to benefit more U of M family members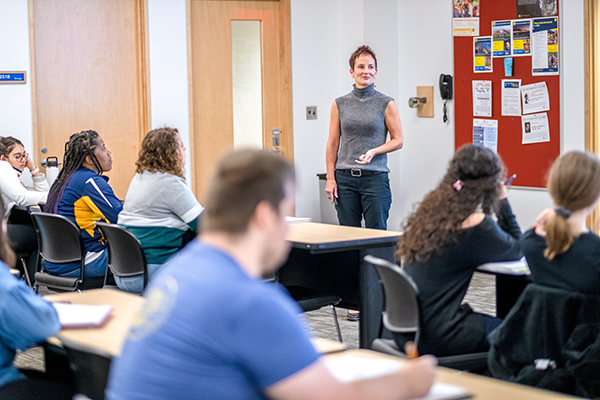 In 2006, the University of Michigan-Flint launched the Dependent Child Scholarship Program, an initiative granting children of full- and part-time faculty and staff a 50% tuition discount for courses on the UM-Flint campus.
The program was praised from its inception and remains today as an added benefit to employment at UM-Flint.
And on Monday, January 27, the university's Human Resources office announced an expansion to the popular program, which will now cover three groups:
dependent children of UM-Flint faculty and staff;
spouses and other qualified adults of UM-Flint faculty and staff;
and dependent children of faculty and staff from other U of M campuses (Dearborn, Ann Arbor, Michigan Medicine).
"We've been looking at ways to expand the Dependent Child Scholarship Program to benefit more employees for some time," said Beth Manning, director of Human Resources at UM-Flint. "There are over 700 employees from Dearborn and Ann Arbor living here in Genesee County, and thousands more in neighboring counties."
"I'm very pleased that we're able to offer this program as another benefit to the faculty and staff of the University of Michigan."
All courses must be taken through UM-Flint, and the program applies only towards an individual's first bachelor's degree. There is no limit on the number of scholarships for dependent children who may receive this benefit annually. Awards for spouses or other qualified adults, however, are capped at fifteen each year.
UM-Flint dependent children, spouses, and other qualified adults receive a 50% tuition and fees scholarship towards their first bachelor's degree. Dependent children of employees on the UM-Ann Arbor, UM-Dearborn, or UM-Michigan Medicine campuses receive a 20% tuition and fees scholarship.
"Initiatives like our UM-Flint Dependent Tuition Scholarship Program are just one more reason why UM-Flint is a great place to work, and they play a key role in attracting students who want to pursue their academic and career goals," Manning said. "And if we can help even a few people achieve their dream of a Michigan degree, then it's worth it."
Application forms, specific guidelines, and FAQs will be available at the UM-Flint Human Resources page by January 31, 2020. Questions regarding this program can be directed to Benefits Coordinator, Suzi Bye.
Contact University Communications & Marketing with comments, questions, or story ideas.