UM-Flint selected for Carnegie Community Engagement Classification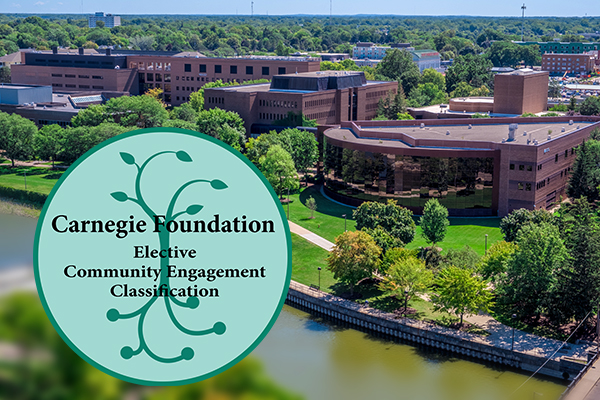 The University of Michigan-Flint has been selected by the Carnegie Foundation as one of the 119 U.S. colleges and universities to receive the Carnegie Community Engagement Classification in 2020, an elective designation that indicates an institutional commitment to community engagement.
The Carnegie Community Engagement Classification has been the leading framework for institutional assessment and recognition of community engagement in U.S. higher education for the past 14 years.
"We are extremely honored – and proud – to be recognized once again with the Carnegie Community Engagement Classification," said Deba Dutta, UM-Flint's chancellor. "This classification signals our commitment to our community engagement efforts, both on campus and through our work with our community partners."
"I want to thank our faculty, staff, students, and community partners for their hard work and dedication to our Flint and Genesee County family."
UM-Flint is one of 75 institutions that were reclassified in the 2020 cycle, after receiving its original classification in 2010, while 44 other institutions received the classification for the first time. These 119 institutions join the 240 institutions that earned the classification during the 2015 selection process, for a total of 359 campuses who are currently active holders of this prestigious designation.
This important classification is awarded following a process of self-study by each institution, which is then assessed by a national review committee led by the Swearer Center for Public Engagement at Brown University, the administrative and research home for the Carnegie Community Engagement Classification.
"Engagement in our community is one of the pillars upon which our campus is built," said Paula Nas, director of the campus' primary coordinating unit for curricular, co-curricular, and community-based civic engagement programs, University Outreach. "Engaged citizenship is part of our mission statement, acting as a vital partner in our community is part of our strategic plan."
"Here at UM-Flint, it's not just lip service. Community engagement is purposeful and impactful," she said.
And Nas should know. Since 2009, the last time the university initiated the Carnegie accreditation, Outreach has added at least three entirely new community-based programs:
the Geographic Information Systems Center (GISC), established in 2011, is a research center with a mission to leverage interdisciplinary collaborations in the use of geospatial technology (GIS, Remote Sensing, GPS) for research, education, and community service. The GISC coordinates MapFlint, a community-wide online project that provides technical support to community members seeking data collection, analysis, and visualization to help solve existing and future challenges in the community. The GISC has played an important role in supporting public interventions, such as crime reduction and the identification of lead service lines during the Flint Water crisis;
the University Center for Community & Economic Development (EDA) was established in 2017 with a mission to "coordinate, inform, and contribute to economic development efforts that cultivate innovation and advance high-growth entrepreneurship throughout the 7-county I-69 Thumb Region through applied faculty and student research, paid internships, and re-granting of funds;"
and, in 2017, the Flint Truth and Action Partnership Project (FTAAPP) was established to expand the university's civic engagement efforts and support community-driven projects that align with the curriculum. The W.K. Kellogg Foundation funded the project in response to the Flint Water Crisis.
In addition to the many activities coordinated and tracked by Outreach, there are dozens of other civic engagement activities that are initiated and stewarded by individual schools, colleges, offices, and faculty members.
"Engaging with organizations and members of the Flint and Genesee County community is beneficial in so many ways – student opportunities, research, health care, economic growth. The list of benefits for the campus and the community goes on and on," concluded Nas. "We're proud to receive the Carnegie Community Engagement Classification, and we'll continue to create opportunities for student learning and academic research that has value for our local communities. It's in our campus' DNA."
It's a sentiment with which Chancellor Dutta agrees.
"Flint is our hometown, and the future of our university is intertwined with that of the city," Dutta concluded. "Our joint future can only be fully realized with bold partnerships and close collaboration with those who share our dream of a renewed and thriving Genesee County region. We look forward to continued partnership and engagement with the community for many years to come."
Contact University Communications & Marketing with comments, questions, or story ideas.