UM-Flint's Block Club brings diverse programming to campus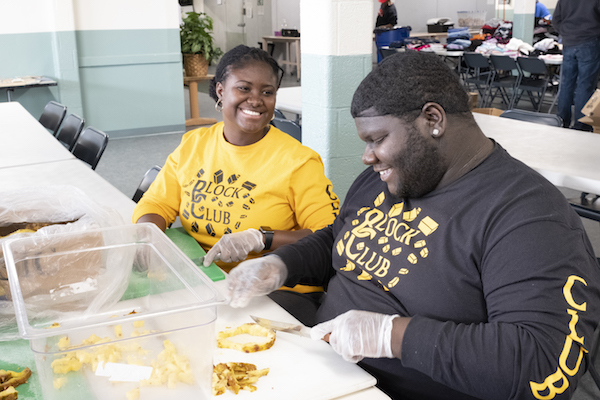 The Block Club at the University of Michigan-Flint is one of the most diverse student organizations at the university.
"Everyone is welcome," said Block Club President Tihirah Ruffin, a senior studying Psychology.
And there's certainly enough activity to keep everyone involved. From tips about walking outside (don't wear headphones) to events such as De-stressing with Expression and weekly study nights, the Block Club does a lot.
Founded in 2012 by UM-Flint students Sharon Hollamon, Courtney Thomas, Tara Pope, and Lynda Griffin, and UM-Flint Department of Public Safety Officer Stephen Mayfield, the club promotes community service, social events, and safety on campus. It's a student-run organization that focuses on student empowerment, leadership, and safety awareness.
Block Club began as First Street Block Club in the residence hall after Mayfield wanted to bring to campus the neighborhood policing strategies he learned as a police officer in Flint. The idea was to have a student organization that offered a variety of programming, including community service and leadership opportunities.
"The goal is to be the most active club on campus," Mayfield said. "We collaborate with others."
The club has about 25 members, Ruffin said, and the members are working on growing both the organization and student life on campus. Requirements for joining include participating in two community service events, going to three hours of study nights, and attending one social event.
One of the club's biggest events is the annual Interactive Safety Awareness March with the UM-Flint Department of Public Safety each October. The event includes staged events and scenarios along the route that focus on sexual assault awareness education, intimate partner violence education, alcohol consumption awareness education, distracted walking and pedestrian safety awareness education, and active shooter education, among others.
Another major event is the club's annual Fashion Show, which raises funds for the First Street Block Club Lula Hurse Scholarship. The 2020 Fashion Show is scheduled for March. The event's Alumni vs. Students Basketball Game is another big Block Club event each March.
By joining Block Club, students can gain skills such as public speaking, leadership, and teamwork.
"You're always going to be interacting with people," Ruffin said. "You'll learn how to approach different people and make connections."
Lindsay Knake
Lindsay Knake is the Communications Coordinator for the UM-Flint Division of Student Affairs. Contact her with any questions, comments, or ideas about the DSA newsletter, social media, events, and communications.