Project 2020: UM-Flint at the "speed of students"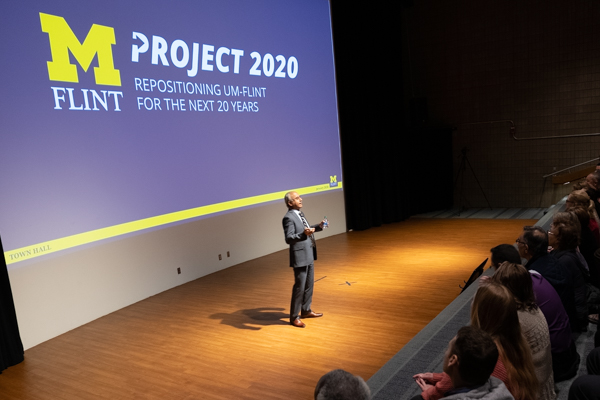 The University of Michigan-Flint has launched Project 2020 as an "action plan" for the university to thrive for decades to come within an ever-changing economy and society.
The project, spearheaded by Chancellor Deba Dutta, will be implemented over the next five years. It is designed to help the university flourish "at the speed of students" and will incorporate the ideas and efforts of the campus community.
The university has created a website where the campus community can provide feedback, learn the details of the project, and find updates on future forums. Dutta announced the initial components of Project 2020 at the Chancellor's Town Hall on January 22.
Dr. Min Huang, associate professor of physical therapy, and a member of the Chancellor's advisory committee for budget and strategic planning, said she is optimistic about the initiative.
"Project 2020 lays out pragmatic and forward-thinking action plans that the UM-Flint needs at exactly the right time," said Huang. "Chancellor Dutta's vision will elevate the UM-Flint to a new level."
Student government president Nickxit Bhardwaj said the role of incorporating feedback from the campus community will be highly valuable to the ongoing process.
"Students, staff, faculty, alumni, and community members are what constitute the institution. Their voice is very important," he said.
As part of the project, Chancellor Dutta is proposing a School of Technology to position the university on the leading edge of growing fields such as artificial intelligence, cybersecurity, aerospace, and other technology sectors.
Project 2020 calls for continued growth in proven areas of excellence, such as the university's online offerings and certificate programs, which help meet market needs.
The plans also calls for several recruitment and retention initiatives, including enhanced digital marketing campaigns, nearly doubling mentoring and advising resources for students, and curriculum mapping for all majors so students have a clear pathway to graduation.
Dutta decided to bypass a formal inauguration recognizing him as UM-Flint's eighth chancellor. Instead, funds designated for that ceremony will support several Project 2020 initiatives, including scholarships for tenured associate professors to advance in their careers, a program to encourage staff ideas for campus success, national and global forums held on campus, and a partnership with the Flint Cultural Center.
The project calls for a continued focus on creating an environment for success, with an emphasis on a diverse and inclusive campus. It also looks to further strengthen relationships with community partners and the campuses in Dearborn and Ann Arbor.
Contact University Communications & Marketing with comments, questions, or story ideas.