Meet the UM-Flint Division of Student Affairs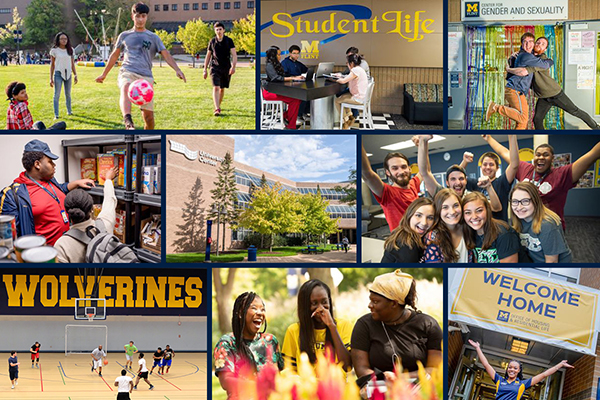 Student life is an essential part of the total student experience at the University of Michigan-Flint. The Division of Student Affairs (DSA) promotes caring, inclusive, and welcoming environments while offering more than 90 student clubs and organizations, recreation and club sports, counseling, veterans and accessible services, residential living and learning, access and opportunity programs, and more. We take pride in providing UM-Flint students with a variety of services, resources, programs, and activities designed to support student success, health and well-being, and learning outside the classroom.
DSA departments and staff are here to offer you encouragement, engagement, growth, and support during your time as a student at UM-Flint.
Learn more about the areas within DSA, who we are, and how to find us:
Office of the Vice Chancellor
Christopher Giordano, Ph.D., Vice Chancellor for Student Affairs
Jazlynne Cathey, Sustainability Coordinator
Lindsay Knake, Communications Coordinator for Student Affairs
Lisa Sancrant, Senior Director of Student Health & Wellness
Mary Velasquez, Executive Secretary
The Division of Student Affairs advances the holistic development of well-rounded students through sponsoring educationally purposeful activities, providing co-curricular engagement opportunities, and supporting a diverse, equitable, and inclusive campus community of students, scholars, and citizens. Through the work and efforts of staff in 12 distinct areas, the Division of Student Affairs contributes to student success and the academic enterprise through an approach that encompasses five core values: community and belonging; equity and inclusion; engagement and leadership; health and wellness; and co-curricular and integrative learning.
237 UPAV
Hours: 8 a.m. – 5 p.m., Monday – Friday
(810) 762-3434
Email: flint.studentaffairs@umich.edu
Dean of Students
Anthony Webster Jr., Assistant Director of Community Standards
Julie Ann Snyder, Ph.D., Associate Vice Chancellor and Dean of Students
Suzanne Tillery, Senior Administrative Assistant
The Office of the Dean of Students provides oversight for student conduct, emergency and crisis services, the Wolverine Essentials, and the behavior intervention team. Through partnerships and collaboration, the staff work with faculty, staff, and students to address matters that are impacting the community and its members at UM-Flint. In addition, the Associate Vice Chancellor oversees Housing & Residential Life, Recreational Services, and Student Involvement & Leadership.
359 UCEN
Hours: 8 a.m. – 5 p.m., Monday – Friday
(810) 762-5728
Email: flint.avc.dos@umich.edu
Website
Facebook
Center for Gender and Sexuality (CGS)
Hilary Murmers, M.Ed., LGBTQIA+ Coordinator
Samara L. Hough, LMSW-Clinical, Director
Sarah Devitt, MPH, Sexual Assault Advocate
The Center for Gender & Sexuality amplifies the voices of women, survivors, and the LGBTQIA+ communities and the intersecting identities within them. Through outreach, education, and advocacy, the Center for Gender & Sexuality provides skill and competency building that is grounded in activism and social justice.CGS offers programs to raise awareness about gender and sexuality and provides support and advocacy for students. UM-Flint students with extensive training work as peer educators to work with fellow students around topics that include consent, bystander intervention, gender and sexuality, Trans 101, healthy relationships, women's history, inclusive sexual education, leadership, and healthy masculinity, and sexual violence prevention.
The Center for Gender and Sexuality is open to all! Stop by to chat, study, charge your phone, heat up your lunch, meet with friends and destress with art supplies! CGS offers opportunities to connect with community through:
Gender and Sexuality Themed Community
LGBTQIA+ Safe Space
Weekly programs including Women Talk Wednesday and Queer Thursday
213 UCEN
Hours: 8 a.m. – 5 p.m., Monday – Friday
(810) 237-6648
Website
Facebook
Twitter
Instagram
Conferences and Events (CAE)
Angie Alderman, Program Manager
Launa Collins, Program Manager – External Events
Jennifer King, Administrative Assistant Intermediate
Steven Landis, Program Manager – Internal Events
Justin Nuveman, Program Manager – Internal Events
Gina Rose, Director
Conferences & Events serves the campus and community by assisting in planning a successful event. CAE provides support to the students, faculty, and staff by reserving the appropriate location, planning, coordinating, and managing the event.
172 UCEN
8 a.m. – 5 p.m. Monday – Friday
(810) 762-3436
Email: flint.cae@umich.edu
Website
Counseling and Psychological Services (CAPS)
Angelica Pineda, Counseling Center Social Worker
Kayla Bueby, MSW, LMSW-Clinical, Counseling Center Lead Staff and Social Worker
Jenna Newton, MSW, LMSW-Clinical, Counseling Center Social Worker
Johnny Linn, MA, MA, LPC, Counselor
Leanne Vamossy, Administrative Assistant
CAPS provides free confidential counseling services, resources, and referrals for all enrolled UM-Flint students. The office offers both virtual and in-person appointments. To schedule an appointment, please call (810) 762-3456 or click here to request a counseling intake appointment online. Workshops and support groups for mental health and wellbeing-related topics are also available and can be found here.
264 UCEN
8 a.m. – 5 p.m., Monday – Friday (24-hour on-call crisis worker)
(810) 762-3456
Website
Disability and Accessibility Support Services (DASS)
Chip Evans, Disability Services Coordinator
DASS approves and advocates for accommodations for students with disabilities based on individual needs. DASS also advocates for physical accessibility on campus as well as digital accessibility on the website and learning management system.
264 UCEN, inside the Counseling and Psychological Services office
Hours: 8 a.m. – 5 p.m. Monday – Friday
(810) 762-3456
Email: dassflint@umich.edu
Website
Office of Educational Opportunity Initiatives (EOI)
Bianca Torbert, MPA, Office Manager
Diamond Wilder, King-Chavez-Parks Scholars, Asst. Program Manager, Success Mentorship Program Support Staff
Jerry Alexander, GEAR UP Assistant Program Manager
John Girdwood, Ph.D., KCP 4S Program Manager
Rachel Osmer, LLMSW, Mpowering My Success Life Skills Coach
Nanette DeEulis, Mpowering Administrative Assistant
The Office of Educational Opportunity Initiatives provides students with academic support, leadership development, and community engagement opportunities in an inclusive environment. Grant-assisted programs promote student success through high-quality support programming and a holistic approach to student development for underrepresented and special populations of students from Flint and the broader Community. Programs include the Gaining Early Awareness and Readiness for Undergraduate Programs (GEAR-UP), the King-Chavez-Parks Select Student Support Services Program, and Mpowering My Success.
280 UCEN
8 a.m. – 5 p.m., Monday – Friday
(810) 762-3365
Email: eoi-programs@umich.edu
Website
Facebook
The mission of Mpowering My Success is to provide financial and emotional support as well as mentorship to UM-Flint students who have experienced time in the foster care system. Thus, the program focuses on college access, college success, and life coaching. Our dedicated staff and mentors strive to empower our students to develop, improve, and sustain a variety of independent living skills to cultivate success both inside and outside of the classroom while living in a positive and healthy manner throughout college and beyond.
280 UCEN
8 a.m. – 5 p.m., Monday – Friday; Coach available to students 24/7 for emergencies
(810) 424-5677
Email: mpowering@umich.edu
Website
Facebook
Instagram
Housing & Residential Life (HRL)
Joslyn Brown, Associate Director of University Housing and Residential Life
Amy Clolinger, Office Manager
Ally Miron, Housing and Dining Program Manager
Karol Scheitler, Senior Administrative Assistant
Rebecca Figura, Interim Director Housing & Residential Life
Stephanie Hare, First Street Residence Hall Director
Stephanie Svob, Riverfront Residence Hall Director
The University of Michigan-Flint offers both undergraduate and graduate student housing in downtown Flint. Housing and Residential Life provides a welcoming atmosphere that is student-focused and supports student success. Residents enjoy the convenience of being close to classes, campus and downtown dining options, and arts and cultural events. The Office of Housing & Residential Life aspires to provide an affordable, secure, and comfortable housing community that allows students to learn, develop, and grow.
1 Riverfront Center W.
Suite 101

First Street Residence Hall
301 East First Street
Housing and Residence Life: (810) 237-6571
First Street Front Desk: (810) 762-0161
RA Duty Phone: (810) 814-0251
Email: flint.housing@umich.edu
Website
Instagram
Intercultural Center (ICC)
LaQwana " Q" Dockery, MA, MSW, Intercultural Center Program Manager
David J. Luke, Ph.D., Chief Diversity Officer
The Intercultural Center was established in 2014 in response to members of various cultural student organizations who expressed a need for a space to support their work, center marginalized identities (especially people of color), and facilitate critical dialogue about important social issues. All work of the ICC is built on the foundation of social justice and upheld by the three pillars of (1) belonging, (2) advocacy, and (3) education through programming, policy advocacy, workshops, and extensive collaboration with faculty, staff, students, and members of the university community. Located in the UCEN, the Intercultural Center has a reservable space for student organizations to use. Everyone is welcome.
115 UCEN
8 a.m. – 5 p.m., Monday – Friday
(810) 762-3045
Website
Facebook
Twitter
Instagram
Recreational Services
Emilee Caballero, Member Services Coordinator
Chris Clolinger, Assistant Director for Intramural and Club Sports
Jo Ann Ford, Marketing and Design Coordinator
Vance Arrington, Intramural and Club Sports Coordinator
Ervin Leavy, Assistant Director for Student Professional Development
Julia Stulock, Associate Director
Jessica Viertlboeck, Assistant Director for Health and Fitness
Recreational Services oversees programs such as Fitness Classes, Intramural Sports, and Club Sports, in addition to managing the Recreation Center. The facility is located next to the University Center and features three levels with weight and cardio areas, multi-purpose gym courts, racquetball courts, a suspended indoor track, and a 25-yard pool. The Rec Center is free for current students, along with free drop-in Fitness classes and free Intramural Sports leagues. Students can learn about health and wellbeing through a variety of programs through Recreational Services and the CampusWell website & app.
See the website for facility hours and program details.
(810) 762-3441
Rec Center website
Club Sports website
Facebook: Rec Center
Instagram: Rec Center and Club Sports
Twitter: Club Sports
Student Involvement & Leadership (SIL)
Chris DeEulis, Associate Director of Student Involvement & Leadership
Jaleesa Herrington, Program Manager
Student Involvement & Leadership oversees student activities, Greek life, leadership programs, and major events at UM-Flint. This includes support for Student Government, Black Student Union, Campus Activities Board, Michigan Times, Qua Literary Magazine, and all registered student organizations. Annual events include the Mgagement Fair and Celebrating Wolverine Excellence, the annual student leadership awards ceremony.
361 UCEN
(810) 762-3431
Email: flint.sil.sla@umich.edu
Website
Facebook
Twitter
Instagram
Student Veterans Resource Center (SVRC)
The Student Veterans Resource Center provides support to the veteran community. Services include assisting with activation of GI Bill benefits, providing support during the admissions process, and offering resources and referrals to veteran-specific services in the community. Annual events include the Veterans' Graduation Ceremony, the Veterans Day Ceremony, and meet-and-greet events every Fall and Winter semester. The Student Veterans lounge provides students with the opportunity to study and interact with each other.
131 UPAV
8 a.m. – 5 p.m., Monday – Friday
(810) 424-5589
Email: dept.svrc@umich.edu
Website
Facebook
Lindsay Knake
Lindsay Knake is the Communications Coordinator for the UM-Flint Division of Student Affairs. Contact her with any questions, comments, or ideas about the DSA newsletter, social media, events, and communications.