Meet the UM-Flint Division of Student Affairs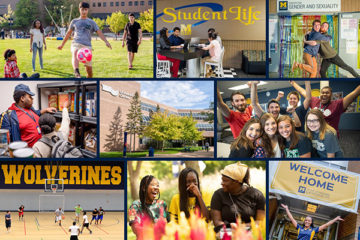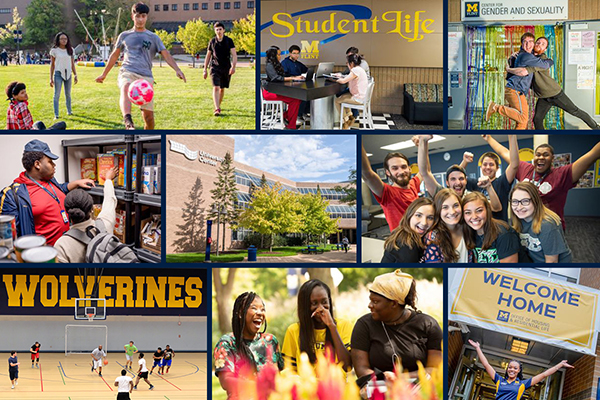 Student life is an essential part of the total student experience at the University of Michigan-Flint. The Division of Student Affairs (DSA) promotes caring, inclusive, and welcoming environments while offering more than 90 student clubs and organizations, recreation and club sports, counseling, veterans and accessible services, residential living and learning, access and opportunity programs, and more. We take pride in providing UM-Flint students with a variety of services, resources, programs, and activities designed to support student success, health and well-being, and learning outside the classroom.
DSA departments and staff are here to offer you encouragement, engagement, growth, and support during your time as a student at UM-Flint.
Learn more about the areas within DSA, who we are, and how to find us:
Office of the Vice Chancellor
Christopher Giordano, Ph.D., Vice Chancellor for Student Affairs
Kelly B. Loury, Executive Secretary to the Vice Chancellor
Lindsay Knake, Communications Coordinator for Student Affairs
The Division of Student Affairs advances the holistic development of well-rounded students through sponsoring educationally purposeful activities, providing co-curricular engagement opportunities, and supporting a diverse, equitable and inclusive campus community of students, scholars, and citizens. Through the work and efforts of staff in 12 distinct areas, the Division of Student Affairs contributes to student success and the academic enterprise through an approach that encompasses five core values: community and belonging; equity and inclusion; engagement and leadership; health and wellness; and co-curricular and integrative learning.
237 UPAV
Hours: 8 a.m. – 5 p.m., Monday – Friday
(810) 762-3434
Email: flint.assistme@umich.edu
Dean of Students
Julie Ann Snyder, Ph.D., Associate Vice Chancellor and Dean of Students
Anthony Webster Jr., Assistant Director of Community Standards and Ethical Development
Kori Coleman, Senior Administrative Assistant
The Office of the Dean of Students provides oversight for student conduct, emergency and crisis services, the Wolverine Food Den, and the behavior intervention team. Through partnerships and collaboration, the staff work with faculty, staff, and students to address matters that are impacting the community and its members at UM-Flint. In addition, the Associate Vice Chancellor oversees Housing & Residential Life, Recreational Services and Student Involvement & Leadership.
375 UCEN
Hours: 8 a.m. – 5 p.m., Monday – Friday
(810) 762-5728
Email: flint.avc.dos@umich.edu
Website
Facebook
Center for Gender and Sexuality (CGS)
Samara Hough, Director
Sarah Devitt, MPH, CA, Sexual Assault Advocate
The UM-Flint Center for Gender and Sexuality provides opportunities for all members of the UM-Flint community to explore, organize, and promote learning around issues of gender and sexuality. The center also facilitates a greater responsiveness to the needs of women and LGBTQIA+ communities through outreach, education, and advocacy. CGS offers programs to raise awareness about gender and sexuality and provides support and advocacy for students. UM-Flint students with extensive training work as peer educators to work with fellow students around topics that include consent, bystander intervention, gender and sexuality, Trans 101, healthy relationships, women's history, inclusive sexual education, leadership and healthy masculinity, and sexual violence prevention.
The CGS space is open for students to study, talk, charge devices, eat, meet with friends, and de-stress with art supplies.
213 UCEN
Hours: 8 a.m. – 5 p.m., Monday – Friday
(810) 237-6648
Website
Facebook
Twitter
Instagram
Counseling and Psychological Services (CAPS)
Kayla Freeman, LMSW, Counseling Center Social Worker
Brian Hopkins, MSW, LMSW, Counseling Center Social Worker
Valerie Jackson, MSW, LMSW, Counseling Center Social Worker
Jenna Newton, LMSW, Counseling Center Social Worker
Leanne Vamossy, CAPS Administrative Assistant
CAPS provides direct clinical counseling services to enrolled students. Workshops are available on topics such as stress management, time management, and healthy relationships. All services are provided at no charge to students.
264 UCEN
8 a.m. – 5 p.m., Monday – Friday (24-hour on-call crisis worker)
(810) 762-3456
Website
Disability and Accessibility Support Services (DASS)
Chip Evans, Disability Services Coordinator
DASS approves and advocates for accommodations for students with disabilities based on individual needs. DASS also advocates for physical accessibility on campus as well as digital accessibility on the website and learning management system.
264 UCEN, inside the Counseling and Psychological Services office
Hours: 8 a.m. – 5 p.m. Monday – Friday
(810) 762-3456
Email: dassflint@umich.edu
Website
Office of Educational Opportunity Initiatives (EOI)
Tiese Roxbury, Ph.D., Director of EOI
Sonja Coleman, EOI Administrative Assistant
Janice Jones, Ph.D., Promise Scholar Program Manager
Bianca Torbert, Promise Scholar Assistant Program Manager
Ashley Terry, Ed.D., CEO Program Manager
Diamond Wilder, CEO Assistant Program Manager
The Office of Educational Opportunity Initiatives provides students with academic support, leadership development, and community engagement opportunities in an inclusive environment. Grant-assisted programs promote student success through high-quality support programming and a holistic approach to student development for underrepresented and special populations of students from Flint and the broader Community. Programs include the Gaining Early Awareness and Readiness for Undergraduate Programs (GEAR-UP), the Promise Scholarship, and the Committed to Excellence & Opportunity (CEO) Program.
280 UCEN
8 a.m. – 5 p.m., Monday – Friday
(810) 762-3365
Email: eoi-programs@umich.edu
Website
Facebook
Housing & Residential Life (HRL)
Clark N. Dawood, Director of Housing and Residential Life
M.D. Matlock, Associate Director of Residential Life
Jeff Cox, Hall Director
Karol Scheitler, Senior Administrative Assistant
The University of Michigan-Flint offers both undergraduate and graduate student housing in downtown Flint. Housing and Residential Life provides a welcoming atmosphere that is student-focused and supports student success. Residents enjoy the convenience of being close to classes, campus and downtown dining options, arts and cultural events. The Office of Housing and Residential Life seeks to provide an intellectually curious space where innovation, the expression of diversity, and creativity are nurtured in a safe, comfortable, and engaging setting.
1 Riverfront Center W.
Suite 101
(810) 237-6571
Email: flint.housing@umich.edu
Website
Instagram
First Street Front Desk: (810) 762-0161
RA Duty Phone: (810) 814-0251
Riverfront Front Desk: (810) 424-5660
RA Duty Phone: (810) 275-7660
Intercultural Center (ICC)
David J. Luke, Ph.D., Interim Campus Diversity Officer and Director of Intercultural Center
The Intercultural Center was established in 2014 in response to members of various cultural student organizations who expressed a need for a space to support their work, center marginalized identities (especially people of color), and facilitate critical dialogue about important social issues. All work of the ICC is built on the foundation of social justice and upheld by the three pillars of (1) belonging, (2) advocacy, and (3) education through programming, policy advocacy, workshops, and extensive collaboration with faculty, staff, students, and members of the university community. Located in the UCEN, the Intercultural Center has a reservable space for student organizations to use. Everyone is welcome.
115 UCEN
8 a.m. – 5 p.m., Monday – Friday
(810) 762-3045
Website
Facebook
Twitter
Instagram
Mpowering My Success
Rachel Osmer, LLMSW, Life Skills Coach
Tynesia Davis, Administrative Assistant
The mission of Mpowering My Success is to provide financial and emotional support as well as mentorship to UM-Flint students who have experienced time in the foster care system. Thus, the program focuses on college access, college success, and life coaching. Our dedicated staff and mentors strive to empower our students to develop, improve, and sustain a variety of independent living skills to cultivate success both inside and outside of the classroom while living in a positive and healthy manner throughout college and beyond.
285 UPAV
8 a.m. – 5 p.m., Monday – Friday; Coach available to students 24/7 for emergencies
(810) 424-5677
Email: mpowering@umich.edu
Website
Facebook
Instagram
Recreational Services
Theresa Landis, Director
Gary Parr, Associate Director
Amy Clolinger, Business Information Manager
Julia Stulock, Club Sports Associate Director
Chris Clolinger, Assistant Director for Intramural and Club Sports
Ervin Leavy, Assistant Director for Student Professional Development
Jessica Viertlboeck, Assistant Director for Health and Fitness
Jo Ann Ford, Marketing and Design Coordinator
Kassi Bremer, Customer Service Specialist
Recreational Services offers the Recreation Center, which features weight rooms, fitness rooms, gym and racquet courts, indoor track, pool, and more. The facility, which is free for students through enrollment fees, provides a variety of fitness classes, fitness assessments, and personal training. Students can learn about health and wellbeing through a variety of programs through Recreational Services.
The department also offers seven Club Sports, intramural sports leagues, youth basketball camps, and the University Pavilion Ice Rink.
401 Mill Street
Fall and Winter hours:
6 a.m. – 10 p.m., Monday – Thursday
6 a.m. – 9 p.m., Friday
8 a.m. – 5 p.m., Saturday
11 a.m. – 7 p.m., Sunday
See website for office and pool hours.
(810) 762-3441
Rec Center website
Club Sports website
Facebook: Rec Center and Club Sports
Instagram: Rec Center and Club Sports
Twitter: Club Sports
Student Involvement & Leadership (SIL)
Chris DeEulis, Associate Director of Student Involvement & Leadership
Jaleesa Herrington, Program Manager
Mary Velasquez, Senior Administrative Assistant
Student Involvement & Leadership oversees student activities, Greek life, leadership programs, and major events at UM-Flint. This includes support for Student Government, Black Student Union, Campus Activities Board, Michigan Times, Qua Literary Magazine, and all registered student organizations. Annual events include the Mgagement Fair and Celebrating Wolverine Excellence, the annual student leadership awards ceremony.
361 UCEN
(810) 762-3431
Email: flint.sil.sla@umich.edu
Website
Facebook
Twitter
Instagram
Student Veterans Resource Center (SVRC)
Helen Budd, Program Manager
Michelle Smith, Center Coordinator
The Student Veterans Resource Center provides support to the veteran community. Services include assisting with activation of GI Bill benefits, providing support during the admissions process, and offering resources and referrals to veteran-specific services in the community. Annual events include the Veterans' Graduation Ceremony, the Veterans Day Ceremony, and meet-and-greet events every Fall and Winter semester. The Student Veterans lounge provides students with the opportunity to study and interact with each other.
131 UPAV
8 a.m. – 5 p.m., Monday – Friday
(810) 424-5589
Email: dept.svrc@umich.edu
Website
Facebook
Lindsay Knake
Lindsay Knake is the Communications Coordinator for the UM-Flint Division of Student Affairs. Contact her with any questions, comments, or ideas about DSA social media, events, and communications.