UM-Flint to celebrate MLK Day with a wide range of activities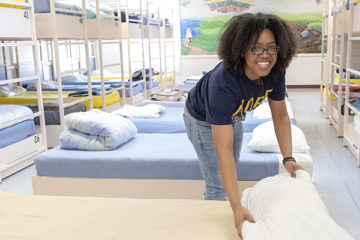 The University of Michigan-Flint will honor the ongoing legacy of Dr. Martin Luther King, Jr., with a wide range of opportunities to learn and contribute to the community on MLK Day 2020.
"In the spirit of Martin Luther King Jr., we have a number of opportunities for faculty, staff, and students to get involved in that relate to Dr. King's legacy. From the numerous opportunities to volunteer in the Flint community to the afternoon workshop on creating equitable and inclusive classrooms, the day promises to be impactful and enriching," said David Luke, Interim Campus Diversity Officer and Director of the Intercultural Center.
"Further, we hope to connect people to sustained experiences like Service Saturdays for community engagement and workshops put on by offices like the Intercultural Center, Center for Gender and Sexuality, and the Thompson Center for Learning and Teaching to extend the purpose and commitment to 'more than a day.'"
The campus is invited to attend a service breakfast and program within the University Center Michigan Rooms (please RSVP). There is an afternoon workshop led by Dr. Diane J. Goodman on "Creating Equitable & Inclusive Classrooms: Addressing Microaggressions and Facilitating Difficult Dialogues." The deadline for registering for this workshop is extended to January 15.
There is also a blood drive scheduled from 10 a.m. to 3 p.m. in the University Center Happenings Room.
The campus community is encouraged to volunteer at numerous sites during the day, including at Whaley's Children Center, North End Soup Kitchen, Carriage Town Ministries, United Way, The Sylvester Broome Empowerment Village, YWCA of Greater Flint, My Brother's Keeper, King Karate, Joy Tabernacle, Habitat for Humanity, and Crossover Downtown Outreach Ministry.
UM-Flint started holding a day of service on MLK Day in 1995.
"This day is always a great opportunity to meet new students and colleagues across UM-Flint," said Gary Ashley, program manager at University Outreach. "Additionally, this is a time where we can work alongside some of our community partners to accomplish a variety of goals and to serve in honor of Dr. King."
---
Subscribe to the UM-Flint NOW newsletter. See what's new at UM-Flint NOW with the latest news, happenings, and special announcements delivered to your inbox every two weeks.
Robert is a staff writer in University Communications & Marketing. Contact him with comments, questions, and story ideas.