Serving the underserved: UM-Flint alumna's journey from Sudan to Stanford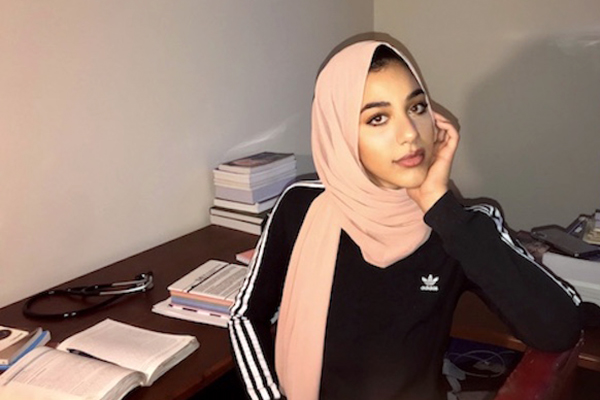 Yousra Mohamed ('19) always knew she wanted to help others, especially those in underserved communities.
At the University of Michigan-Flint, she found her path.
Mohamed, a native of Sudan who settled in Grand Blanc, chose UM-Flint to stay close to her new home. When she came to campus, she knew she wanted to get involved and help others.
"I didn't want to just go to class and drive home," said Mohamed, who earned her bachelor's degree in Human Biology with a minor in Psychology. "In these organizations, you can really make a difference in the community and on campus."
Mohamed was heavily involved during her time at UM-Flint. She served as president of the Food Recovery Network, vice president of the Muslim Student Association, senator for Student Government, president of the American Red Cross Club, vice president of the Anthropology Club, and public relations officer of the Sociology Club. She was also a general member of the Black Student Union, Pre-Med Club, and Pre-Physician Assistant Club.
Each of the clubs she belonged to did something different, but all of them gave back in some way. In the Food Recovery Network, she recovered and donated food weekly to nearby homeless shelters, and through the Red Cross Club she helped install smoke detectors in people's homes and helped with blood drives.
The various clubs she joined helped her broaden her horizons. She didn't know what Anthropology was until Assistant Professor Daniel Birchok met with her and said he was looking for E-board members for the club, and she then decided to join. Through the Black Student Union, she learned more about the history of African Americans, social justice, and empowerment, which she says is immensely important to her.
Mohamed found that she improved her communication skills through her involvement on campus and as a student leader.
"You can get a lot out of this university," Mohamed said.
As UM-Flint is a smaller university, she had more opportunities to step into leadership roles and learn how to be a good team member. UM-Flint's size also helped her build relationships with faculty and staff members such as Associate Vice Chancellor and Dean of Students Julie Snyder, who guided Mohamed while at UM-Flint.
"Yousra is an amazing scholar and leader. She was an influential student who helped shape many of our efforts at UM-Flint," Snyder said. "Her leadership was an example of how UM-Flint students are making a difference in our community and the world. We are proud of Yousra's accomplishments and know that she will go forward living her leadership through her service to others."
In August 2020, Mohamed will head to Stanford University's School of Medicine to pursue a graduate degree.
She had known she wanted to enter the medical profession in some way, and at UM-Flint, she discovered the different roles of medical providers and what she wants to do.
Stanford's program focuses on serving underserved communities, something Mohamed wants to do in her career.
"That's why I chose them," she said. "Their values align with my own. I would like to give back to where I grew up. The places that will always be important to me are Sudan and Flint."
Lindsay Knake
Lindsay Knake is the Communications Coordinator for the UM-Flint Division of Student Affairs. Contact her with any questions, comments, or ideas about the DSA newsletter, social media, events, and communications.