UM-Flint honors graduates at December commencement ceremony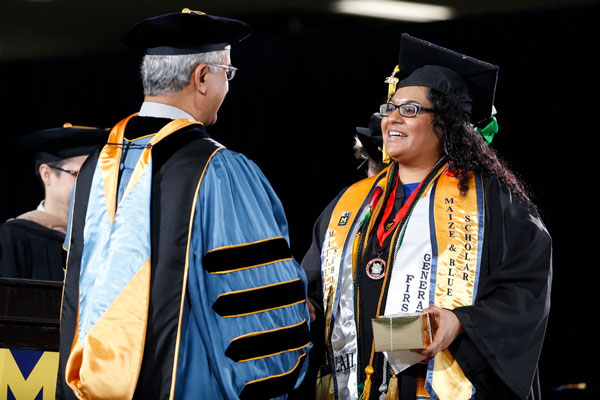 Be the change in your own way. Embrace your talents and use them to make a difference for good.
That was the challenge journalist Angie Hendershot gave University of Michigan-Flint graduates Sunday at the December commencement ceremony at Dort Federal Credit Union Event Center.
"You are the change agents who have the power to impact this community and beyond in positive, transformative ways," Hendershot said.
Hendershot, the ceremony's keynote speaker, has worked at ABC12 News for more than twenty years. She is also active in the Flint community and co-founded The Flint Diaper Bank, which is a non-profit organization dedicated to providing free diapers to families in need throughout the Genesee County region. She grew up in the region and said she is honored to contribute positively to the area.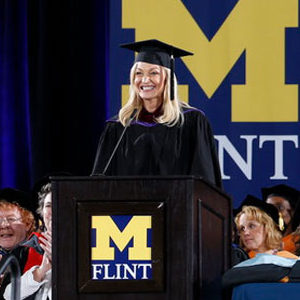 Hendershot encouraged the graduates to follow their own path towards helping others.
"We need to reach out to each other. When you feel something in your heart, trust your instinct, and listen to it. That voice is different for each of us. You have just to listen to it."
A big part of learning about yourself is learning how to fall, said student speaker Raymond Kusch.
"I've realized that falling in any capacity, literally or metaphorically, is proof that you are pushing yourself as far as you can currently go, and each time you get up, you have learned how to go just a little further," Kusch said.
Kusch served in the United States Army from 2007 to 2015, with tours in Iraq and Afghanistan. In 2012, he stepped on a bomb that caused serious injuries, including the loss of his left leg, a traumatic brain injury, and nerve damage. He also experienced post-traumatic stress disorder and depression.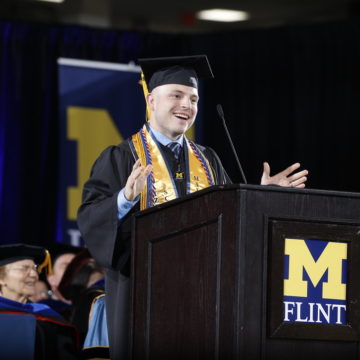 But Kusch kept growing from falling. He pushed himself to feed himself again, to walk and run again, and eventually to play standing ice hockey. He played on UM-Flint's men's hockey team and plays for the U.S. National Amputee Hockey team.
Kusch graduated with his bachelor's degree in entrepreneurship and innovation management. He is a recipient of the Maize and Blue Distinguished Scholar Award, the highest academic award bestowed upon UM-Flint graduates. He is a business owner, and mentored and tutored his fellow students.
"To me, strength isn't defined by how easy something is for someone. No, I call that comfort. You see, strength comes from the will to succeed, knowing that to get there, you may need to fall and pick yourself up along the way."
Kusch challenged his fellow graduates to keep on falling.
"Few things in life exist without risks, but if you are willing to get outside of your comfort zone and pursue your goals, falling will be nothing more than an afterthought when you are contemplating your successes," he said.
Sunday was a day of great energy and excitement at the ceremony.
UM-Flint Chancellor Deba Dutta celebrated the significance of the day. He applauded the talents of the graduates and encouraged them to use their skills honed at UM-Flint to be lifelong learners. And he honored them as forever part of the UM-Flint community.
"Do come back and see us often," Dutta said.
Contact University Communications & Marketing with comments, questions, or story ideas.