Leaders and Besties: Political Science graduates found friendship, success at UM-Flint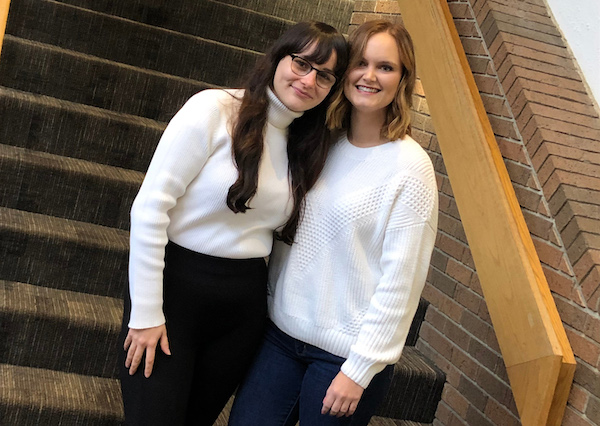 As a freshman, Courtney Hibbeln wasn't very fulfilled with her college experience—she would go to class and then commute back home. That changed when she was inducted to Pi Sigma Alpha (PSA), the political science honor society, alongside fellow Poli Sci major Taylor Liles. Courtney would become vice president of the organization, while Taylor was named president. The pair first bonded while encouraging people to come to an admittedly poorly attended event.
Just a few years later, Courtney and Taylor have a lot to celebrate. Both are graduating on December 15th. Both are Maize & Blue Award winners (UM-Flint's highest academic honor). And their shared experiences at UM-Flint have helped them to become best friends.
"We had lots of library sessions together, especially when they have the 24-hour library around finals. We would do a full week of eight hours a day, studying together in the library," Taylor says.
They didn't spend all their time in the library, of course. As part of their work with PSA, the pair helped to create a tutoring program and space in the Political Science Department. They turned an unused room into a place where students could get an extra pair of eyes on a paper, and made the department's office a more social place to be.
"I'm going to miss them so much, it's going to be so quiet without them here," says Dr. Kim Saks-McManaway, political science professor and mentor to Courtney and Taylor. "It's bittersweet because we don't want them to leave, but it's very fulfilling to see them go out and do these amazing things."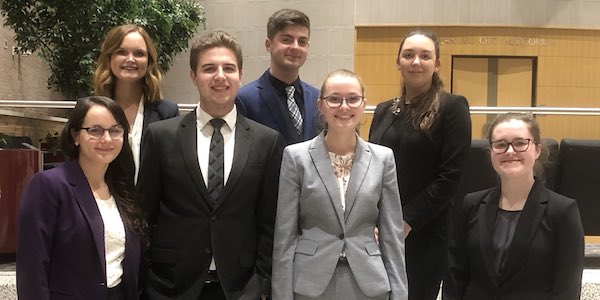 Among the amazing things Courtney and Taylor have done: Competed as part of UM-Flint's first Moot Court team. The inaugural "mooters" competed on Nov. 22-23 at the regional tournament at Saginaw Valley State University. Presenting both sides of a hypothetical legal case in front of seasoned attorneys and against well-established teams was a challenge, but one that Courtney was up for.
"I said, 'OK, I'm from Flint, I can do this.' People from Flint, we have this kind of tenacity and grit to us," Courtney says. "We didn't make it to nationals, but two of our three teams advanced to the final day of the competition." One UM-Flint squad missed nationals by just six points (out of 800), and Taylor won 9th best orator out of a field of 84.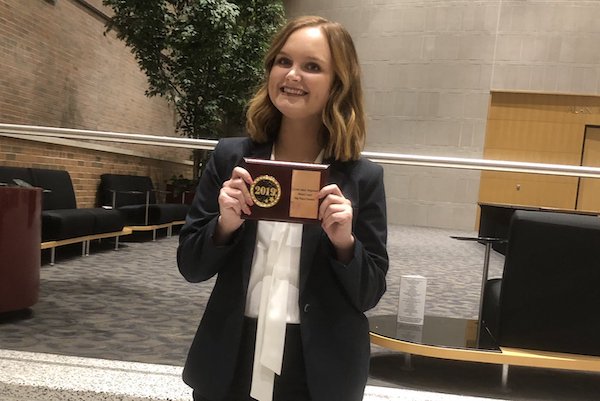 So what's next for the duo? Taylor is applying for positions as a Congressional staffer (she interned for Rep. Dan Kildee's Flint and DC offices), while Courtney is taking time to prepare for the LSAT and apply to law schools; Dr. Kim Saks-McManaway will provide letters of reference for both. Neither are worried about their friendship dwindling post-graduation, thanks to the strength of their connection forged on campus.
"[Courtney] understands what I'm going through so she is a support for me. And I hope that I was a support for her," Taylor says.
According to Courtney, "I don't know if I could have made it through the last few semesters without [Taylor]. She just gets it."
---
Subscribe to the UM-Flint NOW newsletter. See what's new at UM-Flint NOW with the latest news, happenings, and special announcements delivered to your inbox every two weeks.
Logan McGrady
Logan McGrady is the marketing & digital communication manager for the Office of Marketing and Communication.