Raymond Kusch is UM-Flint's December Commencement student speaker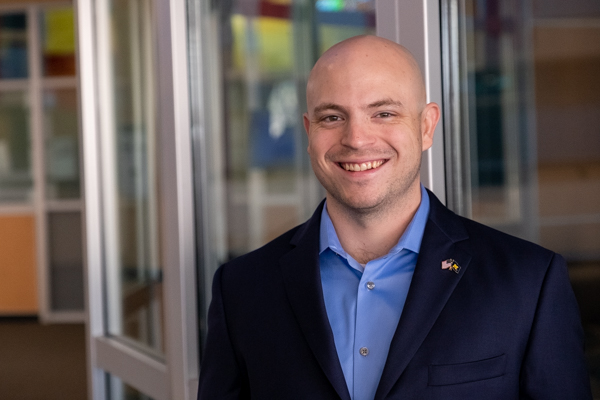 Raymond Kusch spent much of his career at UM-Flint mentoring other students. He was heavily involved with the Entrepreneurs Society and used his experience in business and the military to lend advice.
He also gave lectures on networking for the School of Management (SOM) and local high schools and spoke at SOM's Summer Entrepreneurship Institute. Kusch participated with the Student Veterans Resource Center, where he mentored and tutored student veterans.
At UM-Flint's December Commencement Ceremony, Kusch will continue to share his knowledge as the student speaker. Raymond is graduating with his bachelor's degree in entrepreneurship and innovation management. He is a recipient of the Maize and Blue Distinguished Scholar Award, the highest academic award bestowed upon UM-Flint graduates.
Kusch has founded and owned multiple businesses, including UMG Events, LLC, and American Professional Gutters. Currently, Raymond is the founder and CEO of Kusch Holdings, LLC, which is a consulting and investment firm for small businesses.
Kusch served in the United States Army from 2007 to 2015, with tours in Iraq and Afghanistan. In 2012, he stepped on a bomb that caused serious injuries, including the loss of his left leg, a traumatic brain injury, and nerve damage. He also experienced post-traumatic stress disorder and depression.
Helping other students and being part of the university community has led to healing and growth, Kusch said.
"I have grown immeasurably, personally and professionally, in my time here. UM-Flint helped me overcome my traumatic brain injury and cope with my PTSD and depression, which ultimately helped me reintegrate into society," Kusch said. "UM-Flint helped me realize my true calling is to become a professor, which will allow me to continue molding and mentoring young people for as long as my mind and body will allow."
Raymond plays for the U.S. National Amputee Hockey team and UM-Flint's men's hockey team. He also plays for and is on the board of directors of the Spirit Warriors Hockey Program, which is a nonprofit hockey team for disabled veterans.
Kusch said his experiences at UM-Flint helped lead him to other opportunities beyond campus. His time at the university showed him he "can do a great deal to benefit the world outside of the military, and for that, I am eternally grateful."
Kusch was recently honored as the 2019 recipient of the Outstanding Student Award in Entrepreneurship & Innovation. Dr. Mark Simon, director of the university's Hagerman Center for Entrepreneurship and Innovation, said Kusch has brought "extraordinary value to the university and its students."
Simon lauded Kusch's ability to connect with and help others.
"In addition to Raymond's extraordinary background and academic excellence, he is a pleasure with which to work, demonstrating an easygoing manner, a great sense of humor, remarkable professionalism, and a constant willingness to contribute," Simon said. "He has truly inspired me."

Contact University Communications & Marketing with comments, questions, or story ideas.