10 tips for swagging out your suite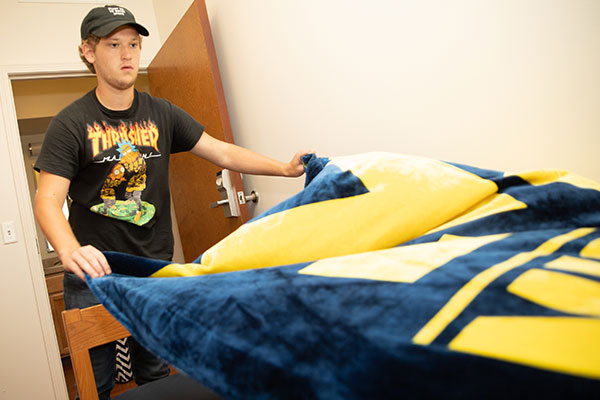 When it comes to college, feeling comfortable in your suite is a big deal. With move-in day right around the corner, we asked Resident Advisors what advice they have for how to swag out your suite. Here's some of their advice, along with tips from Housing and Residential Life.
1. Storage matters
The more space you save through storage, the more space you have to enjoy.
"One thing I thought I didn't need but ended up needing was my storage totes," said RA Brendan George. "I thought I only needed them when I was moving in or out, but I've found it useful to have at least one for when the weather changes. For example, when it starts to get colder outside, I pack away most of my summer clothes and shoes into the storage tote so I can clear up space in my wardrobe and drawers."
2. Look ahead
Contact your suitemate ahead of time to figure out who's bringing what. It can cut down on duplicating shared items and reduce clutter.
3. Remember your roots
RA Mizahnyi Tipton-Thomas said it's helpful to bring "something that reminds you of home." It could be a stuffed animal, your favorite blanket, or a family photo.
4. Know what not to bring
Before you pack, read up on what's not allowed within the residence halls. This will save you time, energy, and money. Some of the prohibited items include candles, space heaters, and pets (sorry!). A more comprehensive list is located on the Housing website.
5. Prepare for good sleep
Good sleep is vital, so RA Cheyenne Feltz has this tip: "If you don't feel comfortable on a tough mattress, I suggest bringing a mattress pad so that you can get some sleep for class."
6. Hangers help
"Trust me, folding doesn't cut it, especially if you're not good at it," said Feltz. A clothing steamer may be helpful if that's the case.
7. Bring your files
Don't be left scrambling when you need an essential document. Remember to bring medical information, your insurance card and information, identification cards, and your social security card.
8. Variety is important
Having a variety of clothes helps for that unexpected interview or storm. It's good to have clothing such as a professional outfit, gloves, a warm coat, an umbrella, exercise clothes, casual clothes, and more.
9. Illuminate
Bring a light that's approved by Housing and Residential Life. "This will be useful if you share a room with a roommate and you need to study but want to be considerate of your roommate's sleep," said Feltz.
10. Toothbrushes and more
Personal care items are valuable to have in stock, such as facial tissues, toothbrushes, toothpaste, laundry basket (with wheels if possible), cleaning supplies, toilet paper, and towels.
Contact University Communications & Marketing with comments, questions, or story ideas.