The drive to succeed: top 10 commuter tips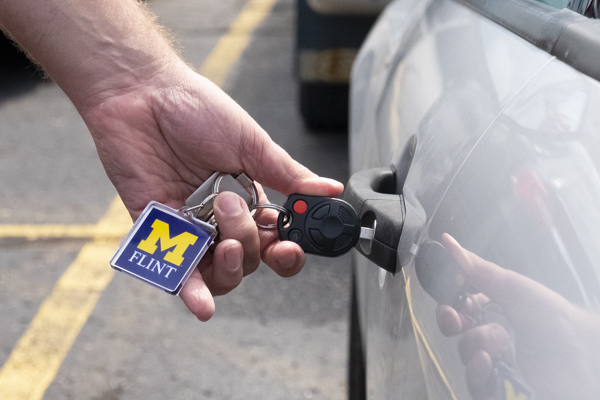 Success as a commuter student is all about attention to detail. We asked staff and students with the experience and know-how about how to thrive. Here's their advice.
1. Find a job on campus
"On–campus jobs work around your school schedule. This will enable you to not have to take multiple trips back to campus if you have meetings, work, or tutoring sessions. It's easier to attend events and meet with professors since you don't have to leave campus to work."
Madeline Rasberry, orientation student coordinator
2. Plan ahead for bad weather
"Winter months can be brutal for the commuter, especially for those who have more miles to travel home. Connect with a local friend or family member for a closer sleeping option when the roads are treacherous. Keep a bag with a couple changes of clothes in the back of your car to be ready for the next day (or two), if needed." If all else fails, there's also the option to stay the night in Riverfront if the roads are too awful for driving.
Chelsea Smith, academic advisor
3. Check road conditions
"Don't let getting to campus be a stressful part of your day. Download the app of your choice so that you can check road conditions and any traffic delays prior to leaving your home for campus. And don't forget, there's always plenty of parking on campus, but it may not always be available next to the building where you're taking classes. Visit the University parking map and plan ahead. We suggest always having a plan B and even a plan C just in case parking lots are full. A great alternative parking option is the William S. White flat lot, which is never full to capacity. Also, don't forget to sign up for the university's emergency alerts.
Chief Raymond Hall, director of public safety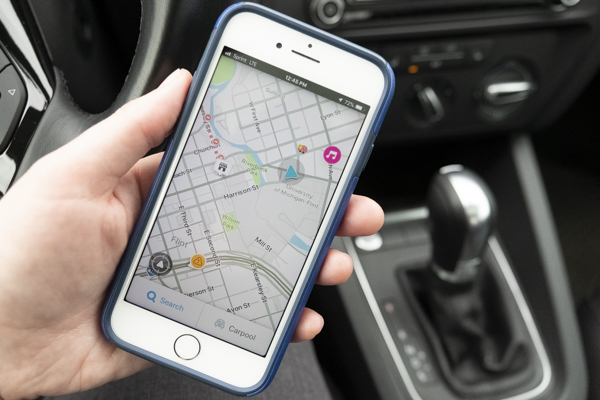 4. Schedule your week on campus
"Create a study schedule for yourself. Plot out your classes, work hours, commute time, lunch breaks, and any other regular activities. Then fill in study time. The rule of thumb is that for every hour per week in class (which is the number of credits you are taking), plan "to spend two to three hours per week outside of class on study-related activities like reading your text book, reviewing notes, projects, and other assignments."
Maggie Golembiewski, academic advisor/counselor
5. Connect with others
"Get to know other students, faculty, and staff at the university. The more people you know, the more resources you have, which leads to more opportunities at the university and in the future. "
Vickie Jaskiewicz, academic advisor
6. Take advantage of the library
"Make sure to use the library. Personally, I think it's one of the gems on campus. It has plenty of study rooms for students to book for group projects, desks near the windows if you bring your own computer (and maybe just want to watch some Netflix), and it's close to the UPAV so you can grab something to eat and then go study!"
Katie Smith, student orientation leader
7. Call DPS with car troubles on campus
"There's no need to call a tow truck if you have car trouble on campus. Call the Department of Public Safety. They are there to help with problems such as flat tires, lost keys, frozen door locks, keys locked in the car, and dead car batteries."
Chief Raymond Hall, director of public safety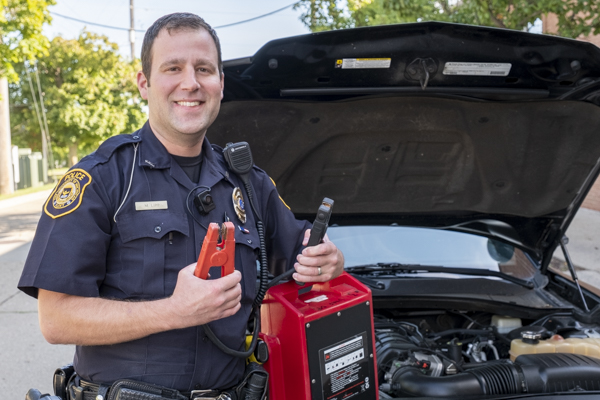 8. Maintain your health
"Be proactive about ensuring you can receive proper care if you become ill and/or injured during the semester. Make sure you have health insurance, access to a primary care doctor, and know what options are available for urgent care. Help prevent illnesses by being up-to-date on required and recommended vaccinations."
Theresa Landis, recreational services director
9. Know your online options
"Taking online courses can help commuters save money on gas, vehicle maintenance, public transportation costs, and commuting time. Course material is always accessible online, so time and energy can be spent on studying, working, or relaxing instead of trying to get to campus."
Jessica Callis, marketing coordinator, Office of Extended Learning
10. Get involved
"Taking time for yourself and socialization are also important, so use some of your downtime for relaxing, meeting with friends, or getting involved in a club or organization. The next time you find yourself with a chunk of time between classes, don't just run back home or go to the mall; use some of that time to study, relax, and get involved at UM-Flint."
Michael B. Kassel, tutorial coordinator
Contact University Communications & Marketing with comments, questions, or story ideas.