Campus News Digest | August 26-September 9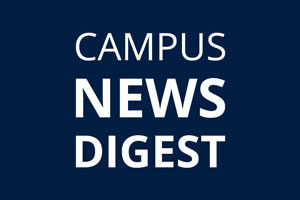 The Campus News Digest (CND) features announcements, news, and event updates relevant to the UM-Flint campus. The CND is distributed every two weeks in the UM-Flint NOW newsletter coordinated by University Communications & Marketing (UCOM).
Hiramatsu awarded NSF grant
Kazuko Hiramatsu, associate professor of linguistics in CAS' Department of English, has been awarded a grant from the National Science Foundation to create a community of like-minded scholars dedicated to improving the ways in which linguistics is taught to students. The $67,000 NSF grant, awarded through the Linguistic Society of America, supports Hiramatsu and co-principal investigator Michal Temkin Martinez of Boise State University in creating a year-long Faculty Learning Community (FLC). The group of 12 professors from across the country will focus on the Scholarship of Teaching & Learning (SoTL) in linguistics.
Chancellor's Welcome Back BBQ, Aug. 29
All faculty and staff are invited to attend the Chancellor's Welcome Back BBQ on Thurs., Aug. 29, at 3:30 p.m. in the UM-Flint Ice Rink. The event will immediately follow the Academic Affairs Convocation. In the event of inclement weather, the BBQ will take place in the Pavilion.
Nominations sought for the 11th annual Distinguished Diversity Leaders Award for staff
Do you know a member of the staff, or an entire work team, that stands out by demonstrating extraordinary commitment and dedication to diversity at the University of Michigan? Help recognize their efforts by making a nomination for the University of Michigan's annual Distinguished Diversity Leaders Award.
The Distinguished Diversity Leaders Award was established to shine a light on those staff members who work toward achieving a welcoming, supportive and inclusive working environment. It is intended to celebrate those who embrace the value of diversity and recognize how it helps set the university apart. The nomination deadline is Oct. 4.
To recognize faculty who champion diversity, please see the Harold R. Johnson Diversity Service Award.
Octaves to hold auditions Sept. 4-5
UM-Flint's only coed contemporary a cappella group, the Octaves, will hold auditions on Sept. 4 and Sept. 5 from 6:30-8:30 p.m. Any UM-Flint or Mott students may audition.
Contact University Communications & Marketing with comments, questions, or story ideas.