Campus plugs into energy savings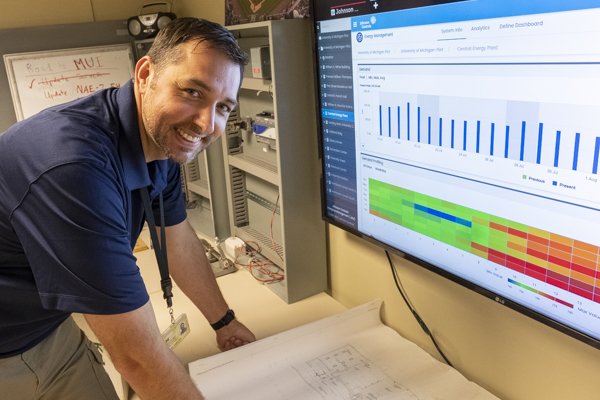 "Behind-the-scenes" comes to life in a small room on campus. A large monitor on the wall provides real-time data on electricity use, heating and cooling levels, water consumption, carbon footprint, and more across the university.
It alerts staff immediately to energy inefficiencies or equipment issues within large areas, such as in several buildings, or on a particular floor within a specific campus building. It also can hone in on one particular room, or even detect what needs adjusting within a specific fan or heater or other equipment within the room.
"It's able to monitor the systems on campus 24/7 and alerts us in real time," said Richard Hamilton, the instrument and controls technician with Facilities and Operations who oversees energy management at UM-Flint.
The upgrade to an existing program is new this year and adds to the university's long-standing ability to monitor and improve energy use on campus. It will help the university cut costs, save energy, and keep temperatures comfortable for people on campus.
Also, UM-Flint has a well-established partnership with Consumers Energy, in which the university receives credit for its energy-saving efforts, said Tim Barden, assistant director of Facilities and Operations.
"Being able to operate our systems at an optimal level means we are not wasting energy," said George Hakim, director of Facilities and Operations. "Our efforts to reduce energy consumption across campus have been and will continue to be multipronged."
Contact University Communications & Marketing with comments, questions, or story ideas.