The truth is out there: 42nd Critical Issues Forum to explore "Truth"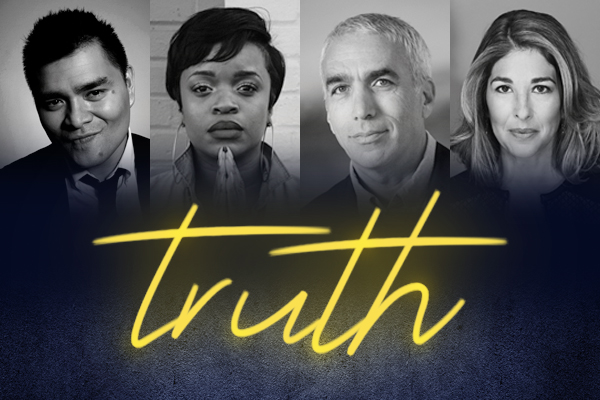 A timely and acclaimed group of experts, including an undocumented immigrant-turned Pulitzer Prize-winning journalist and an unapologetic activist and social justice leader, are set to speak at UM-Flint this year as part of the university's Frances Willson Thompson Critical Issues Forum.
The theme for the 2019-2020 Critical Issues Forum is "Truth," a question of supreme interest to philosophers, scientists, journalists, voters, even parents presiding over a sibling dispute. Can assertions about the future be true right now? Can we ever really know another person's personal truth? Have advancements in technology affected our ability to discern what's true? And is societal change even possible if society cannot agree on the truth of our reality?
Within this contested and ever-shifting context, speakers Jose Antonio Vargas, Brittany Packnett, David Sheff, and Naomi Klein shed light on the power, peril, and consequences of our collective pursuit of truth.
"Every year, this series provides opportunities for our campus and our Flint community to be informed, enlightened, and challenged to think differently and broadly about the things that impact our lives," said Mary Jo Sekelsky, interim Vice Chancellor for University Advancement at UM-Flint. "This year is no exception, with four speakers to add to a list of forum alumni that include Nobel Prize winners, cabinet members, and cultural icons who have made this series one of our university's signature events and a highlight of our year."
The 2019-20 Critical Issues Forum is set to begin on Wednesday, October 9, with Pulitzer Prize-winning journalist, Emmy-nominated filmmaker, and Tony-nominated producer Jose Antonio Vargas. His 2011 essay for the New York Times Magazine, in which he revealed and chronicled his life in America as an undocumented immigrant, has made him a leading voice for the human rights of immigrants.
A special kick-off event for the series will be held on Thursday, September 19, at 6:30 p.m. in the UM-Flint Theatre. Photographer Jonathan Mannion and performance artist and UM-Flint alumnus Tunde Olaniran headline the event that is free and open to the campus community.
Other speakers in this year's Critical Issues Forum lineup include:
Brittany Packnett, November 21, 2019: Brittany Packnett is an unapologetic educator, activist, writer, and social justice leader. She was a member of the Ferguson Commission and President Obama's Task Force on 21st Century Policing. She continues to advocate for systemic change in protest, policy, and the media.
David Sheff, March 25, 2020: David Sheff is the influential journalist and author of Beautiful Boy, a compassionate investigation of the disease of addiction inspired by his son Nic's battle with substance abuse. The book was made into a film starring Steve Carell and Timothée Chalamet.
Naomi Klein, April 9, 2020: With clear-eyed critique and plain language, award-winning writer Naomi Klein unpacks the ways global economic policies impact real people and our planet. Her latest book argues urgent action is needed to address climate change and create a just, thriving society.
The forum's luncheon presentation begins at 11:45 a.m., with the program running from noon to 1:15 p.m. in the Northbank Center Ballroom on the University of Michigan-Flint campus. Tickets for the lunch program are required, and can be purchased as a 4-ticket series at umflint.edu/cif.
Book authors Vargas (Dear America: Notes of an Undocumented Citizen), Sheff (Beautiful Boy), and Klein (On Fire: The (Burning) Case for a Green New Deal) will sign copies of their books in the Park Place Room in Northbank Center following the luncheon.
The university will keep the conversation going after the forum at the Sullenger Dialogues from 1:45-2:30 p.m. in the Park Place Room. Free and open to the public, the Sullenger Dialogues aim to bring the campus and community together for a more in-depth and intimate conversation with the featured guest.
This year marks the 42nd season of UM-Flint's Critical Issues Forum. Thanks to a generous gift to the university by Mrs. Frances Willson Thompson and the Thompson family, this forum has delievered daring, thoughtful, and remarkable speakers for more than four decades.
For more information on the 2019-20 Critical Issues Forum, its speakers, or tickets, visit umflint.edu/cif.
# # #
The University of Michigan-Flint, part of the world-renowned University of Michigan, is a regional comprehensive university located in the heart of Flint, MI. UM-Flint is a vibrant and diverse learning community consistently recognized for academic distinction and superb value. With flexible, personalized coursework enhanced by hands-on, engaged learning opportunities, UM-Flint students graduate ready to lead and succeed in all situations.
Contact University Communications & Marketing with comments, questions, or story ideas.