Campus News Digest | June 24-July 8, 2019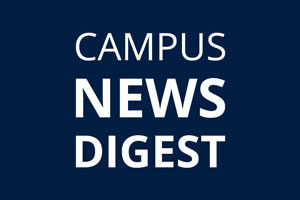 The Campus News Digest (CND) features announcements, news, and event updates relevant to the UM-Flint campus. The CND is distributed every two weeks in the UM-Flint NOW newsletter coordinated by University Communications & Marketing (UCOM).
Jesmyn Ward's Sing, Unburied, Sing announced as 2019-20 Common Read book
The Common Read Committee has chosen Jesmyn Ward's award-winning novel, Sing, Unburied, Sing, as the Common Read book for the 2019-20 academic year.
Faculty members who would like to consider using the book in a Fall 2019 class can pick up a free copy (with presentation of your M-Card) at the Thompson Library circulation desk. The New York Times published a list of discussion questions that may suggest ideas for the book's classroom use.
The Office of the Provost will provide books free of cost to all Fall 2019 classes in which faculty members decide to use the book.
New scholarships for international students in Flint's sister cities
On Jun. 10, Vice Chancellor Hottenstein announced the creation of scholarships available to students from each of Flint's sister cities – Changchun, China; Hamilton, Canada; Kielce, Poland; and Tolyatti, Russia.
The $12,000 scholarships are available to any admissible student from one of these cities. Students must still meet admission requirements and deadlines, and apply through the online scholarship application.
New self service Uniqname for new students
Starting Jun. 15, any new students admitted to the university for the first time will receive an email prompting them to create their uniqname. This email will come on behalf of Admissions with the subject line "Action Needed: U-M uniqname & Account Setup."
Information Technology Services sent an email informing campus that, on Jun. 23, all student email accounts will transition to gmail. As part of this transition, a new policy is going into effect regarding new student uniqname creation.
This option will not be open to existing students.
Flint City Bucks to co-host inaugural Pride Match benefiting UM-Flint's CGS on Jun. 27
The Flint City Bucks and their faithful supporters group, the River Rats, will be co-hosting a Pride Match to help raise funds and awareness for the Center for Gender and Sexuality, the UM-Flint Pride Student Organization and the GSA (Gay, Straight Alliance) at Kettering University. The River Rats have organized a fundraiser for UM-Flint's Center for Gender and Sexuality and a 50/50 raffle will be held on match day to support GSA of Kettering.
The Pride Match is on Thur., Jun. 27, at Kettering's Atwood Stadium. Doors open at 5:30 p.m. and kickoff at 7 p.m. There will be pre-game festivities at Soggy Bottom Bar starting at 4:30 p.m., and then the River Rats and UM-Flint PRIDE will lead a Pride March from Soggy Bottom to Atwood Stadium at 6:20 p.m. UM-Flint Octaves (acapella music group) will sing the National Anthem before the game.
Call for nominations to Strategic Enrollment Management Plan committees
Enrollment Management is accepting nominations to serve on one of several committees to develop a 3-year Strategic Enrollment Management Plan for 2021-2023. There will be an overarching Steering Committee as well as a Recruitment Sub-Committee and a Retention Sub-Committee.
If you know a faculty, staff, or student who would be a valuable member of a committee/sub-committee, or if you yourself are interested in serving, please submit all nominations and the committee/sub-committee preference to Terry Bigelow (tbaryo@umich.edu) by Mon., jul. 7. A kick-off meeting will be scheduled for mid-August.
Sexual harassment and misconduct module
Reminder to all faculty and staff to complete the online module, "Cultivating a Culture of Respect: Sexual Harassment and Misconduct Awareness."
Participation in this online program is mandatory for all U-M faculty and staff, including student, temporary, bargained-for and graduate student employees. The deadline for completion is Dec. 31.
Faculty and Staff updates & accolades
Dean Donna Fry and associate professor of physical therapy Min Huang received the Labe C. Scheinberg Award from the Foundation of the Consortium of Multiple Sclerosis Centers, presented at the CMSC Annual Meeting for the most outstanding work in neurorehabilitation in MS. Their poster was titled "Inspiratory Muscle Training Improved Participation in Structured Group Activity but not Fatigue in Non-Ambulatory Persons with Multiple Sclerosis."
Min Huang also recently received M-Cubed funding for her collaboration with Michigan Medicine using a prototype virtual reality system to assist stroke patients.
Sapna Thwaite was selected to participate in the 2019 Fulbright Seminar for U.S. administrators in international education. The seminar will take place in Germany from Oct. 28-Nov. 9.
UM-Flint's Maize & Blue Award recipients received special attention from My City Magazine in the June 3 story "UM-Flint recognizes exceptional students."
One of Flint College's 14 founding faculty members, Dr. Alfred (Al) Raphelson, Professor Emeritus of Psychology, passed away on Jun. 13 at age 91. A U of M alumnus, he began as the head the Department of Social Sciences in 1956. As an assistant professor, associate professor, and then professor of psychology, Dr. Raphelson played an integral role in building the Flint campus as he, most notably, facilitated the transition of the Flint College to the four year institution of today.
Contact University Communications & Marketing with comments, questions, or story ideas.