Gone fishing: Hamilton Dam removal offers research opportunities for wildlife biology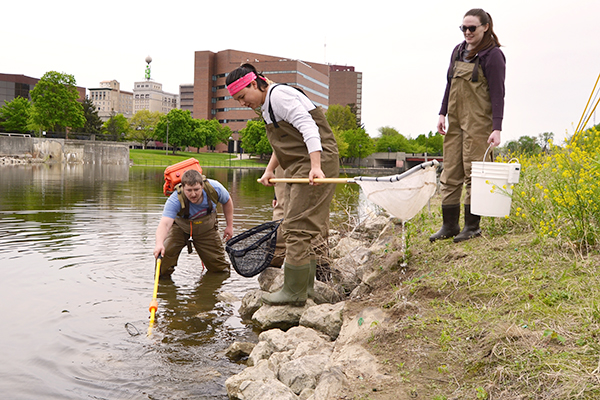 If you look toward the Flint River on campus this summer, there's a good chance you'll spot Associate Professor Heather Dawson and her students fishing. Their tackle may be a bit unconventional: backpack electrofishers and cast nets are utilized along with conventional rods and reels. That's because for Dawson and Wildlife Biology undergraduates in the College of Arts and Sciences, fishing the Flint River isn't just an idle way to spend the afternoon; it's an opportunity to study an environment under change.
Nearly a year ago, the Hamilton Dam between Harrison Street and the pedestrian bridge was removed, leaving a concrete weir that will soon be replaced by more natural rock rapids. These initiatives are part of the Flint Riverfront Restoration Project, a $37 million plan to improve the waterway for both wildlife and residents. In conjunction with the restoration, Dawson and her students are conducting a before-and-after study of the river, documenting how the removal of these barriers affects the local ecology.
"The Flint River could turn into a good fishery for species besides carp," Dawson explains. "I think the [Flint] River has gotten a bad name, and we can help show the abundance and diversity of fish species here."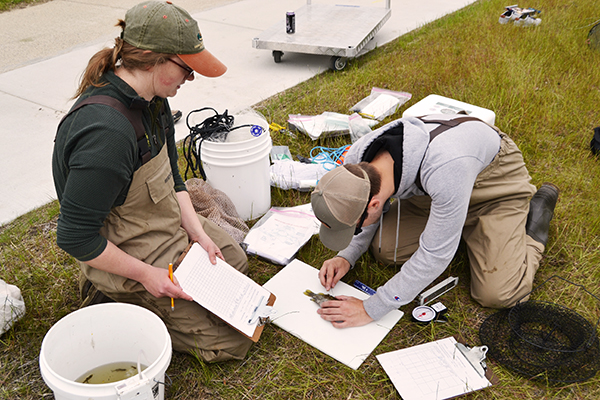 The dam and weir removal mean fish will have unobstructed access both up and downstream, and Dawson notes that more commonly prized species for anglers, such as pike and steelhead, can be taken from the river as well. In addition to improving habitat for wildlife, the restoration plan aims to create more attractive public spaces for activities like kayaking and picnicking along the river.
Some of the fish caught by Dawson and her students are tagged, recorded, and released for future study of population levels. Others are humanely euthanized and tested for heavy metal levels in collaboration with the Department of Chemistry and Biochemistry. In addition to gathering data on animal species, the group is also tracking how the morphology of the river changes with the dam and weir removal.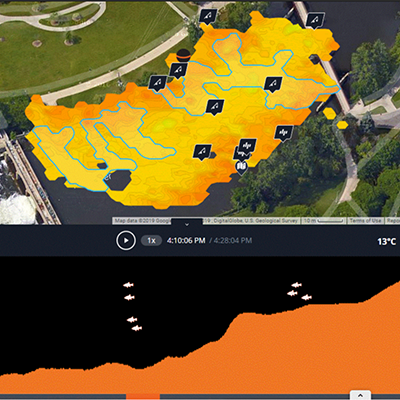 To accomplish that, the group acquired a sonar device with help from the CAS Opportunity Fund, which provides resources for important projects undertaken by CAS students, faculty, and staff. Two students received funding through the Summer Undergraduate Research Experience (SURE), which allows undergraduates to be paid while completing mentored research; the EDA University Center for Community & Economic Development Research Fund and the Gary and Colleen Pace Fund for Student Field Ecology Research also made the project possible.
For junior Daniel Victor, working with Dawson under a SURE sponsorship is the perfect way to spend the summer.
"Being able to concentrate on this research and not having to work another job is great. I am getting the experience I need for graduate school. I'm also learning from Dr. Dawson how to approach my goals for that next step [in my career]," Victor says. "It's about learning as much as you can from an experienced and capable mentor, plus I get to work outside and fish. What's better than that?"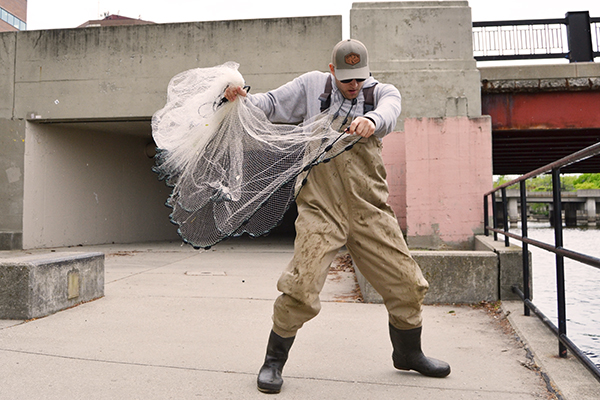 Wildlife Biology students like Victor aren't the only ones to benefit from this experience, however. With funding from the EDA grant, graphic design senior Codi Green will create user-friendly summaries of the research project. The goal is to make this research visible and accessible to the community; to that end, restoration project partners in the Flint River Watershed Coalition and Genesee County Parks will provide input on the summaries.
To conduct fieldwork like this in the past, Dawson and her students have often traveled more than three hours north to the UM Biological Station, a research and teaching facility covering more than 13,000 acres in Cheboygan County. Undertaking such an impactful project in Flint allows more undergraduate students to gain experience, which has been a priority for Dawson. It also reflects the mission of the College of Arts and Sciences.
"Our goal every day is to make a positive impact, both locally and globally," says CAS Dean Susan Gano-Phillips. "Flint is not only our home, but often our classroom. This project contributes both to the future of our city and our undergraduates, who will go on to make a difference in many parts of the world. I am delighted that departments both in the college and across the university could contribute to this work happening on our campus and in our community."
Logan McGrady
Logan McGrady is the marketing & digital communication manager for the Office of Marketing and Communication.