Campus News Digest | June 3-16, 2019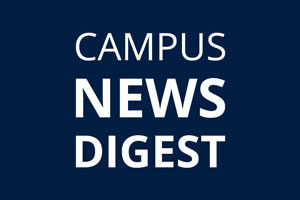 The Campus News Digest (CND) features announcements, news, and event updates relevant to the UM-Flint campus. The CND is distributed every two weeks in the UM-Flint NOW newsletter coordinated by University Communications & Marketing (UCOM).
Mandatory training on sexual and gender-based misconduct
A new online module, "Cultivating a Culture of Respect: Sexual Harassment and Misconduct Awareness," is now available.
This online program is mandatory for all U-M faculty and staff, including temporary employees (student and non-student), bargained-for and graduate student employees. The requirement is for one-time completion of the online module by Dec. 31. Please note, supervisors must allow time during working hours for current employees to complete the module, which takes approximately 15 minutes to complete.  
This new training is part of an education and prevention program recommended by a broad working group of faculty and staff experts.  The online module is the first step in a multilayered approach to a series of education and training programs designed to have meaningful impact on our campus and workplace culture.
Master of Science in Accounting completely online by Fall
Starting in Fall 2019, the Master of Science in Accounting (MSA) program will be available to students completely online. There are no changes in the course offerings for the program ranked 107th best in the USA by TFE Times.
Making an Impact highlights recent success of Victors campaign
Making an Impact, a new report highlighting the university's accomplishments and the success of the recent Victors for Michigan-Flint campaign, is now available to view online.
UM-Flint Transfer Night Jun. 5
If you know of any students interested in transferring to UM-Flint, encourage them to attend Transfer Night on Wednesday, Jun. 5.
More information, including a link for required registration, is available on the Admissions web page.
Starting and Marketing Your Business event Jun. 11
Join the Small Business Development Centers (SBDC) and UM-Flint's Innovation Incubator [IN] to learn more about how to start your business and how to market your good or service. Register here for this two part series. There is no charge to attend, and lunch will be provided.
Contact University Communications & Marketing with comments, questions, or story ideas.