Mobile classroom: Pop-Up School travels throughout Flint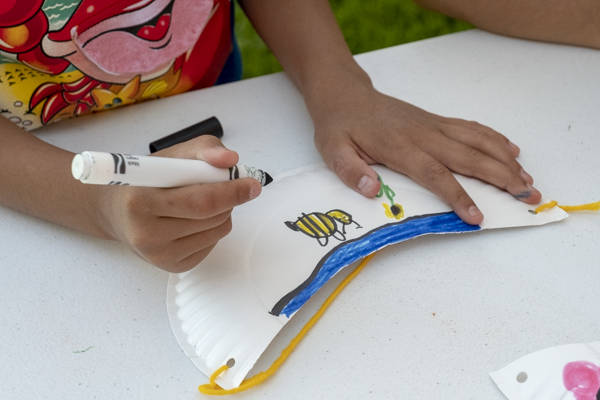 The circle of children sitting underneath the giant maple tree immediately turned their attention to the teacher.
Cathy Lesinski was there to talk about the sun, she announced, and how we all can protect ourselves from its rays.
"What is one thing we can put on our skin?"
"Sunscreen!" chirped a young girl in attendance at Applewood Estate.
"Good job!" Lesinski shouted back in approval.
"What else?" she asked, also reminding the youngsters to drink plenty of water when out in the heat.
"Sunglasses!" yelled a little boy.
Lesinski encouraged their answers, then shared some news. The group was going to meet underneath the UM-Flint Pop-Up School tent to decorate sun visors made from paper plates and string.
The UM-Flint Pop-Up School: Education Outside Your Door program is a free mobile classroom that visits locations throughout Flint. It connects the university with young children throughout the city.
Lesinski, the program manager, uses the yellow Pop-Up School van to visit neighborhoods, health fairs, churches, community events, and other sites throughout the city, with a focus on serving those areas especially hit by the water crisis.
Between October 2017 and May of this year, the Pop-Up School has served more than 6,100 children in Flint. The program currently visits nearly forty locations.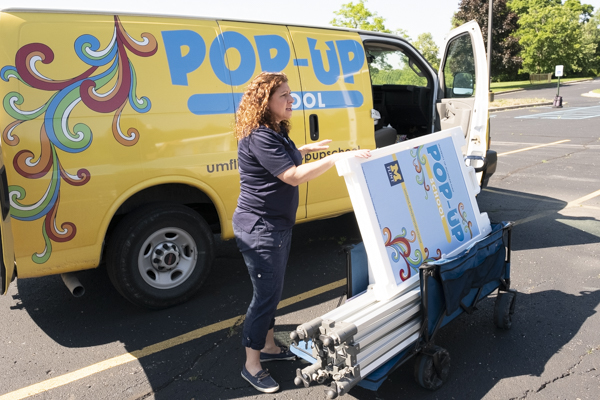 Children learn math, reading, writing, science, social studies, healthy living, manners, daily skills, music, and more through the Pop-Up School.
"When I play with the kids and do a certain activity, it makes me think of other learning opportunities. I get ideas from the kids all the time," said Lesinski. "They tell me topics they like and what they're interested in, and that's how I bring materials that inspire."
On this particular day, she was at Applewood teaching crafts and sun protection.
Lily Naguib colored with intent. The four-year-old from Grand Blanc colored in grass, a bee, and a monkey on her sun visor during the event. Joining her were a dozen or so other young children who learned about sun protection before drawing on visors made from paper plates and string.
"It's interesting and fun," said Lily's mom, Sophia Naguib at the learning session led by the Pop-Up School. "It's a good craft for the young ones."
UM-Flint students and parents are also trained in helping out with the program, she said.
On a recent spring day, Lesinski spent a morning teaching shapes, colors, and numbers to four-year-olds at the Positive Start Child Development Center in Flint. The Pop-Up School regularly visits the location.
Sharicka Bogan, program director at Positive Start said Lesinski's visits inspire the school in creative ways.
"Having her come here and bring resources is very valuable," said Bogan. "It is helping us build our lesson plans, and we are learning as teachers too."
Contact University Communications & Marketing with comments, questions, or story ideas.