Red Cross honors UM-Flint faculty for "heroic and lifesaving actions"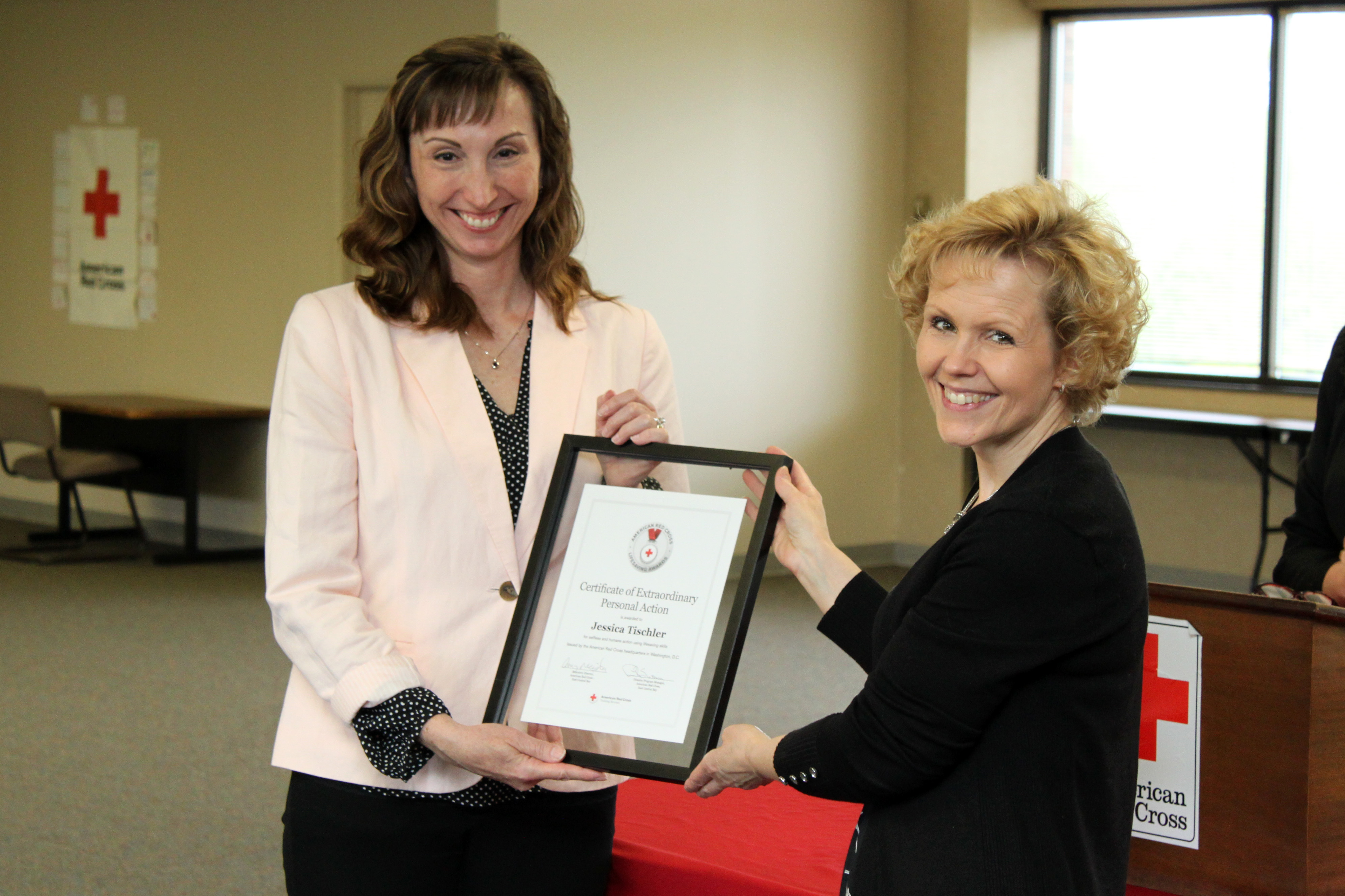 It was a normal Tuesday in the middle of March, and University of Michigan-Flint chemistry student Mitchell Aikens was taking an MSB elevator up for a meeting with his professor when he started to feel ill.
The next thing he remembers is waking up on the floor outside of the elevator, looking up at UM-Flint faculty Jessica Tischler, associate professor of organic chemistry, and Rebecca Tonietto, assistant professor of biology.
"They were my heroes that day," said Aikens. "Drs. Tischler and Tonietto helped calm me down, talk me through what I was feeling, steady my vitals, and keep me safe until EMS arrived. I wanted to show them my thanks in a meaningful way."
Aikens, who is also an American Red Cross Instructor and Instructor Trainer for Basic Life Support with the American Red Cross East Central Bay Chapter here in Flint, nominated Tischler and Tonietto for the American Red Cross' Certificate of Extraordinary Personal Action, an honor they received at a ceremony on May 17.
"The Certificate of Extraordinary Personal Action is given to individuals who step up in an emergency situation and help save or sustain a life," said Amy Meister, executive director for American Red Cross Flint Chapter. "[Drs. Tischler and Tonietto] exemplify the mission of the Red Cross to prevent and alleviate human suffering in the face of emergencies and are to be commended for their willingness to help others in distress."
At the ceremony, Tischler was grateful that the situation had a happy ending.
"I was just in the right place at the right time," she said. "Mitchell was the perfect patient; he was talking us through most of it. I'm just glad he's OK… and able to continue his research!"
Contact University Communications & Marketing with comments, questions, or story ideas.