Hurley among UM-Flint honorees at 26th Staff Recognition Spring Meeting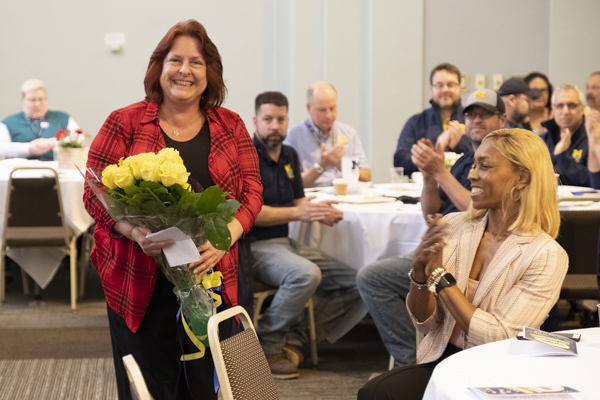 There's a running joke that Human Resources Generalist Dee Dee Hurley is the Susan Lucci of UM-Flint's staff awards. Like Lucci, the daytime soap actress famous for winning her first emmy after 19 nominations, Hurley's work on campus is so respected that she is seemingly nominated every year but had yet to win the honor.
That changed at the 26th annual Staff Recognition Spring Meeting & Awards Program held in the Northbank Center Ballroom on May 22. Hurley is the 2019 awardee of the Staff Recognition Award. Established in 1995 as a way to recognize those members of staff who consistently serve the campus and university in an exemplary manner, criteria for the award include:
providing leadership on a consistent basis;
nurturing a spirit of team effort and cooperation;
performing assigned duties with enthusiasm, competence, and cordiality;
and dedication to the university's goals and mission.
Famous for her trademark smiley face email closures and cheerful voice, Hurley is also known for going above and beyond not just with her time, but in the personal connections she makes with staff members, faculty, and university administrators.
"Dee Dee embodies all that the Staff Recognition Award encompasses," said Melissa Richardson, Human Resource Administrator for the College of Health Sciences. "She is a walking example of honesty, integrity, and fairness; a great leader and a team player who is as dedicated to this university as anyone."
That dedication was tested by a car accident last year in which Hurley suffered serious injuries.
"We weren't sure she was going to make it back," Richardson explained. "But, in true Dee Dee fashion, she never gave up. And, as soon as she was able, she immediately returned to her position."
"Anyone who has worked with Dee Dee is all too familiar with one of her favorite quotes, 'It takes team work to make the dream work,'" said Richardson. "Working with Dee Dee has been a blast, and I am so grateful to be on her team."
Hurley was one of ten nominees for the staff award. Other nominees for the 2019 Staff Recognition Award included:
Lesa Callcut, Administrative Assistant, College of Arts & Sciences
Carol Chaney, Media Consultant, Music
Myesha Cannon, Career Advisor, University Advancement
Leah Hart, Business Administrator, School of Education & Human Services
Jean Liwak, Administrative Assistant, Social Work
Mary Mandeville, Research Compliance Specialist, Office of Research & Sponsored Programs
Monica Panik, Senior Development Assistant, University Advancement
Debbie Samida, Administrative Specialist, Graduate Programs
Christina Wixson, Program Coordinator, Physical Therapy
In addition, the following recipients of the Sterling Staff Award, presented to staff members who "make a difference" and "go the extra distance in their work," were recognized at the event:
Becky Armour Standel, Student Success Center
Gary Ashley, University Outreach
Lesa Callcut, College of Arts & Sciences
Julie Coe, International Center
Jen Cozart, Early Childhood Development Center
Vicky Dawson, Writing Center
Andrea Eveslage, University Communications & Marketing
Chloe Girard, Early Childhood Development Center
Mary Lynn Gotler, Early Childhood Development Center
Michelle Graham, Financial Services & Budget
Brenda Harrison, School of Management
Sarah Hubbs, Facilities & Operations
Tara Hyatt, Early Childhood Development Center
Jeremy Keefer, Facilities & Operations
Sheena Lewis, College of Arts & Sciences
Joslyn Marinelli, Early Childhood Development Center
Max Montney, Financial Services & Budget
Brent Nickola, University Advancement
Virginia Ouimette, Facilities & Operations
Terry Page, Facilities & Operations
Daniel Sherman, Facilities & Operations
Lindsay Stoddard, University Communications & Marketing
Nikki Swink, Early Childhood Development Center
Carson Waites, OEL
The breakfast program also highlighted the accomplishments of the Staff Council over the past year, including creating and raising funds for the Staff Council Professional Development Fund, launching a Staff Assembly newsletter, and ensuring staff participation in strategic campus discussions.
The Staff Council also collected a record number of toy donations and funds at the annual Chancellor's Holiday Party, including over eight large boxes of new hats, gloves, mittens, and scarves that were donated to Carriage Town Ministries in Flint.
"Today, before a record number of attendees at this event, we gathered to recognize the accomplishments of our university's staff," said Matt Bueby, alumni relations and annual giving specialist in University Advancement and 2018-19 Staff Council chair, closing out the event. "All of us were reminded that we're part of a staff family, always here for one another. And what a great feeling to be part of something like that."
Contact University Communications & Marketing with comments, questions, or story ideas.