Campus News Digest | May 20 – June 2, 2019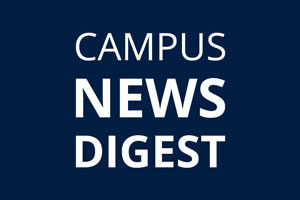 The Campus News Digest (CND) features announcements, news, and event updates relevant to the UM-Flint campus. The CND is distributed every two weeks in the UM-Flint NOW newsletter coordinated by University Communications & Marketing (UCOM).
Career Center releases First-Destination Survey results for class of 2018
UM-Flint's Career Center recently released the results from its First-Destination Survey for the class of 2018.
The survey provides an assessment of the post-graduation plans of UM-Flint students, and also provide the Career Center with data which is used to accurately inform and shape career expectations of current students, new alumni, and prospective students. Results are equally important in helping to address the growing demand by parents, accrediting bodies, and governmental agencies for more consistent, comparable, and reliable outcomes data.
Reminder: Faculty and Staff photos available year-round
University Communications and Marketing has contracted with Mike Naddeo Photography to make sessions available year-round for faculty and staff. In previous years, these images were taken in the Frances Willson Thompson Library or on the first floor of the William S. White building only at certain times.
For convenience, faculty and staff can now contact Mike Naddeo Photography directly to schedule the 20-minute photo session at (248) 701-2242 or via email at mikenaddeo@gmail.com. As a reminder:
Headshots only, no group photos.
One new headshot per academic year. Any additional photos needed within the same year will be paid for by the faculty or staff member.
Photo session will take no longer than 20 minutes.
48-hour turnaround time.
Summer Entrepreneurship Institute
Do you know any high school students who will be a junior or senior in the 2019-2020 academic year and would like to learn more about entrepreneurial thinking? Students participating in the Summer Entrepreneurship Institute will receive instruction from School of Management faculty for three days, challenging them to think creatively, generate new business ideas and to understand market opportunities.
Students will:
Recognize what is required to become a successful entrepreneur;
Encourage entrepreneurial thinking to identify new business ideas;
Learn how to evaluate the feasibility of potential business ideas.
The 3-day camp runs from July 23-July 5, starting at 8 a.m.
UM-Flint's Larson elected to Academy of Neurologic Physical Therapy leadership
Last week, the Academy of Neurologic Physical Therapy (ANPT) announced that Dr. Cathy Larson, associate professor of Physical Therapy in the College of Health Sciences, has been elected to the position of Vice Chair of the Spinal Cord Injury Special Interest Group (SIG).
According to a press release, Larson "will work with the current chair to develop the goals for the Spinal Cord Injury SIG and then implement them with the other SIG board and committee members. The work of the SIGs is closely aligned with the strategic vision of the Academy so she will also work with the ANPT Board of Director and Executive Office."
Assurance Argument feedback for reaccreditation
The UM-Flint Higher Learning Commission (HLC) committee invites faculty and staff to review and provide feedback on the HLC Assurance Statement. Participation helps prepare for the Commission's November 4 & 5 visit to campus.
Staff updates from around campus
Matthew Bohlen has accepted the position of Associate Director of Graduate Programs in the Office of the Associate Provost and Graduate Programs. Bohlen has 16 years experience in higher education with much of that in the area of admissions and recruiting in both undergraduate and graduate studies. He holds a Master of Education degree from the University of West Georgia and is a BBA graduate of UM-Flint.
Dawn Markell is the new Student Success Center Director. Markell has nearly 20 years experience in higher education and academic advising. She will join the Enrollment Management team and lead a dynamic staff in the Student Success Center to advance the university's student success and retention efforts. She will begin her new role on June 3rd.
Contact University Communications & Marketing with comments, questions, or story ideas.