Fitness nutrition specialist shares advice for campus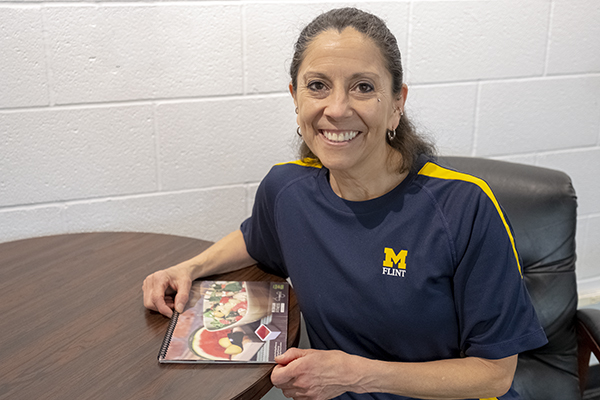 Fitness nutrition specialist Mary Delgado helps UM-Flint community members make healthy decisions. She's available for one-on-one consultations and at scheduled events through the university's Recreational Services. In this Q&A with University Communications & Marketing, Delgado shares some advice for campus.
Q: Are there particular misconceptions people have about maintaining or developing a healthy diet?
A: Because there has been such a big influx of fad diets that all claim to be the solution, as well as the large amount of information and misinformation on the internet, many people are confused. There are many misconceptions as to exactly what a healthy diet it is, especially when it comes to weight loss.
Q: What are some of the most common nutrition-related questions you receive from people on campus?
A: The two most frequently asked questions are "How can I lose weight?" and "How can I maintain a healthy weight?"
Q: What basic changes can people make to adjust their diets in a positive way?
A: Given the American diet, the main changes would be to start eating real food rather than processed and start drinking real water rather than all of those highly caffeinated and carbonated drinks.
Q: What are the challenges and benefits for those working in a campus setting for how it relates to health and nutrition?
A: The challenge for most campus employees and students is making the time to do meal prep for breakfast and lunch to ensure that the food they are eating will give them the focus they need to make clear, rational decisions as well as give them the energy to power through their daily activities such as studying, playing sports, and working out.
There are definite benefits to working on campus. Whether you are looking for a quick snack to hold you over or a full meal, there are healthy choices available right here on campus. If you choose to dine off campus, there are restaurants with healthy choices, as well as a health food store in the near vicinity. There is also an amazing Recreational Center available to help you get in your daily exercise needs after having been bound to an office or classroom, which offer something for all ages and all levels of fitness.
Q: What do you personally enjoy about your role on campus?
A: My favorite part of doing nutritional counseling at the University of Michigan-Flint Recreational Center is when I watch someone walk away with the new information I've shared, not just happy and confident about their goals, but excited as well. I love when I see the light bulb turn on inside their head. When that "Ah ha!" moment comes across their face. That's when I know I've done my job.
Contact University Communications & Marketing with comments, questions, or story ideas.